It's the end of the year almost! This year, I read 28 books, which for me is really high, considering last year I read a big fat 0. So I picked my eight favorites out of those 28. To be more specific, I picked 8 out of the 28 that weren't rereads. 4 of the books I read were rereads (Harry Potters and 5th Wave). So here it is, top eight out of a possible twenty-four books.
8. Ready Player One by Ernest Cline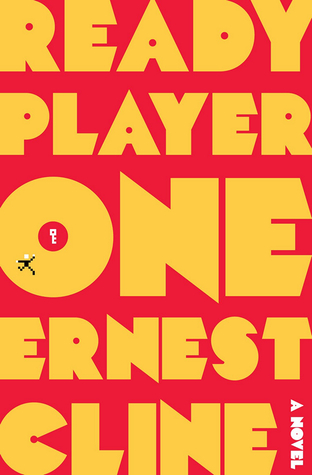 My rating: 3.5 stars
To anyone who didn't hate this book, I feel like my rating of it will be a lot lower than theirs. I liked this book – I did. I gave it a 3.5, which for me is a good rating.I just feel like the ratings on this one from people who like this book all tend to be around 5 stars. That's fine and all, but I don't think this book did for me what it did for a lot of people. I think the main issue I had with this book was that I couldn't connect to the characters. And honestly, it was the whole 'I know more trivia than you' thing. I know that's the point of the book, but I couldn't get into it. I felt like I was watching a bunch of people trying to pull up more obscure trivial shit and feeling triumphant when they knew that character from book two's favorite color. Stuff like that to me personally, don't matter and doesn't really impress me if it's known by others. I think that's why I didn't love this book. Let me restate that I do like this book – the writing was awesome, the premise was great, the world was fantastic! I just couldn't get into the characters and their ideas of what made them more awesomer than other people. So it makes my favorite list definitely, but the bottom of it.
7. Attack on Titan vol 1 by Hajime Isayama
My rating: 4 stars
This I picked up after I watched the anime on netflix and was left sorely unfulfilled by the season finale. I need MOAR. MOAARR. So I started collecting the manga, and as of right now, I have this volume. I suppose the point of collecting a manga is to get all the volumes, so I'm working on that. I'm just super poor. But anyways, I really like this series. I think the first time I went through it, it was 5 stars, but then I went through it again with my boyfriend so he could watch it too and I started noticing problems with it, which dropped my rating to 4 stars. I feel like the series could easily jump back up to 5 again should they continue in a way that slowly reveals the source of the titans in an awesome way, etc etc. But if the rest of the series flows just as the beginning has, it'll stay at 4 (which is still a really good rating!) I'm hoping to continue this one soon, as it's one of only two manga I'm actively collecting anymore.
6. Hyperbole and a Half by Allie Brosh
My rating: 4 stars
This book I really, really liked. It was funny, it was easy to read, it explained my life for me. All I need now is a helper dog and a simple dog and I think that I'll be completely content. Go read this if you want to laugh, if you want to understand depression, if you want to read about goofy dogs. This book has all of that and more. I really hope there is a continuation, as I know there are still comics being created. I'll buy that sucker as soon as it hits the shelves.
5. Snow Crash by Neal Stephenson
My rating: 4 stars
This book is dense. It took me ages to read it, months. I couldn't get myself through more than a chapter or two at a time, but that was not because I didn't enjoy it. It was just so packed full of information that I couldn't process it quickly enough to read a lot at once. I really enjoyed this book – the world this author has created is uncomfortably possible and I think that's why it drew me in. I think my favorite part of this book was the main character's dialogues with his computer. Among other things, they talk about the possible origins of linguistics and it's all just so fascinating. If you want an awesome sci-fi that delves into philosophical topics, go for this one.
4. Y: The Last Man vol 2 by Brian K Vaughan
My rating: 4 stars
I'm listing specifically volume 2 in this. Volume 1 was a 3 star rating for me, but this is the volume that's really made me like this series. I want to rating volume 3 stat. I just purchased it for a friend for Christmas, so hopefully she'll let me borrow it when she's done with it //no ulterior motives. I don't own this series myself, I've been borrowing them through her. 😛
I find the premise of this really good but potentially not – what I mean by that is that I feel it could easily become the basis for arguments if it would become the next big seller and everybody read it. If you've read it or know what it's about, you know what I mean. Doesn't stop me from liking it though man! I just hope nobody gets their knickers in a twist about it. It's a comic book. It's like those goofies yelling about how Harry Potter is evil. But yes, need a neato sci-fi? Go read it.
3. The Knife of Never Letting Go by Patrick Ness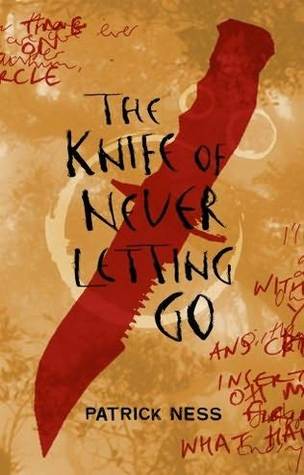 My rating: 4.5 stars
This book is the first book I read by Patrick Ness and after reading, I need to read everything else he's ever written, ever. I own the second book in this series, but have not read it yet. It's sitting on my shelf, taunting me. I'll get to it, I'll get to it. This book kinda reminds me of The Giver, but it's not quiiiite there. I really like this, will read the rest of the series and probably do so again afterwards.
2. Saga vol 1 by Brian K Vaughan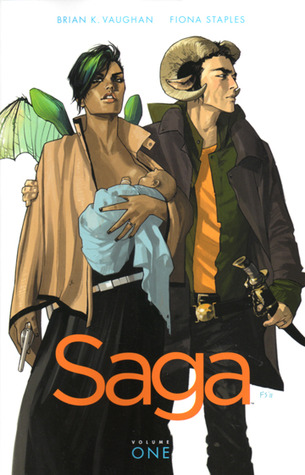 My rating: 4.5 stars
This series blew me out of the water. This was the first graphic novel that I had ever read, not including manga, if you want to count them as graphic novels. The art style in this is spectacular, and the story is just as enthralling. The opening page, the opening words, had me loving this series from the get-go. I think the only reason it didn't get a full 5 stars from me is that I don't know the ending yet. Once I read the whole thing and if I like the ending, I'll go back and bump up all the ratings to 5s and call the whole series one of my favorite of all time. I just can't get over this book – I'm tempted to start buying the individual issues instead of the volumes so I don't have to wait so long for new releases. I don't know though – I feel like tiny issues like that would get ruined amongst all my bigger, heavier books. 😦 I don't know how to care for comic issues, halp.
1. The Lost Heiress by Catherine Fisher
My rating: 4.5 stars
This is my favorite book of the year. This is volume 2 in the Relic Master series by Catherine Fisher. Being the second full series I've read by her, I have to add her to my favorite authors list. The way she crafts the worlds she writes about is just phenomenal. This book in this four book series in particular is my favorite one, just because of where the majority of the setting takes place (I love the series as a whole aside). I really wish this book would get more hype. Or maybe I missed the hype, I don't know. I just know that you should read it. If you like young adult and like fantasy and like good books, read this.
Top 8 of 2014 down. At this rate, I'm hoping to read even more books next year and make a longer top list. Here's to a new year full of good books, good choices and good friends.