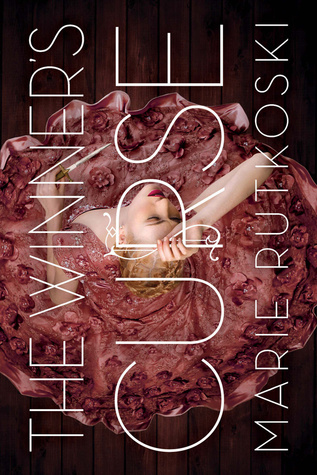 The Winner's Curse by Marie Rutkoski
Be still my beating heart. This book had it racing like no other.
When I first picked up this book, I had already heard a lot about it, both bad and good. I knew the basics of the premise and it piqued my interest enough to not let the hype push me away from it. I can say I'm definitely glad that I read this.
First off, I need to thank Marie Rutkoski – it was her writing and plot that pulled me out of a horrendous reading slump. This is the first time I've finished a book that wasn't mainly pictures in months. And I did it in three days, even. That's kind of unheard of for me. I need book two stat. STAT.
Second off, my thoughts on this book – I will try my best to keep this spoiler free. If I feel something is spoilery, it'll be whited out:
This book, if you haven't read it yet or need a refresher, is about a young woman named Kestrel who lives in a kingdom that has enslaved another race of people. Kestrel is in town one afternoon and through a series of events ends up purchasing a slave. The story alternates between Kestrel and her slave's POV, allowing the reader to see both sides of the events that occur in the book and as the story progresses, the two find themselves ensnared by their country and each other. This book has a bit of political intrigue, a bit of romance, and a bit of action. I think I may have even laughed once or twice.
I won't go into more detail about the plot because I feel I'll say something it'd be better to just read for yourself. So onto my thoughts.
Characters/character development: For the most part, I love these characters. Kestrel I find to be a wonderful character – she's a general's daughter and is praised for her military tactics – her mind. She's genuinely smart. It was refreshing to see a strong female lead that wasn't a kick-ass fighter (not that that's a bad thing, but that's typically the go-to for strong female leads). The only issue I have occurs part way through the book, where one characters in my opinion acts a bit well… out of character. But who am I to say, I suppose. Not my book. This part of the book is the reason it bumped from 5 stars down to 4.5. Don't let this deter you from reading it though! The issue is minor, but I'm picky, haha.
Plot: I really like the set-up of this world. There was a bit of world building but it wasn't as though I was sitting through chapter after chapter of 'okay this is how the government works'. The plot was able to progress quickly, keeping me on my toes, all while informing me of important details in the constructed world that made the plot occur the way it did.
Writing style: I read the book in three days. I can't do that with writing that I don't like. Need I say more.
Overall rating: 4.5/5 stars
Need. Moar. Now.