It's Wednesday again! And look, I'm actually posting a Top 5 Wednesday on Wednesday. Unsurprisingly, this is a rare occurrence. This week's theme is 'Books You Wanted to Start Yesterday', and man do I have sooo many of those. One day, they will be read.
Top 5 Wednesday was created by Lainey at gingerreadslainey on youtube, and here is the full list of posters in case you'd like to check any more of our slacking-on-reading-ness out this week.
Right right. Here are my top 5 'WHY HAVEN'T I READ THIS YET MAN' books. (and for clarity's sake, these are books I own and just haven't read, not ones I have yet to buy)
5. The Future of the Mind by Michio Kaku

This book I bought ages ago. I actually pre-ordered it because both my boyfriend and I are Michio Kaku fangirls. I got us both signed copies and he has read his copy but I have yet to read mine. Go figure, right. If you are not familiar with his work, Michio Kaku is a theoretical physicist and in this book, he took an interest in potential future technologies that could be used with the brain. From interviews and stuff I've watched about this book, I know one of the theories talks about shooting the human consciousness off into space in a laser beam as a method of interstellar travel. Crazy, right? I want to read it sooo baaaaad.
4. 1Q84 by Haruki Murakami

I actually own two books by this author, and have yet to read either one. This is the one that's calling to me more, though. (The other is Norwegian Wood). Honestly though, I have no clue what this book is about. I know it deals a bit with parallel existences, but other than that, I'm going in blind, and that's the way I want it to be.
.
.
3. S. by JJ Abrams

Yep, this director also wrote a book. Cool huh? I wonder if there will be lens flair in the book. This book is hard to describe, really. It's a book within a book. It comes in a sleeve and when you pull it out, it looks like an old library book. The library book is written by an author. And the footnotes are written by the translator. And the first set of scribbles in the margin are written by one person, and the second set are written by another person. So what you're reading is: the book the author wrote, the footnotes from that translator who is obsessed with the author, and the conversation going back and forth between the two people in the margins who are reading the book and talking about their lives, the author, and the translator. It's just what. I've actually read the first chapter of this and really like it so far. Hopefully I'll continue it soon-ish.
2. Cinder by Marissa Meyer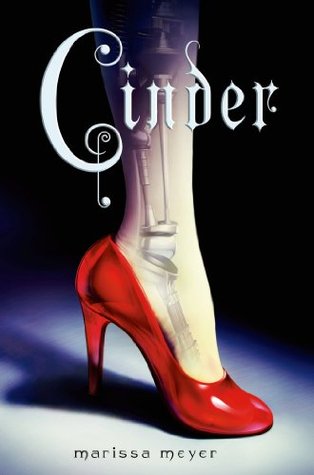 This book I bought a long time ago from bookoutlet – it was in the first purchase I ever made from them back when I first discovered their website. This book from what I know is a Cinderella retelling set in space and dealing with cyborgs. Sounds pretty cool to me, dammit.
.
.
1. Outlander by Diana Gabaldon

This book is another one of those 'bought it forever ago' books. I bought this one around Halloween, so I suppose that isn't that bad, considering I have other books on my shelves that have been there unread for years. This book is about a nurse from the 1945s who gets sent back in time to 1740s Scotland. That alone draws me in. And I heard it's this epic adventure romance everything, and that makes me want to read it more. There are like 10 books in this series or something crazy like that, so the longer I wait, the more I will have to catch up on. Wish me luck.
So there is my list! What book did you want to read yesterday? O:<