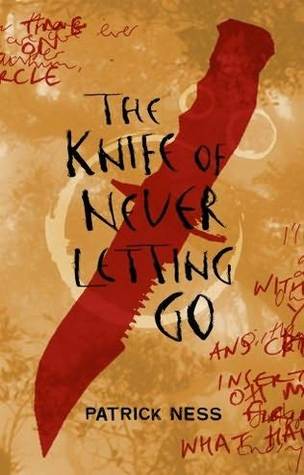 .
.
.
.
.
.
.
The Chaos Walking Trilogy by Patrick Ness
Let me start off by saying that this series has become one of my favorites series ever. Ever. I feel like this is a masterpiece and Patrick Ness is a genius. My only wish is to meet him so I can give him a hug for putting me on such an emotional roller coaster with such a beautiful piece of literature. I want leather-bound signed super nice copies and they will be the stars of my library. Wow.
I've written a review about the second book earlier in my blog, but after finishing the third book about twenty minutes ago, I couldn't just do a review on it alone. The entire series as a whole is so extraordinary. The third book of course is fantastic and probably my favorite of the three, but even then it's only by a string. No single book in this series would be nearly as good if the others were not there to support it. I wish I would have read them in a row with no other books in between. I feel like I would have loved them even more, but the breaks allowed me to break out of the universe a bit unfortunately (though lucky me, Patrick Ness's writing is so intoxicating it only took me about a chapter in each book to get pulled right back in).
But anyways.
The Chaos Walking Trilogy is a young adult science fiction story, where when you come into the first book, you're thrown into the world of a boy named Todd. He lives in a settlement on a new planet, all of the women are dead and nothing is kept secret. Every thought, every significant or insignificant picture, word, feeling that crosses your mind, is broadcast out for anything within the vicinity to hear. Even the animals' thoughts can be heard. All of these thoughts culminate together in an endless wall of noise that is impossible to escape. If you run out of the settlement into the woods, you hear the bugs. Nowhere can you leave the noise behind. One day, Todd is out with his dog Manchee… and he comes across a patch of silence.
That is what drew me into the book. Patrick Ness's writing and characters and imagery kept me there. The way he presents his words on the page have just as much of an effect as what the words actually say. I hope that makes sense. Once you open the book and see, you'll understand what I'm talking about. Throughout the series, Ness's characters go through such personal development, good and bad. After a while, the perspectives between the chapters start to alternate, allowing you to read for more than just Todd's point of view. And none of these perspectives did I find boring or irritating. I was engrossed in every character while at the same time craving to hear the thoughts of the others.
As the series progressed, it became almost a common occurrence at the end of a chapter to yell some form of wordless despair or joy or whatever the author left me with. Each chapter was intense, especially getting into the last two books. I teared up more than once, I was humbled, I laughed. This book put me through such a range of emotions, man. I just couldn't (can't!) get enough. There are three short stories set in this universe that I have yet to read. I will do so as soon as I'm able (one's in my second book, which I have lent out!).
Apologies if this review is nothing more than me vomiting words of love on a page, but that is the impression this series left me with. Nothing but adoration, joy, despair… anything and everything that comes with finding your new favorite book. Go read it.
Overall Rating: 5/5 stars
Hnnngh