So, take a minute and think about how 2015 is already half way through. Now tell me with a straight face that you're not getting old, that you're totally okay with the fact that Monsters Inc came out 14 years ago, that The Lion King came out 21 years ago. Were you even alive for the debut of Lion King? Don't tell me if you weren't, because then I'll feel extra old. 😦
Anyway, that aside, it's halfway through 2015 and this week's Top 5 Topic is Favorite books of the year to date. So far this year, including manga and graphic novels, I have read 48 things, which is WAY WAY MORE than I read last year total (31 books). Honestly I think starting this blog has helped me keep up my reading pace. I get so excited to talk about the books with anyone who will listen that I guess I'm reading faster and more often to do it! 🙂
Anyway, my top 5 favorite books that I have read so far this year:
5. Rurouni Kenshin: Restoration by Nobuhiro Watsuki


I've written a review on this series and I'll say right now that if you haven't read the original Rurouni Kenshin series, don't start with this one. This series is a sort of 'alternate events' version of the story and is very shortened. The reason I love it so much is because it was seeing my favorite characters again and experiencing different events with them. That being said, I highly highly HIGHLY recommend the original. It and this series is a historical fiction set in Meiji Era Japan and center around Kenshin, who after being a manslayer during the revolution, has sworn off killing and is trying to make his way in the new era, despite those unwilling to forget his reputation. This is a series that has high action, comedy, adventure, and a tiiinge of romance of you squint. It's super good.
4. A Game of Thrones by George RR Martin

I was very late to the bandwagon for this series. Honestly it was because I was intimidated by the sheer size of the books. I had originally attempted to read this is 2012 and got distracted by another book. And then I was afraid that I wouldn't remember what was happening if I picked it back up, but at the same time I didn't want all my effort to be erased by starting over… so I just kept not reading it and leaving the bookmark where it was. Good logic, I know 😛
Though when a friend gifted me a copy of all the audiobooks, I decided to listen to it instead from the beginning. The narrator was very good, aside from doing terrible voices for women (haha), and he kept me entertained. I listened while I cooked and drove and cleaned. I got through it after about a semester of classes and immediately went to buy the second book (which I'm reading right now, about 300 pages in)
3. The Hitchhiker's Guide to the Galaxy by Douglas Adams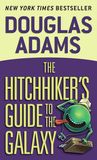 This is another book I was late to the bandwagon to (by years and years and years). Though I feel like if I would have read it when I was younger, I wouldn't have appreciate the humor as much, so I'm glad I waited. The writing in this book is wry and sharp-witted and oh my gosh, Marvin the depressed robot is hysterical. Go read this book because of Marvin.
This book I read out loud with my SO and I feel that enhanced the experience. We both made different voices for different characters and just had a ball with it. We're currently on the third book, Life, The Universe and Everything, which I feel is also pretty damn good. Where else are you gonna read about a group of people chasing a run-away couch across a field in pre-historic Earth?
2, 1. The Ask and the Answer and Monster of Men by Patrick Ness

I put these two together as I don't feel I can separate them. These are books two and three of the Chaos Walking Trilogy and my goodness, this has to be one of my favorite series of all time. I've written an individual review for book two and a series review for the whole thing when I finished book three. I don't even know how to put these books into words man. I have never, while reading a series, been so emotionally compromised. Holy cow. Go. Read. Shoo.
Ta da 😀 All done