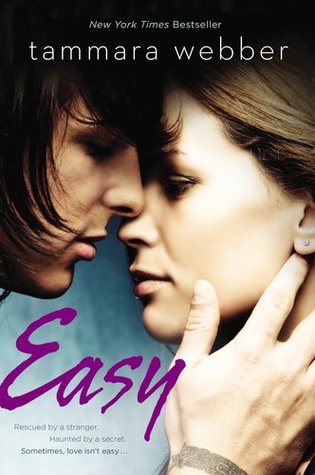 Easy by Tammara Weber
Started July 1, 2015
Finished July 2, 2015
New Adult Romance, 321 pages
This was my first taste of the new adult genre and goodness was it delicious. I need to read more of it, me thinks.
This book centers around a woman named Jacqueline who at the beginning of the book is a victim of a sexual assault but saved at the last minute by Lucas, the other main character (who's a total hunk, btw). This book deals a lot with sexual assult, rape, victim blaming and all that. And I feel like it handles it pretty well. I was anxious there for a bit towards the beginning, but by the end of it, I loved how everything was managed.
This book for me was a breath of fresh air. Aside from some frustrating actions by the main character at the beginning (which she realized she was doing and changed) I really liked how she thought and acted when confronted in different situations. It was such a nice change of pace from the typical lead who I'm yelling at the entire time, shouting "WHY are you doing THAT?" Jacqueline seemed to have a good head on her shoulders and I very much appreciated it.
Another big bonus about this book that I was not expecting was the strong bonded female friendship I found. Jacqueline and her roommate Erin were two peas in a pod, also a refreshing thing to see, especially in a romance novel. There was no cattiness, no competition between them.. they backed each other up through thick and thin, and it made me happy to see it. I feel there aren't enough female friendships in books. There need to be more!
There was only a very minor thing that bugged me about this book, not enough to detract a star or anything, but enough to mention: In the beginning when the romance was first developing, Jacqueline and Erin kept talking about 'let him chase you' or 'only text him so often' or 'blah de blah'. I mean really. After all this awesome female empowerment, friendship, so on and so forth, they're gonna play a coy dating game? Buh, when has that ever worked? Most people on this planet are totally terrible at picking up subtle hints. This is not limited to gender, btw. People in general suck at it. Buuuut lucky for Jacqueline, she picked the one guy who knew exactly what she meant when she said 'hi' in a text message. For all the rest of us, her saying 'hi' translated to 'bone me'. Who knew? No wonder everybody things dating is so damn hard.
Lucky for me (and for all of us) that awkward texting phase was over and done with pretty quickly, so I didn't need to slam my head against the book as I was reading for too long.
Overall, I loved this book. I read it in two sittings, a record for me. Tammara Weber's writing flows so well – I had read 160 pages in my first sitting before I knew it. It really flew by. For those looking to get into this genre and don't know where to start, I highly suggest this novel. Though considering it is New Adult, keep in mind there is sexual content. If you're okay with that, then go bananas. Happy reading! 😀
Rating: 5/5 stars
Lucas is lovely.