Technically, the title should be 'pre-orders' not 'releases' but who am I kidding. I have pre-ordered a total of one book my entire life and don't see that habit changing. So these are books I'm excited about and if I really want them, will just go to the store to get them the day they come out (which is unlikely anyways because money) :"D Top 5 Wednesday was created by Lainey and here is the full list of posters if you'd like to add your name and participate too.
Also, public service announcement because I'm a ding dong and didn't realize this earlier (meaning there's a chance that one other human on this planet didn't either and will find this useful): If you go onto your goodreads 'to-read' list and order it by date published, you can see all the set unpublished books you already want to read. Just so you know. In case it helps. Because I'm a ding dong.
5. Lair of Dreams by Libba Bray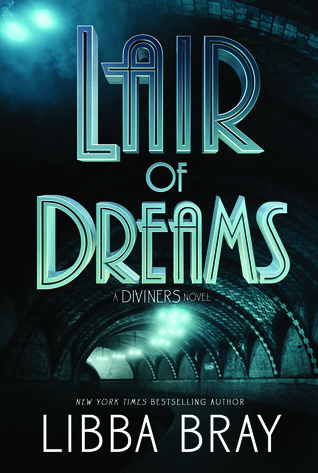 This is the second book in Ms Bray's Diviners series. I'm not sure how long it's going to be exactly.. a trilogy? A eighty-book epic? No idea. But this is number two, and since I really enjoyed number one, I'm excited for this one. This series is a paranormal YA series set in New York in the 1920s. The main character, to me, is highly entertaining. She's a young girl with the aspirations and attitude of a flapper, and finds herself mixed up in a murder mystery concerning demons and other entities. I've seen on goodreads, youtube and blogs that this book is pretty hit or miss for people. Either you love it or you can't even finish it. Lucky for me, I loved it. And book two I hope will be just as good (though I can't say I'm crazy about the cover change. WHY WHY WOULD YOU DO THAT ONE BOOK IN) Hopefully the spines at least will look the same.
Expected release: Aug 25
4. You're Never Weird on the Internet – Almost by Felicia Day
Felicia Day has wormed her way into my heart. The first time I'd ever seen her, she was on Dr. Horrible's Sing-along Blog, which that film on its own is hysterical. Then she showed up in Supernatural during season 7, playing a character who I'd come to adore, and theeeen I found her series called 'The Guild' which I've watched through probably five times now. It's just so great (Clara's my favorite). And now that I just looked that up on youtube, where it was posted originally (I watched it on Netflix) I see there are a lot of extra stuffs on there about it… well, I know what I'm doing for the rest of the day. Anyways. This books is by Felicia Day and that alone makes me want it.
Expected release: Aug 11
3. The Dinosaur Lords by Victor Milan

This book is set in an alternate universey kind of thing where people and dinosaurs co-exist. And I'm not talking nicey nice ones like in that new Disney movie. This book is set in the 14th century, and people have integrates dinosaurs into battle tactics. That's right – battle on the backs of dinosaurs. How awesome (and cheesy) is that?! I want to read it I want it I want. I'm hoping the writing style of this is really technical, if that makes sense. When I read Naomi Novik's Temeraire Series, it dealt with warfare on dragons, and the thing I loved best about it is the detail she went into when writing the tactics of the battle scenes. I hope this author breaks down just how everything is done. This looks to be the first in a series and goodreads has a second one listed – I'm not sure if that's the final one or not.
Expected release: July 28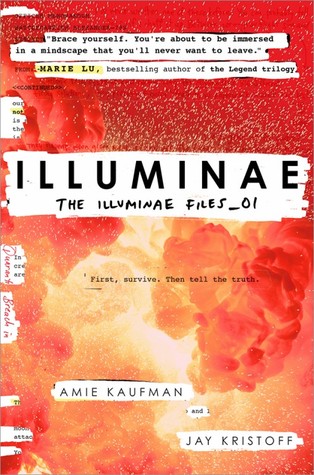 2. Illuminae by Amie Kaufman and Jay Kristoff
I'm such a sucker for interesting presentation. From what I've seen of this book, it reminds me of S. by JJ Abrams and House of Leaves by Mark Danielewski. I'm pretty sure none of these books are about the same thing, but the way they're presented strike me as similar, I guess. It's not a typical 'turn the page, read the page, turn the page, read the page' experience with this book. From what little I've seen of it from people who got early copies, this book is much more involved, and I'm so excited for it (this one I'll probably grab in hardback – I tend to wait for paperbacks, but I think I'll make an exception). This is a sci-fi novel set in 2575 about two people caught up in a war that is brought to their planet. The book is told through a series of documents and emails and military files and… it just sounds so cool. 😀 I'm so excited for this one.
Expected release: Oct 20
1. The Rest of Us Just Live Here by Patrick Ness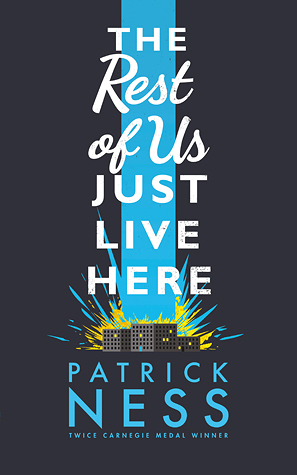 After reading the Chaos Walking Trilogy by this guy, all of his books have wormed their way onto my to-read list, and this is the latest one. This is a fantasy-esque book about the chosen one's best friend, the normal one. Yep, it's about this guy and the rest of his town just trying to live their daily lives while the chosen one is constantly battling things and wrecking the city and carrying on. I feel like this will be really fun to read – I've always wondered about say… Harry Potter from Ron's perspective and stuff like that. And like I said, it's Patrick Ness… so I want it. Gimme. Gimme.
Expected release: Aug 27
Tada~ :"D What books are you looking forward to?