Shh, ignore that it's Saturday. Friday Finds is a meme hosted by A Daily Rhythm. The point of it is to highlight all the books you've added to your TBR list in the past week because honestly when else are you going to talk about them? Because if you're like me, the length of time between adding a book to my tbr and me actually reading it can be years. Hyuck. So here we go!
There are a lot of books I've added this week, so I'm going to just list them, and if there are any that are particularly calling to you, just point it out and I'll be happy to goo about it with you :"D Or if you've read any of these, let me know what you thought!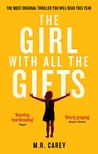 So yes, there's a lot. For the most part I blame the Manbooker Long List for being released. There are I think 13 books on there that are vying for the Manbooker award and shocker, most of them sounded like books I would like. So a good 9 of the 16 books I've added are from that list.
Also, my Goodreads to-read list now has 775 books on it. I own a little over 120 of those books (yes I have that many unread books hush). Luckily for me, I don't plan on stopping reading for the rest of my life. Now let's hope I don't die in a freak accident before I'm a ripe old age. Or if I do, I hope that my books get inherited by someone who really loves to read and they can complete my legacy.
Until next week, happy reading!