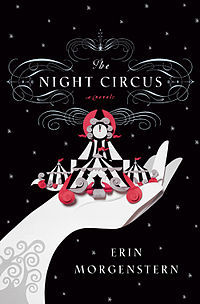 The Night Circus by Erin Morgenstern
The circus arrives without warning. No announcements precede it. It is simply there, when yesterday it was not.

The Night Circus is more than a book, it's an experience. As the author unravels a tale that sweeps you away, you find your heart yearning to walk through the tents, to witness the feats within. This book is alluring in a sense that when you finish reading it, you feel separated, part of you still trapped within its pages.
I finished this book five minutes ago, and I'm already fighting the temptation to pick it up again and reread it. This book enchanted me. And while you won't find any grand adventure or daring rescue within its pages, it will still pull you in, encircling you until you can smell the caramel apples, feel the warmth of the bonfire, feel your heartstrings tighten when you read about a performance as if you were sitting in the crowd witnessing it instead.
This book is the atmosphere it creates. It lets you get away from your worries and jump into a world that hides just behind a curtain. Magic and illusion become indistinguishable and a lot of the time you find yourself wondering which is which.
From the mysterious midnight dinners where the guests invited are treated to course after course of unidentified but always somehow magnificent food to the bonfire that seems to keep anyone from aging and the two magicians the book is about themselves, each element of this book is intricately woven together to create a story that you find yourself entranced by. The characters interact and intermix with each other in a way that solidifies them in their places. Each character plays a bigger part in the story than you realize and as each intention and action is slowly revealed, the seemingly random events that happen throughout the book become far less so.
The Night Circus is a book that I believe I will be thinking about for a long time. I feel like it's one of those books that when you read it, you think, Well now there's something different. I highly enjoyed this book and the atmosphere it created. I enjoyed being sucked into the circus and feeling my heart dance around in my chest as the story and its characters progressed. I think my favorite part about it was just a small detail: The midnight dinners. They just sound so… magical. They make me want to host my own (and when I get a larger apartment with actual sitting space, I may well do just that).
Overall, this book was a joy, and I highly, highly recommend it.
Rating: 4.5/5 stars