A tag today! I was tagged by Orang-utan Librarian and it's taken me over a month to actually do it. Sorry and thank you! 😀

For happy face, I choose Ella Enchanted by Gail Carson Levine. Ella Enchanted is one of the books that I read when I was young that I feel catalyzed my love of reading. I've reread it I have no idea how many times and each time I like it just as much. Ella the main character I feel is an excellent role model for young girls – she takes her unhappy situation and finds a way to deal with it, even break free from it. I dig it. This book makes me happy. I haven't reread it in probably five years, so I think I want to try to this coming year.
.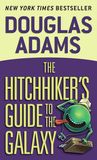 For laughing face, I choose The Hitchhiker's Guide to the Galaxy by Douglas Adams. This is one off the classic books that until very recently I hadn't read. I've known people who haved raved about it for years, even lent it to me, and I just never got around to reading it until earlier this year. It's totally hilarious and I highly recommend it. Those poor petunias.
.
The tongue face reminds me of Nimona by Noelle Stevenson. This book is so goofy, so it reminds me of the goofy face. :"D
.
For the What face, I choose Rumble by Ellen Hopkins. Because ugh, I was making that face for the whole time I was reading it.
.
For the sad face, I choose Monsters of Men by Patrick Ness. I bawled, man. It wasn't pretty.
.
And that's it! I had fun doing this, so thanks again for the tag. I'm not gonna tag anyone I don't think, but if you'd like to do this tag, go for it!