Last year I did a Top 8 books of 2014. This year, I'm doing a Top 15 of 2015! I read a lot more this year thanks a lot to this blog, so I had a lot more to pick from. 😀 I've decided to group favorite books that belong to the same series together, so these are my top books/series I've read this year.
4.25/5 stars
This was the first novel I finished in 2015, back in January. It was also my first taste of Mieville's brand of fantasy. It's intoxicating to say the least. Mieville is able to carve the city in which this book takes place into your mind to the point where you think about wandering its streets long after you finish the book. I look forward to reading more from this author for sure. I wrote a review on this one, if you're interested in reading more.

4.5/5 stars
This one surprised me in how much I liked it. When I first started it, I couldn't stand the main character. By the end, I loved her. So this book got a lot of points in the character development area for me.
Also wrote a review on this one and have since read the second book, Ice Like Fire, which was also really good.
4.5/5 stars
I'm starting to notice a pattern of books I really liked and books I've written reviews about. It's not 100% but it's there. This is another that fits the bill. I loved this book. It was so magical and fantastical. I was lost in the story for a long time after it was over.
12. Saiyuki by Kazuya Minekura
4.83/5 stars
This is a nine book long manga series that I kinda fell in love with. I wrote a series review on the thing if you're interested. If you're looking for a fantastical series with more serious and at the same time funny tones, this would be a good place to look.
This series for me was nostalgic as well. I read about half of it back in high school, and this past year I reread the whole thing. It was a really nice experience. I remember liking it when I was 15 and this time around I loved it. I think I understood the humor a bit more. It was good.
---
I must note that after this point, all the books I will name got a five star rating from me, so ordering them was super hard. I hope you feel my pain. 😛
---
5/5 stars
This is one of those series where each book may have an issue or two (I only rated book 2 five stars I believe) but as a whole, this series is wonderful. I wish that in goodreads, you could rate each book individually and then a series as a whole. It would be so much better. Currently, I'm reading the novellas, which I'll finish up today, so I'm adding them in here too. I wrote a review on the first one if you're interested.
5/5 stars
This is probably one of the most fascinating books I've read this year. It's a memoir written by a young woman who has defected from North Korea. It gives an insight on the daily lives and psyches of those who live in that country (and since she's written this, North Korea has declared her a 'democratic puppet' and has denied all claims in the book (shocker)). This was seriously good and I still think about it.
9. Saga volumes 4 and 5 by Brian K Vaughan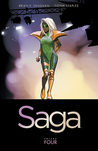 5/5 stars
The first three I read last year. But this series guys, wow. It just keeps getting better and better with each volume. It's only 5 volumes long right now, so it's easy to catch up – go read it!
8. Easy by Tammara Webber
5/5 stars
I tried my hand at the new adult genre this year and this was the first one I read. Needless to say I loved it. I liked the love interest, I liked the themes, I liked that the main character wasn't irritating. This book was great. The sequel is on my 16 in 2016 list, so hopefully I'll get to it soon. I wrote a review if you're interested
5/5 stars
I jumped into the A Song of Ice and Fire series this year, and now I'm knee deep in action and treachery. I love this series so far, both of the books I've read this year I rated 5 stars. Currently trying to get myself to read the third (It's just sooo biiiig) and I know I'll love it when I do. So wish me luck. I wrote a review on the second one if you're interested.

5/5 stars
This book was a pleasant surprise. I expected a generic ya fantasy when reading this one, but it turned out to be a really cool world with some really neat lore. And I loved both the main characters, so hey, super good book by my standards.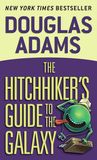 5/5 stars
These are books one and two in the Hitchhiker's Guide series, which has been floating in my life for about ten years. My cousin has tried to get to me to read this series for ages and I finally picked it up this past year. The first thing I realized is that the humor in this series is hit or miss for people. For me, it was a hit. Definitely a hit.
5/5 stars
Guys, this has become one of my favorite series ever. Ever. It's just so damn good and you need to read it. I wrote a series review* (see 'gush') on it. I'm still blabbering about this series months later.
3. The Fold by Peter Clines
5/5 stars
I feel I really loved this book for how nerdy it was. Made repeated references to Stargate, Harry Potter and other things. The concept in my opinion was really neat. And apparently, it has a companion novel, 14, which I was supposed to read first and didn't. Oops. Well, still loved this one, will read 14 soon and hopefully love it as well. Here's my review.
5/5 stars
Hey, this author got on my list twice. In the previous entry, he had my heart racing and had me screaming at the book. In this one, he ripped my soul. This book ripped my soul, guys.

5/5 stars
This is hands down my favorite book of the year. I've seen it on top of a few other lists as well. It's well deserved. If you haven't read it yet, I highly recommend it and I really suggest you listen to the audiobook, which is just perfect. I love this book. I love it. I love it. IloveitIloveitIloveit. I want to reread it a million times and get 5000 copies so I can lend them all out and make other people read it and then we can goo over it together and live happily ever after til the end of our days and it will be wonderful because The Martian exists. My review
.
And that's it! I hope you guys all had a wonderful reading year and found as many new loves in books as I did. 🙂 Happy reading!