January was a very good reading month for me. I set my Goodreads goal for this year to 50 books, and this month, I've already read 11 of them. Woot. This was also a rather busy blogging month for me. I'm rather happy with the content I've managed to put out since the first of the month.
Overview of Blog Activity for the Month:
Two reviews posted
Two Top 5 Wednesdays posted
Four blog award nominations posted (done in three posts)
Two hauls posted
One (original!) book tag posted
I also participated in two readathons this month, resulting in six additional posts:
Boutofbooks 15.0 readathon
RYBSAT Round 7 readathon
Notice I didn't do nearly as well in the RYBSAT this year. 😛 There's a reason, I promise. A dumb reason, but a reason.
Total posts for the month (including this post): 17
---
Reading Overview for January:
As said before, I completed 11 books. One graphic novel, six manga, one audiobook and three novels. They are as follows:

Locke & Key volume 1 by Joe Hill – 4 stars
I really liked this one. It was an interesting opening to a series I'm hoping to acquire the rest of very soon.
Addicted to You by Krista Ritchie – 2 stars
Didn't care for this one at all. My review listed above explains my feelings more fully. But beh. I definitely missed what everyone was raving about for this one.
The Assassin's Blade by Sarah J Maas – 4.5 stars
Really enjoyed this. This is the first book in the series where I didn't find Celaena grating on my nerves (the whole time). I got to see why exactly she's so cocky. Made me understand her a bit better and able to sympathize with her more than I had been.
Is Everyone Hanging Out Without Me? And Other Concerns by Mindy Kaling – 3 stars
This is the audiobook of the month, narrated by the author herself. This book I found alright. It was a pleasant, light read. But unfortunately it wasn't much else.
Madness volumes 1 and 2 by Kairi Shimotsuki – 3 stars each
The premise of this book was really cool. Takes place in the future where humanity has kinda collapsed, leading to the rise of a wave of killers and assassins that have taken advantage of the chaos. They call themselves Madness. Like I said, cool premise. The characters were neat too, especially the different Madness members. The main arc of the story follows the leader of Madness who has been imprisoned and the young priest who watches over him in his cell. There's a a bit of a love story here too, but it was portrayed in a very uh, interesting way. Not bad necessarily, but interesting. I'll leave it there. If you're interested in this series, just keep in mind it's rated M, so expect content to warrant that rating. Overall, enjoyed this series. It was pretty decent.
Heir of Fire by Sarah J Maas – 4.5 stars
This book made me a fan of the series. Before, I liked it. Definitely liked it, but this book made me want to say I'm a fan. There's a difference. You get the difference, right? Please don't tell me I'm just being goofy. Anyways, wrote a review on this one too, explaining thoughts more fully. But overall, really, really enjoyed it.
Saiyuki Reload volume 8 and 9 by Kazuya Minekura – 3.5 stars, 4 stars
This is a really, really good series, guys. Saiyuki Reload follows the original series, Saiyuki, picking up where that one left off and continuing to develop the characters beautifully. These latest two volumes were really good as well. I only have volume 10 of reload left, and I've finished the thing. BUT GUESS WHAT. The publishing company for this series folded right after volume 9 was published in English, so volume 10 was never translated. And since it was the last volume of the series, no other company wanted to pick it up for just one installment. I WILL NEVER READ IT. D: I've looked everywhere, online and otherwise, for a translation, a fan translation, anything. I even looked for German translations since I can kinda sorta speak and still, nada. IF YOU EVER SEE VOLUME 10 IN ENGLISH OR GERMAN ANYWHERE, TELL ME. SEND LINK, BUY IT AND MAIL IT TO ME. I'LL REIMBURSE YOU. AUAAAAUGUGUGAHAHGHHHH.
Wish volumes 1 and 2 by Clamp – 3 stars, 2.5 stars
I mentioned my feelings on this series earlier in my Top 5 Disappointing Eye Candies post, but I'll do so again: I like this series, to a point. I kinda detached from it after a while though. Nothing stuck, nothing made me care. I likely won't be finishing it. (But you never know, I could end up eating my words). Also, remember that 'there's a reason I did bad during the RYBSAT readathon' thing? Well, this is it. This series I couldn't finish, and it killed my motivation to move forward.
Like I said, a dumb reason, but a reason.
---
Favorite book of the month: Heir of Fire by Sarah J Maas
Least favorite book of the month: Addicted to You by Krista Ritchie
---
Progress on 2016 Reading Goals:
Read 11/50 books
Picked up books because of interest instead of hype: Yes. :"D
Put books together in one room: Not yet!
Books unhauled from disinterest or dislike: 12
0/16 16 in 2016 books completed
—
Read a book over 500 pages: Heir of Fire by Sarah J Maas
Read a horror book: Locke & Key volume 1 by Joe Hill
2/24 prompts completed.
And that's it for January!
---
February Currently Reading: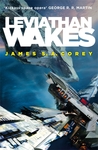 Queen of the Tearling by Erika Johansen
Life, The Universe and Everything by Douglas Adams
Leviathan Wakes by James S. A. Corey
Hopefully I get through these and many more before the month is out. 😀 Happy reading!