Happy Hump Day. This week's topic is top books that were recommended to you. Since a lot of the books I read are recommended to me through the internet, I'm going to to with books that were recommended to me by people physically around me. Also, I'm going to leave out my two all-time favorites series (The Deepgate Codex and The Temeraire series) because I just gooed about them in my last post. But they were both recommendations to me as well. So anyways, here we go~
5. Snow Crash by Neal Stephenson
Recommended to me by: The SO
I recommend this to you if: You liked 'Ready Player One' or are looking for some nice, dense sci-fi.
Goodreads synopsis:
In reality, Hiro Protagonist delivers pizza for Uncle Enzo's CosoNostra Pizza Inc., but in the Metaverse he's a warrior prince. Plunging headlong into the enigma of a new computer virus that's striking down hackers everywhere, he races along the neon-lit streets on a search-and-destroy mission for the shadowy virtual villain threatening to bring about infocalypse. Snow Crash is a mind-altering romp through a future America so bizarre, so outrageous…you'll recognize it immediately.
Recommended to me by: The SO
I recommend this to you if: You like memoir, Asian culture and are looking for something a bit sad.
Goodreads synopsis:
Wednesday, November 7

My father gave me and my brother a little money. My stomach is all twisted up with hunger, but I don't want to spend the money on anything as frivolous as food. Because it's money my parents earn with their sweat and blood.

I have to study well so that I won't ever again be tortured by hunger. . . .


In a drought-stricken corner of rural China, an education can be the difference between a life of crushing poverty and the chance for a better future. But money is scarce, and the low wages paid for backbreaking work aren't always enough to pay school fees.
Ma Yan's heart-wrenching, honest diary chronicles her struggle to escape hardship and bring prosperity to her family through her persistent, sometimes desperate, attempts to continue her schooling.
First published in France in 2002, the diary of ma yan created an outpouring of support for this courageous teenager and others like her — support that led to the creation of an international organization dedicated to helping these children . . . all because of one ordinary girl's extraordinary diary.
Recommended to me by: The SO (are you noticing a pattern here)
I recommend this to you if: You enjoy religious and conspiratorial themes, you enjoy thrillers, you like Peter Clines' writing or if you don't mind short shorts being mentioned every other page.
Goodreads synopsis:
World-renowned Harvard symbologist Robert Langdon is summoned to a Swiss research facility to analyze a cryptic symbol seared into the chest of a murdered physicist. What he discovers is unimaginable: a deadly vendetta against the Catholic Church by a centuries-old underground organization— the Illuminati. Desperate to save the Vatican from a powerful time bomb, Langdon joins forces in Rome with the beautiful and mysterious scientist Vittoria Vetra. Together they embark on a frantic hunt through sealed crypts, dangerous catacombs, deserted cathedrals, and the most secretive vault on the earth… the long-forgotten Illuminati lair.
Recommended to me by: A very good friend
I recommend this to you if: You want to read horror but aren't sure where to start, you disliked The 5th Wave but want to give Rick Yancey another chance (this is waaaay better, trust me) or you enjoy reading about really cool looking creatures
Goodreads synopsis:
'These are the secrets I have kept. This is the trust I never betrayed. But he is dead now and has been for more than forty years, the one who gave me his trust, the one for whom I kept these secrets. The one who saved me . . . and the one who cursed me.'
So starts the diary of Will Henry, orphaned assistant to Dr. Pellinore Warthrop, a man with a most unusual specialty: monstrumology, the study of monsters. In his time with the doctor, Will has met many a mysterious late-night visitor, and seen things he never imagined were real. But when a grave robber comes calling in the middle of the night with a gruesome find, he brings with him their most deadly case yet.
A gothic tour de force that explores the darkest heart of man and monster and asks the question: When does man become the very thing he hunts?
Recommend to my by: My cousin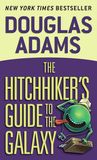 I recommend this to you if: You like humor, sci-fi, classics or just general goofiness.
Goodreads synopsis:
Seconds before the Earth is demolished to make way for a galactic freeway, Arthur Dent is plucked off the planet by his friend Ford Prefect, a researcher for the revised edition of The Hitchhiker's Guide to the Galaxy who, for the last fifteen years, has been posing as an out-of-work actor.
Together this dynamic pair begin a journey through space aided by quotes from The Hitchhiker's Guide ("A towel is about the most massively useful thing an interstellar hitchhiker can have") and a galaxy-full of fellow travelers: Zaphod Beeblebrox–the two-headed, three-armed ex-hippie and totally out-to-lunch president of the galaxy; Trillian, Zaphod's girlfriend (formally Tricia McMillan), whom Arthur tried to pick up at a cocktail party once upon a time zone; Marvin, a paranoid, brilliant, and chronically depressed robot; Veet Voojagig, a former graduate student who is obsessed with the disappearance of all the ballpoint pens he bought over the years.
---
This week's topic was pretty fun! I figured posting the synopses of the books would be better than my butchered version of a summary.
As always, T5W was created by Lainey, and here is where you can find the full list of posters if you'd like to join as well. Happy reading!