Welcome to March! This past month, I wasn't very activate in posting, nor was I very active in reading. At least, not as active as January. But I still read a few good things, so I'm rather content.
Overview of Blog Activity for the Month:
One wrap-up/currently reading posted
Two tags posted
Two Top 5 Wednesdays posted
One haul posted
Otherwise, I made no other posts. No readathons this month!
Total posts for February: 6
---
Reading Overview for February:
I completed four books this month. One children's book, one graphic novel, one memoir and one collection of essays.

I am a Pole (And So Can You!) by Stephen Colbert – 4 stars
I don't own this book, nor did I borrow it from the library. I actually saw it at the bookstore and stood there for five minutes and read it all. It was really entertaining, as Stephen Colbert's work tends to be. And it is a children's book… kinda. I guess. Anyways, it was pretty funny.
Through the Woods by Emily Carroll – 3.5 stars
This was a library rental. A nice, quick read. Kinda creepy, rather enjoyed it, but I feel like the hype got to me on this one. I didn't find it to be anything special.
Stars Between the Sun and Moon by Lucia Jang – 5 stars
This was a memoir written by a woman who escaped from North Korea and has since resettled in Canada. It was really interesting and devastating. This is the second North Korean memoir I've read and this one was just as powerful as the first. Definitely worth a read, highly highly recommended.
Bad Feminist by Roxane Gay – 4.5 stars
This was a highly educational read for me. I consider myself a feminist and going into the book, I knew I was going to agree with a lot of the author's standpoints, but I didn't expect just how much. And since the author is a different race than myself, she opened my eyes to a whole new level of stuff that I didn't even think about before. It was a very humbling, eye opening and re-affirming read, and I highly recommend you check this out regardless of what your beliefs are. It'll either help you broaden your views or better understand different ones.
---
Favorite book of the month: Stars Between the Sun and Moon
Least favorite book of the month: Through the Woods (Not saying this was bad, just that it got the lowest rating out of the four)
---
Progress on 2016 Reading Goals:
Read 15/50 books
Picked up books out of interest instead of hype: 3/4 (Through the Woods was a hype grab)
Put books together in one room: Not yet!
Books unhauled from disinterest or dislike: 0
0/16 16 in 2016 books completed
Read a collection of Essays: Bad Feminist
Read a book under 100 pages: I am a Pole (And So Can You!)
Read a non-superhero comic that debuted in the last three years: Through the Woods (2014)
Read a non-fiction book about feminism or dealing with feminist themes: Bad Feminist
4/24 prompts completed this month
6/24 prompts completed total.
And that's it for February!
---
March Currently Reading: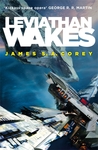 Basically the same as last month with one addition.
Life as We Knew It by Susan Beth Pfeffer
The Queen of the Tearling by Erika Johansen
Life, The Universe and Everything by Douglas Adams
Leviathan Wakes by James S. A. Corey
And that's it! Happy reading!