Hush, I know it's Thursday.
This week's topic is intimidating books. And it took me a long, long long time to narrow this list down to just five. And before I start, my personal definition of an intimidating book is one that once I start reading it, I feel it will:
A. Take me a long time to finish due to its size, its content, or its language use.
B. Rip me a new one in my emotion center and I'm just putting off the inevitable.
So each of the books that made this list fall into one of the above categories, or in some cases, both. So here they are: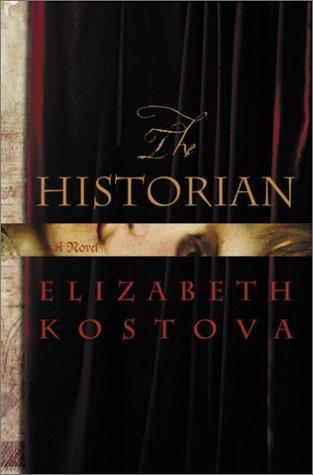 Intimidation Factor: Huge, dense, emotionally draining
This book is one that I bought years ago. I've started in two or three times and kinda was scared away from it for completely goofy reasons. This book follows a young woman who comes across a series of letters and documents that delve into the history of Vlad the Impaler, the character base of Dracula. These letters lead her to believe that the 'Dracula' stories were not just stories. This book is a historical-ish fiction with a slow-building, yet gripping tension and elements of horror. Every time I start it, I get really into it. It's slow-moving, but engrossing. But at some point, I always end up getting distracted by other books or something. I don't know why. This is a good book from what I've read so far and I really hope to actually finish it. I've had it for nearly a decade for goodness sake. I'LL FINISH IT SOMEDAY I SWEAR. In the meantime, if you've read it, let me know your thoughts. :"D
Intimidation Factor: Huge, psychologically demanding, difficult content organization
This is one of those books I've picked up in the store to purchase but by the time I go to check out, I've put it back on its shelf again. It happens every time I see it in stock. I just can't bring myself to buy it. The reason is I'm already intimidated by it, so I know if I bought it that it would just sit on my shelf for ages and I'm trying to buy books that I feel I'll read rather quickly after buying them. So I think 'I'll buy this when I'm ready for it' and put it back. But the 'I'm ready for it' hasn't happened yet.
I've kept myself pretty much unaware of what this book is about on purpose. I just know from flipping through it that the organization of the thing is like no other book I've seen before. And the only thing I know about the plot is that it's about a house that's bigger on the inside than it is on the outside. And I know that it's suppose to mess with the reader's mind big-time. So I haven't read it yet, let alone bought it. I want to, but I'm a-scared.
Intimidation Factor: Dense, intellectually challenging content
For those who don't watch the Science Channel, Michio Kaku is a theoretical physicist. He's written many, many books on the theoretical possibilities of different dimensions, space travel, you name it.This book is his most recent, came out in 2013 or 2014 I believe. I actually pre-ordered this one (two copies actually – one for me, one for my SO, who is Kaku's biggest fanboy ever) and they're even signed. This book delves into what the human brain will accomplish and be able to do in the future – theoretically, mind you. But this book man. I've skimmed it so far and it reads like a text book at times, but at the same time, it's such a fascinating topic. He talks about shooting our consciousness off into space in a laser beam as a form of space travel! It's so cool! But I can't bring myself to actually sit down and read straight, hard (theoretical) science. I just can't. I'll do it eventually, but my brain is retaliating against me. I feel like I'd be a lot better suited to attend a class taught by Kaku and have him go through his book that way. I love this kind of thing, I just can't sit and absorb it all without my brain oozing.
2. S. by J.J. Abrams and Doug Dorst
Intimidation Factor: Dense, huge, difficult content organization
I received this book for Christmas two years ago now and I've barely touched it. One – I'm too scared to leaf through it in case a piece falls out and two – I feel like the order in which you read stuff will be difficult to grasp at first.
S. is a book within a book within a book. The cover I show in the picture is actually a box. Inside the box is a book called The Ship of Theseus, which appears as an old library book. As you open it, you'll notice three things immediately:
The book is covered in scribbles.
There are loose-leaf articles and odd bits shoved in between the pages
There are huge foot-notes everywhere.
Each of these contributes to one of the stories happening as you read this book. The Ship of Theseus is the main book, written by the author Straka, who you'll notice has written all the footnotes. As you read The Ship of Theseus, you'll pick up the main story but also Straka's increasing obsession in the foot notes. The foot notes are just as important, as they shed light on the creation of The Ship of Theseus. And then, there are the scribbles throughout the margins of the book – two people are reading this book and communication back and forth with each other. As they research the book and Straka, they leave the articles and things in the pages they are relevant. So you get the story of these two people as well, on top of the slow psychosis of the author, on top of the main story itself.
It's a lot to take in, which is why I find it intimidating. One of these days. I feel like I'll love it when I do get to it at least. Just need to make it happen.
Intimidation Factor: Dense, emotionally draining, psychologically messed-up, difficult language use.
This is the book I'm most intimidated by. This is by no means the largest book I own, nor is it the densest. But I feel like it's going to mess with me the most. This book, originally written in French, is a book written in the 1800s and has since been translated and re-written a few times, including as Disney's The Hunchback of Notre Dame. So you know how that movie, even though it was a kids' movie, had content in it that was a tad unsettling? Like the creepy Archdeacon, Claude Frollo, who had that weird obsession with Esmerelda?
Well, that adaption barely touched the tip of the ice berg. The original translation is dark. It's disturbing. And it's not just Claude Frollo, a lot of the characters are definitely unsettling. There is a lot of dark content in this book, and mixed with the difficult writing from the 1800s, I feel like it'll be a challenge for me to get through. I feel like I'm going to need a box of tissues, a barf bag and goldfish crackers to much on all in one.
---
And that's it for today! As always, if you would like to join, here is the list of posters  to add your name! Happy reading!