Hello! A tag today. :"D A very Halloweeny tag that I was tagged by Zezee for on Halloween. BUT GUESS WHO LIKES MIXING UP HOLIDAYS, YO. (thanks for the tag, btw)
---
Vampire
The Greyfriar by Clay Griffith. I haven't read this one yet – it's one of those books I borrowed from a friend a year ago and never touched (yes I'm one of those people). It takes place in an alternate history and is apparently pretty steampunky and gritty. Just writing about it now makes me want to read it, so that's good, haha.
Werewolf
The Wolf Trial by Neil Mackay. This is another gritty, dark book that I expect to love. It's a historical fiction revolving around a man who after committing deranged murders, is being tried for murder as a werewolf from an equally deranged medieval court. At least, that's what I'm picking up about it. I heard about this book from this review, and I had it on my 'to read' list before the review had even finished. I'm very excited for it.
Zombie
Feed by Mira Grant. (Hey look, another book I haven't read yet). This one I think is a bit of a different take on the 'zombie apocalypse' trope. Yes, zombies have spread all over… but apparently, society is still in tact for the most part. This book follows a couple of bloggers as they try to cover the story of their career. It definitely sounds interesting. I've never heard of a zombie book where the plot wasn't 'survive the zombies'.
Ghost
Horrorstor by Grady Hendrix. This is definitely the most entertaining horror I've ever read. The ghost in it is pretty creepy, too. Can't recommend this one enough if you're tired of the same old same old.
Witch/Warlock/Spellcaster
Uprooted by Naomi Novik. I loooooved this book and all the characters. Spells and magic is wonderfulness. :"D
Fairy/Fae
Ralph and the Pixie by G. S. Monks. This book definitely had an interesting take on fairies, particularly in a political drama, war-y kinda way. I dug it, it was good.
Demon
Oh oh, for this one I'm going with The Merciless by Danielle Vega. This book was unsettling, man. I really liked it. It had that feeling of 'I know something's going to happen, I know something's going to happen' hair standing up on your neck-ness. It was pretty great.
Angel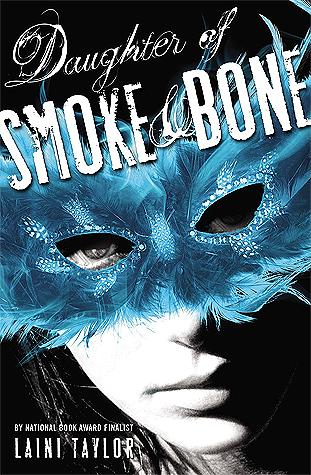 Daughter of Smoke and Bone by Laini Taylor. This was a pretty interesting book I think. I have the second and third ones but (as per usual) haven't read them yet. I'll get to it. What I liked most about this book was the setting and the lore – both were rich and detailed. Laini Taylor has a gift with words.
Alien
Saga by Brian K Vaughan. I think this is the obvious choice here. There are characters with tvs for heads for goodness sake.
Superpowered Human
And I think is the obvious choice here, too! Dragonball Z by Akira Toriyama! Well, some of them are humans, at least. :"D
.
---
And that's it! Happy reading! :"D See you tomorrrooooowwwww