Hello! Today I'm gonna poke out some recommendations for books by genre. :"D
So here goes nothin' and I'm going to really try not to recommend Harry Potter:
---
Book Recommendations:
Fantasy:
Ages 10-15: Artemis Fowl by Eoin Colfer. This series revolves around a 12 year old mastermind and his butler as he tries to earn by his family's fortune and fame by capturing a fairy and ransoming her for hostage. This book is funny, action-packed and written on a level that this age group (and probably some younger) can enjoy.
Ages 15-18: The Diviners by Libba Bray. Set in the 1920s, this is a horror with fantastical elements, I'd say. Not a straight up fantasy. People older than this age group would enjoy this as well, but I put it here because of the content. It's good but doesn't have any gruesome violence or explicit sex. So here it be.
Ages 18+: Uprooted by Naomi Novik. I know I've mentioned this one to death at this point, but I seriously think it's something everyone could enjoy. Reminiscent of Beauty and the Beast, this is a dark and interesting take on the tale. Full of whimsy and grittiness and magic, this is a book that's stuck with me long after I finished it. Content though makes me feel it should be for older audiences, but hey, it's your call.
.
Science Fiction: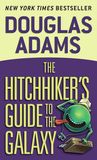 All ages: The Hitchhiker's Guide to the Galaxy by Douglas Adams. There are so many good scifis I could recommend, but this one is sticking out to me like a sore thumb. This book was so enjoyable, so funny, so entertaining and so memorable that I'm already wanting to reread it and I haven't even finished the series yet. If you have a scifi fan, a humor fan or just a book fan in general, this would be a good book for them.
.
Young Adult:
Ages 10-15: Ella Enchanted by Gail Carson Levine. Particularly I recommend this one to young girls but I feel boys could get just as much enjoyment out of it. This book has a strong-willed female lead character that defies her fate and has a good mind. I feel she's a positive role model and I know growing up that I felt like I could relate to her.
Ages 15+: The Queen of the Tearling by Erika Johansen. Warning, this one does have a bit of adult content and is questionably 'Young Adult' but I thought that it was good enough to be mentioned. This book surprised me with how good it was. It has the unique setting of a regressed Earth – hundreds of years in the future of our planet, but society has regressed to an almost medieval one. The book takes place on a continent that appeared out of the ocean and is littered with references to modern day. It's interesting for sure.
.
Literary Fiction:
Ages 18+: Memoirs of a Geisha by Arthur Golden. This book was one of the first literary fictions I had ever read and it's definitely stuck with me. It's a good gateway book to those centered around Japanese culture – I've since hunted down more books written or dictated by actual geisha and learned even more than this fictional account entails. I really value this book and what it did for me as far as awareness of other cultures and practices, with its accuracies and inaccuracies both.
.
Graphic Novels:
Ages 18+: Monstress by Marjorie M Liu. This is a fascinating graphic novel set in an alternative history Asia and revolves around a young woman and a monster. It's dark, it's gritty, it's steampunk, and I loved it. The best thing about this series is that this is the only volume currently. If you pick it up now, you can follow it as the issues are released! :"D
Manga:
Ages 13+: Fruits Basket by Natsuki Takaya. This is probably one of the cutest series I've read. It follows a young girl and a family cursed to change into animals of the zodiac when hugged by the opposite sex. It's funny, cute and adorable. Appropriate for younger audiences, too.
Ages 16+: Rurouni Kenshin by Nobuhiro Watsuki. This is one of my favorite series ever. Set in Meiji Era Japan, it follows a man who was once a manslayer in the revolution, but has since cast aside his killing ways and promised to right his wrongs by protecting all that he can and never, ever taking another life. This series is wonder – it's funny, action packed, heart-wrenching. It's good.
Ages 18+: Ikigami: The Ultimate Limit by Motoro Mase. As far as dystopians go, this one is pretty damn dark. In a society where life is to be valued, the government enforces a mandatory slaughtering of citizens via an injection that is given to everyone as a child. Usually, the injection is just a booster, but one is however many is lethal and will sit in that person until a designated time and date. 24 hours before that point, that person is delivered an ikigami – a death notice. This story follows all these people during their last 24 hours of life. It's dark, it's unnerving and it's very unsettlingly close to home at times. Defintiely a mature rating on this one, so be warned.
---
And that's it for the recommendations. If you have any for me, throw'em at me.
Happy reading. :"D