A tag today! :"D Christmas Carol Book Tag! Still in Malaysia. I'll start live-writing again on the 22nd of December. Almost home again!
This tag was created by Sam's Nonsense, but I can't find her original video. I think it might have been deleted?
---
Deck the Halls: Some of your favorite book covers
I seem to have a thing for yellowy covers
Let It Snow: A book that takes place in the winter
Assassin's Quest by Robin Hobb. This is the third book in the Farseer trilogy (which I totally recommend) and for the majority of the thing, most of the people in it are really cold.
:"D
Rudolph: A book where the main character is a misfit
Naruto by Masashi Kishimoto. Naruto is the classic misfit character. He grows and develops though to one respected by his peers and by himself. As much flack as this series gets, it gives a pretty good message, at least in the main character's storyline.
Holly Jolly Christmas: A book that makes you happy
You're Never Weird on the Internet (Almost) by Felicia Day. This is a recent read for me and one of my favorite of the winter. I had a girl-crush on this woman  before the book and it's only grown stronger after. I very much admire her as a person.
A Christmas Song: Favorite Christmas Story
A Christmas Story, of course. :"D
Frosty the Snowman: A book with a character that is hard on the outside, kind on the inside
Again, going with Robin Hobb's Farseer Trilogy. Burrich is the character for this one. He's gruff and tough, but has a weak father-like affection for the main character Fitz. I really like Burrich. I think he and I could be buds.
Up on the Rooftop: One of your favorite books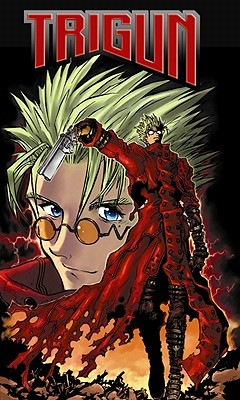 Trigun by Yasuhiro Nightow. I feel like I don't mention this manga enough for how much I love it. But I seriously love it. :"D
Santa Claus is Coming to Town: A character that looks out for another character
Sesshomaru from Inuyasha. He's one of my favorite characters in the series. He starts out as a cold-hearted killer… and he remains that way, kinda. Despite being full of hatred for humans, he basically adopted a human orphan as his ward. The cute interactions melt my heart, man.
The Holly and the Ivy: A green cover and a red cover
There, nice and easy
Silent Night: Favorite classic book
Frankenstein for sure. Something about it just drew me in and I can't quite place my finger on it, honestly.
Baby it's Cold Outside: Favorite fictional couple
I hate this song. It's so rapey.
Currently it's one in Uprooted, but I can't really name it for it's a spoiler. 😛
The most wonderful time of the year: Your favorite Christmas tradition
Going to my grandmother's for breakfast on Christmas morning. We've done it every years since I can remember. :"D
---
And that's it for today! Happy reading! Tomorrow, I fly home. Wish me luck and little jetlag!