Hello! When I was doing the 'Ringing In the New Year' tag yesterday, a couple of the questions asked about anticipated releases and I realized that I hadn't been paying attention to anything and couldn't answer the questions. So this morning I spent some time doing research on books that are coming out this year.
This post is marked as #1, just in case I come across or hear about more books being released this year that haven't been announced yet. So here we go.
---
Harry Potter and the Prisoner of Azkaban, illustrated edition by J. K. Rowling and Jim Kay
No picture for this one yet, as it hasn't officially been announced or I'm guessing even finished – I can't even find a 'get ready, dis gun b gud' page on Goodreads to link to. But if the pattern continues as it did with the past two books, it should be out in October. Totes buying this one. Very much looking forward to it!
I've never heard of this author, but the premise of the book sounds rather interesting. It's a fantasy following a young woman as she wins a trip to a vacation destination in a war-torn land. Obviously things happen and instead of being a visitor on the outside looking in, she finds herself stranded in the middle of the war, alone. I think it's going to be good. I like reading books about characters getting rude awakenings (that's probably mean of me but whatevs).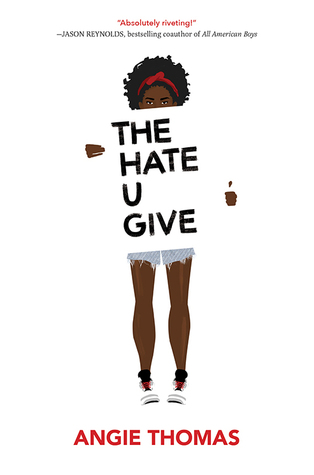 This is going to hopefully be a powerful piece. Inspired by the Black Lives Matter movement in the US, it follows a girl who witnesses her unarmed friend be shot and killed by a police officer, and then has to face the aftermath – the atmosphere that results, her neighborhood, her family, so on and so forth. I feel like this book has the potential to speak to a lot of people and create a lot of sympathy that sometimes seems to be lacking. Very excited about this one.
Saga volume 7 by Briana K Vaughan
This is the next installation of the ever-popular Saga series. And I totally admit I'm neck-deep in this bandwagon. I love this series. I will probably be buying this one on its release day and reading it as soon as I get home. Volume 6 was excellent and it's made me very excited for volume 7. I can't wait!
After reading Roxane Gay's Bad Feminist I fell in love with her writing and her personality. I feel like this book will be just as marked and moving as her previous book. Very much looking forward to this one – though I admit with memoirs I tend to not buy the physical book. I very much prefer memoirs in audiobook form, especially when the author is narrating it themselves. This will likely be no exception.
If you've read Brosh's first book Hyperbole and a Half then you can understand my excitement for this one. Containing more autobiographical comics, it promises to be just as entertaining, impactful and memorable as Hyperbole and a Half was. If you haven't read anything by Allie Brosh, I highly highly recommend it. You can check out her website, where she posts her comics up for anyone to read.
.
---
And that's it (for now). If I find anymore book, I'll make another post. If you know of any books coming out this year you think I might like, do let me know will you?
Happy reading!