Hello, it's not February anymore and not humpday, so no reason to delay this post further.
Currently, I'm reading six things: Four physical novels, one audiobook and one guidebook.
---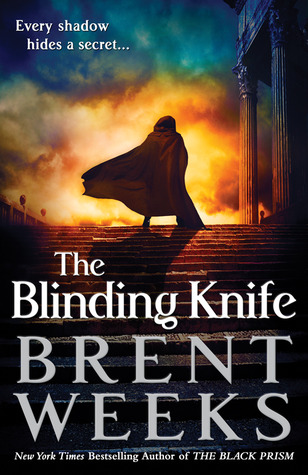 Book two in the Lightbringer series, it's definitely captured my heart. I've been talking non-stop about the first one, The Black Prism, since I finished it last week or so ago and have even written a blabber on it (which… now has probably a billion pingbacks on it since I mentioned it so much, hawhaw). Can't go into plot detail about this particular book, but the series overall plot follows a man, The Prism, who can fracture light into its individual colors and 'draft' them into physical matter. This book is a huge fantasy series, neck-deep in wonderful characters, neato world-building and a really cool magic system. I seriously recommend it. My goal is to catch up with the series by the end of the year. The first two I've listened to on audiobook, but have the third one as a physical copy and man, it's a brick. I'll be posting a haul tomorrow so you can see it. It's bigger than my head.
Book two in the Remnant Chronicles, this is a continuation of The Kiss of Deception, which was pleasantly pleasant. I gave it a four star rating I think. This one, I'm liking much more. It's a YA fantasy, following a young woman who runs from an arranged marriage and goes into hiding in a nearby town. This one, I'm buddy reading with Ace and another friend who I don't think has a blog. At least I don't think so does. Hopefully will have this finished within the next week or two. I have the third one lined up and ready to go!
Second book of the Liveship Traders series, which is the second series set in Robin Hobb's Realm of the Elderlings world. This series follows a few different characters in a rich world full of magic and liveships – ships that, once three generations of a family has passed away on their decks, come to life. Their figureheads become sentient and can speak and direct the ship for the captain. I seriously love this world and this series (and the first series!) This is also a buddy read that I'm doing with Zezee 😀 We've been buddying through Robin Hobb's books since book three of the first trilogy (or was it book two?) and I've been rather enjoying it. :"D
This was also on my last month's currently reading, and I'm still paging through it. Now that the Dnd campaign I'm involved with has actually started, I'll probably just pick out individual sections I was to read about and then mark it as read rather than read the thing cover to cover. I'm enjoying it so far though – it's very informative as far as lore and things like that go. It's such a pretty book, too. Every Dnd book I've come across so far has been absolutely beautiful. The art, the atmosphere, everything.
The fifth book in the famous A Song of Ice and Fire series, this one was also on my list from last month. It's just so big, man. And honestly it's kinda taken a backseat to the two buddy reads I have going on currently. Once one of those finishes, I'll be able to add this book into the mix again. Can't even begin to go into plot at this point or I'll be lynched for spoilers. If you still have no idea what this series is about, I have no idea what to tell you. Go watch the show? Go pick up the first book? 😛
Honestly looking at this, you'd think it was a sci-fi, wouldn't you. Well, it's not. It's a fantasy. At least, it's a fantasy in the sense that it takes place in a made-up world. I have yet to see any fantastical elements though. But what this book doesn't have in actual fantasy, it makes up for in political intrigue. This book is a political thriller set in a fantasy world and if you go into it wanting anything else or anything more than that, you'll be disappointed. But if you know what you're getting ahead of time, you'll likely love this book. So far, I definitely am. It's so dense and calculating and the main character has this mind like a metal trap. It's so good. It's so good. This was one of the books on my 17 in 2017 list and so far, I'm glad I put it on there. I'm so happy that I started this thing. I feel like it might end up on my all-time favorites list.
---
And that's it for me! I know of a couple books I plan on picking up after these, but they're not set in stone. We'll see how my course load is this month. I'm procrastinating it as we speak. :"D Happy reading.