Hello! The camel says it's Wednesday, so here we are again. :"D This week's topic is a rather broad one – favorite fantasy and science fiction. There are a lot of books I'm sure will be on a lot of people's lists and honestly, they would likely be on my own as well (ie. Harry Potter, Uprooted, A Court of Mist and Fury, The Martian, Leviathan Wakes etc etc). So I'm going to post some of my favorite scifi and fantasy novels that I haven't talked about much lately or aren't currently super hyped. Past hype dun count. :"D
If you'd like to participate in T5W, here is the link to do so!
---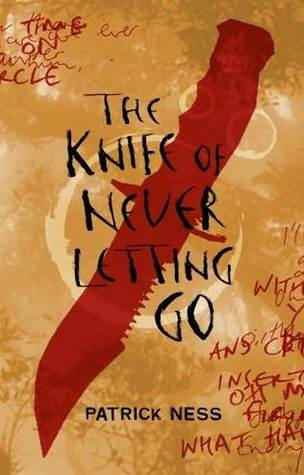 This series was super popular a few years ago but has since fallen to the wayside a bit. If you've read it, you know my pain. If you haven't read it, I highly highly suggest you do so. It follows a young boy in a colony of only men. This boy, along with the rest of the colony, can hear each others' thoughts. Constantly. The people's thoughts, the dogs' thoughts, the bugs' thoughts, the cows' thoughts. Everything collides in a barrage of noise. It's all the boy has ever known, and then one day, he stumbles across a patch of silence.
This series is really good, it's really intense and it kinda killed me a bit.
I've mentioned this one a lot recently. Like, a lot a lot. It's the latest addition to my favorites list and now that I'm about half way through the second book, my certainty that this series belongs on this list is even stronger. This series follows The Prism, a man who can fracture light into its individual colors and 'draft' those colors into solid matter called luxin. It's set in a fantasy world full of neat magic, cool world building and some pretty great characters. I wrote a spoiler-free blabber on it (which now has a good ten ping backs likely) if you'd like a fuller idea of what it's about.
3. The Fold by Peter Clines
When I bought this, it was a total cover-buy. I was on a boardwalk and this was sitting in the front window of a bookstore I walked by. I pointed, squeaked, ran inside and bought the thing. The picture here doesn't do the cover justice, man. The cover, first of all, is shiny, it's textured. The fold going down the front of it actually feels like a fold. It's soooo cool. 😀
Anyways, bought the book on impulse and totally ended up loving it. It follows a man that's brought in to assess a scientific experiment that ultimately feels a lot like Stargate if you've ever seen that. It twists off in a different direction though, and I very much enjoyed the ride. This book was really cool. And it has a companion novel 14 which is on my 17 in 2017 list. This is the one book on this T5w list that I have only seen a couple times elsewhere and even then the opinions have been mixed. People seem to either love it or hate it. Well, I looooove it. :"D
I've noticed this series getting a bit of attention lately, and I say GOOD. This series is fantastic and has recently finished (which… I now need to finish. I'm thinking I'm just going to reread the whole thing since it's been years since I originally read it). It's set during the Napoleonic Wars and follows a British Navy Captain who conquers and takes a French ship. On board, he finds a dragon egg.
Napoleonic warfare with dragons. Do I need say more. This series is amazing. The characters are well-developed, the war scenes are tactical and planned, the interactions between Lawrence (the navy captain) and Temeraire (the dragon) are adorably hysterical. I love it. I love it.
This series is usually my go-to when people ask for recommendations. It's about renegade angels and false gods in a city suspended by chains over a seemingly bottomless abyss. It's fantasy, it's steampunk, it's a lot of stuff. It's dark, it has anti-heroes, it has weirdly lovable characters, especially in the second book. It's just fantastic. I love it, people. Read this one.
.
---
And that's it! Happy reading.