Helloooo it's the end of March and it's the first post in a while that didn't have a camel in it.
This month, I read a decent bit. I don't feel like I did though – I feel like I've been swamped with coursework but apparently I had more free-time that I actually utilized to read than I thought, so woo.
This month, I finished one novel, two comic books and one audiobook.
---
This one was a buddy read done with Ace and another friend. The second book in the Remnant Chronicles trilogy, it far out-shined the first. No middle-book syndrome with this one. This book I think I liked so much because we got a more solid view of the setting. In the first book, all that was known was that it was set in a land that had ruins from a bunch of ancients, but otherwise didn't go into detail. This book did, though not directly. It was obvious though if you picked up on the descriptions of the scenery AND IT WAS COOL. I LOVED IT.
Plotwise, I dig this book. I'm still not smitten with the main character though, which is a bit of a disappointment. She's good, I like her, but to me she still feels a bit flat. Hopefully book three will give her a bit more character development.
4/5 stars
These two comics I flew threw. I am obsessed with Sarah Andersen's sense of humor and when I heard the second edition would be released, I pre-ordered it and bought the first book along with it. They were both fantastic and I loved them. :"D Can't really write a review otherwise, honestly. If you haven't heard of these books, google 'Sarah Scribbles' and widen your view on life.
4/5 stars each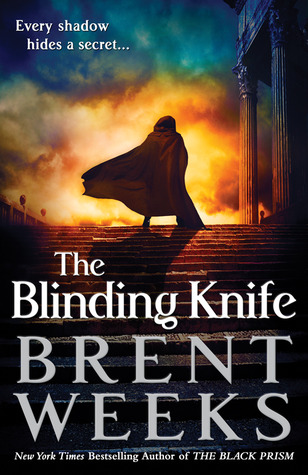 This is the audiobook I mentioned and it's still my current obsession. Book two was just as good, if not better than book one. I've been yapping about the first book, The Black Prism for a month or so, and that's because I just can't get over it man. Every so often you find a series and you think "Yep this is it. This is my new favorite series". Well. Guess what.
The Blinding Knife continues where the first book left off, following the Prism and his son Kip and a few other characters, all of whom in my opinion are rather memorable. The humor in this book is still there, especially when reading from Kip's POV, and the lore of the magic in this world deepens considerably. I really like the image that Weeks is painting here. I've since bought physical copies of books three and four and plan on continuing the series in physical copy…. though I might default back to the audiobook. The narrator is just that good, man.
Also, I'm in love with these covers. They're just so lovely.
5/5 stars
And that's it for readings from this month. As said above, I got more than I had expected to read, but at the same time, it's a bit below my norm. On the plus side, I very much enjoyed everything I picked up. 😀
---
Blog Activity
10 posts created (including this one):
One Currently Reading
One haul
Two book tags
Five Top 5 Wednesdays
---
Reading Goals
Complete a Goodreads Reading Challenge of 50 Books: 19/50
Count how many books I own and determine how many are not yet read – Was complete, need to do again with incoming haul and books I unhauled.
Discard books I don't like or lose interest in reading – Got rid of ten or so this month, I think.
Read all of the books on my 17 in 2017 list – 2/17
---
And that's it for March. I don't expect to get too much reading done in April… this coding project (which will likely get it's own post. It's a doozy, man) is killing me and is taking up the majority of my time at this point. I'm soooo excited for it to be over, man. SO EXCITED.
On the plus-side, my nephew-to-be has asked me about the robot I'm working on, so this is my chance to get into interested in coding and robotics. 😀 I see a demo in my future.
Happy reading!