Happy end-of-April!
This month was bananas. Between coding projects being due and prepping for graduation and starting to plan a honeymoon, my reading has kinda pattered out a bit. Woops. But! I still got some reading done, haah.
This month, I finished one novel and one graphic novel

---
I seriously enjoyed this book. I wrote a blabber on it, going into all the reasons why I enjoyed this book. It's a geopolitical fantasy following a main character's who's as sharp as a tack as she tries to take down an empire from within. I seriously seriously recommend it (and btw, check out the blabber. Shameless plug! :"D)
5/5 stars
Saga volume 7 by Brian K Vaughan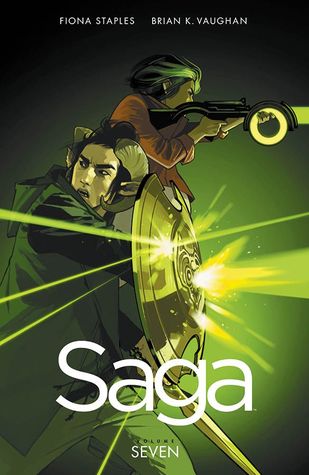 A friend told me today that she can never give a book that makes her feel sad a five star rating. I found that interesting, because that's the reason this book got such a rating from me. Continuing the Saga series, the volume holds up just as well as the previous ones. I really enjoyed it.
5/5 stars
.
---
r/Fantasy Bingo 2017
I've decided to use the template provided by Millenium_Dodo here, which you can as well if you're participating. :"D I've noticed my progression looks like it's going in-order of the challenges… totally not intended, hawhaw. But woot, 2 out of 2 books I read this month qualify for the challenge!
---
Blog Activity
12 posts created (including this one):
One Currently Reading

One haul

Six Fantasy Bingo Posts
Two Top 5 Wednesdays
One Blabber
---
Reading Goals
Complete a Goodreads Reading Challenge of 50 Books: 21/50
Count how many books I own and determine how many are not yet read – Was complete, need to do again.
Discard books I don't like or lose interest in reading – None this month, but I kept my eye out.
Read all of the books on my 17 in 2017 list – 3/17
---
And that's it for April. I was right to predict at the end of last month's wrap-up that I wouldn't read too much. Hopefully in May I can read more. I've finished my project for classes so all my workload has essentially vanished. Just need to put the finishing touches on some stuff today and then that's it, yo.
Happy reading!