Happy Wednesday! (Hush, I know, pbtbt.) I haven't participated in T5W in about a month or so, but this month's topics are calling to me much more than last month's ones. So, I'm hoping to participate in each one this month. Wish me luck! 😀
Here is the link to the T5W group if you would like to participate as well!
---
So this week's topic I thought would be really hard to come up with five books that didn't have at least a romantic subplot in them, but look at that, I came up with seven. And, since they're all wonderful books, I'm going to list them all  (the bottom two being honorable mentions).
Honorable Mentions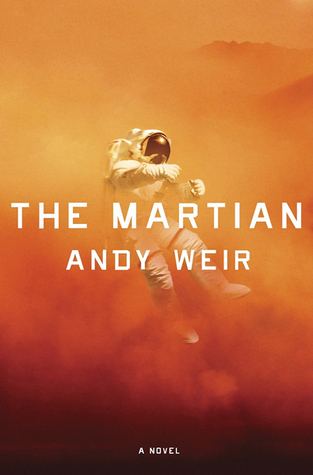 A Monster Calls by Patrick Ness and The Martian by Andy Weir. The only reason they're down on this list instead of the main one is because I mentioned them so damn much. I figured I'd try to get in less-talked-about-books onto the top 5 list. Otherwise, both of these are fantastic and I highly recommend each of them.
---
So, when I originally read this, I went into it thinking it was a YA fantasy. It is not. It is definitely not YA. It follows a young woman who has been raised in secret in preparation for taking and holding the crown that is her birthright. This character is rather wonderful overall (I wrote a review on this book, where I go into my likes and dislikes of it) and she definitely gets a small crush at some point but it's never really focused on or forms into anything more. So as far as romance goes, there isn't any. It's wonderful.
The land where this story takes place is really neat – it's in Earth's future in a regressed society, on a continent that surfaced out of the ocean between America and Asia. It's so neeeat. The trilogy just finished recently and while I have the second book, I still haven't read it. I need to get on that, man.
4 – Hyperion by Dan Simmons
Now, it's been a while since I read this, so there is possibly a minor romance somewhere that I just forgot about, but I'm 95% sure there isn't one. So if there is, oops.
I feel like this book is one that a reader appreciates in retrospect as opposed to when it's actually being read. It follows a group of travels as they slowly make their way towards Hyperion, a planet shrouded in mystery, home to the Shrike, who has affected in of their lives in some way. On the way, each of these characters tell their stories on how they came to journey to the planet. Now that I think of it, I think one of the characters miiiight be in a relationship? I think? There might be a tad of romance, maybe. I can't quite remember. I just remember listening to this audiobook and being completely absorbed. It reads a lot like Gulliver's Travels, but uh… sci-fi and entertaining. 😛
I've said it before and I'll keep sayin it. This is one of the most underrated/underread series in the book community. I still don't think I've seen anyone else ever say anything about it. It follows an old relic master, a uh.. wizard/priest of sorts, and his apprentice, as they survive in a world after being left there by their mysterious founders. All that remains of the race of people that left them on the planet is a series of relics, all of which have a strange power but whose functions are unknown by the relic masters, the ones who collect these items. The world is full of fantasy, sci-fi and all sorts of neat things. I really enjuoyed this one.
2 – Saiyuki by Kazuya Minekura
Anyone who's wanting to try a new manga series that's a finished, complete thing, check this out. I first read this back when I was in high school and have reread it maybe six times since then. I really like this bugger. It follows a group of four – a priest, a half demon and two full-blood demons as they trek across China in search of a mysterious power whose effect has driven all demons in the country crazy, making them blood-thirsty and vicious.
The priest is not your typical priest: he smokes, he swears, he kills people. One one of the demons in his group is the mythical monkey king.
My favorite thing about this series is that it's hilarious. Plenty of humor while at the same time being a serious, action-driven story. I dig it.
This is the farthest thing from romance that I can think of. Action, horror, ahhh ❤
I've actually only ever read the first book in this four book series and every time I mention it on here, I keep telling myself I should read the rest of it. Maybe someday!
.
---
And that's it! I literally forgot yesterday was Wednesday, which is why this is late. Whoops. I'm old, time is slipping through my fingers.