Happy Wednesday! Today's topic is books you all made me read. I couldn't resist it, you sucked me in with your flashy reviews and pressuring recommendations. You fiends! (thanks, bby)
If you'd like to participate in T5W, you can do so here!
Also, I'm going to go with book I read from the book community that I liked. I could do an entire different post about books I read because of book blogs and booktube that I didn't like, hawhaw. Overhype is a real thing, peeps. Maybe I'll do that next weekend.
---
Rook by Sharon Cameron
This is a weird one – I remember a whole bunch of people hauling it, specifically on youtube, but then I only ever saw a couple of reviews on it. I feel like for a lot of people it ended up as one of those 'I'll read this someday' books. It's a bit of a shame because it was a really good book and I feel like it actually should be getting more hype than it did.
Set in a regressed future version of Paris, this book is a slow-paced, setting-rich book. I gave it 3.5 stars at the time of reading it, but the number of times I've mentioned it and how often it's entered my head since (maybe in the past two years or ) I think might warrant a reread or a 4 star raiting or something. I really enjoyed this book, but I think at the time the pacing was something I wasn't in the mood for, hence the rating.
And the cover is lovely. ❤
I remember for a while, graphic novels became all the buzz. They still kind of are, but for a bit there, they were basically all anyone was reading. This was one that was mentioned over and over (but again… only ever saw a review or two after the fact. But hey, I do that a lot, too. Hence the entire TBR post. 😛 Pbtbt) so I would look for it every time I was at the book store. Never found it, but about a year later, it popped up on bookoutlet. I nabbed it and read it and found it really adorable. I ended up giving it 3.5 stars.
The book follows a man who lives in Here, a clean, perfect community. All is well until he grows a beard and it goes crazy and takes over.
It's cute, it's fun, it's fast. I recommend it if you need to burn through a book really quickly.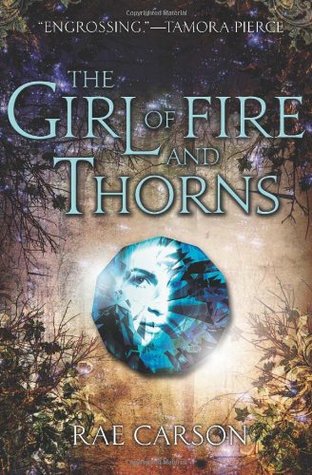 This book, unlike the first two, I saw everywhere but then I saw a buttload of reviews on it too. It was really nice, and honestly it was the reviews more than the hauls of this book that convinced me to get it. I'm glad I did, because I thoroughly enjoyed it and gave it 4 stars.
It follows an overweight, unwilling protagonist in a latino-inspired culture. It's super neato and hopefully someday I'll reread it. I think my favorite thing about it was that the author actually explored the main character's weight and her mentality about it. It's nice (well, not nice but realistic, if that makes sense) seeing her struggle with self-esteem and confidence and self-image.
Before the book community, I knew Felicia Day through Supernatural, The Guild and maybe a few internet things. Blogs and youtubes got me to read this book. It was a neat read and went into the production of all the shows and things I already knew and loved. It was a nice audiobook, too – read by Felicia Day herself. 😀 I ended up giving it 5 stars because what is written, especially the things about growing up nerdy really resonated with me, hawhaw. I saw this book around a few places and reviews a few other places. It was definitely not the 100% most hyped book I've read, but it was up there.
Saga by Brian K Vaughan
This one is probably one of my favorite reads from book blogs. Before this, I never really read graphic novels. Manga? Yes. I have hundred and have had them since I was a teenager, but graphic novels? Not really. Saga was my first one and I was amazed by the full-color photos and quality of the art. It was so lovely and since I've grown a small collection of various series. It's wonderful. 😀 This one was hauled by a tons of people and reviewed by a ton of people. I gave it 5 stars and so did a lot of other people (well earned, in my opinion. The hyped is deserved on this one).
.
---
And that's it! There are tons more, but these are probably the most well-known ones. Happy reading!