After moving last weekend and spending all this past week and this weekend unpacking, I'm back to the blogging thing. Still not done unpacking, but it's gotten to the point where it's not chaos anymore.
Also, full disclosure: Aside from the audiobook I was listening to going to and from work, I haven't picked up a book at all within the last week or two. Just haven't had the time. So this wrap-up will be a bit top-heavy.
---
Books
Attack on Titan volumes 13 and 14 by Hajime Isayama
This series just keeps getting better and better. I very much enjoyed both of these volumes and as soon as my buying ban is lessened in January, the continuations will be near the top of my list as 'stuff to buy next'.
5/5 stars each
Descender volume 1 by Jeff Lemire
This is one that I wasn't expecting to love as much as I did. I knew I'd like it, but the art combined with the story has landed this one on my favorites list. Volume 2 is also on my 'gotta buy next' list, haha.
5/5 stars
And thus ends all the 'good books' I read this month. From here on, the ratings for the books I read drop dramatically. This book, man. This book was pretty terrible. Mostly, anyway. I wrote a full, spoilerly rant blabber on it, if you're interested. The short version is that I found this book completely ridiculous.
2.75/5 stars
Blankets by Craig Thompson
I feel like my main issue with this is that I wanted it to be something other than it was. Namely, I wanted it to have a point. I feel like the ending of this was the stupidest thing, and I know I'm being a bit unfair about a memoir, but really, if you're going to write a story about your life, at least choice a story that's not this meandering mess that ends abruptly and leaves the reader with the feeling of 'and why was this so important it had to be written down? Because I couldn't see it.'
2.5/5 stars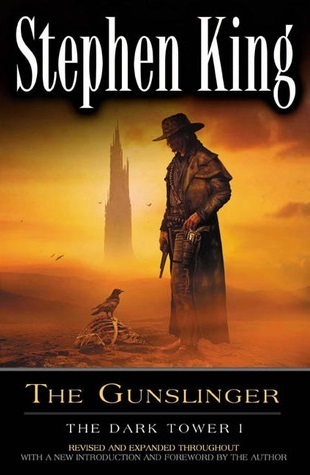 This is the audiobook I listened to this month and the only thing I've read in about a week and a half. I picked it up because it's the start of my mom's favorite series and chose audio because I have a history of hating SK's writing style. Again this was no different but it was a made a bit easier by the narration. I'm torn over this book. Parts of me dislike the weird fascination King has with genticals, part of me dislikes the main character, part of me was bored throughout the thing and part of me feels like the set-up for the second book is too much of a draw to not pick it up and at least try it.
So overall I didn't find this book great but I feel like the series has a lot of potential. I'll likely grab the second book at some point and give it a try.
3/5 stars
---
r/Fantasy Bingo 2017
This bingo challenge runs from March 2017 to March 2018!
I'm the template provided by Millenium_Dodo here, which you can as well if you're participating. 😀
---
Blog Activity
One Blabber
Three Top 5 Wednesday posts
Two Tags
One readathon post
8 posts total
---
Reading Goals
Complete a Goodreads Reading Challenge of 50 Books: 43/50
Count how many books I own and determine how many are not yet read – Complete! Currently physical TBR: 300 even

Discard books I don't like or lose interest in reading – (Ongoing) About 30 or so this month.
Read all of the books on my 17 in 2017 list – 9/17
---
And that's it! Happy reading!