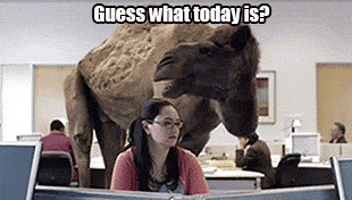 GUESS WHAT DAY IT IS.
Every Wednesday at work, I just send this camel to my coworkers all day. ALL DAY. I'm a walking meme and I'm okay with that being my work persona. It's neato. One day I'll develop a sense of professionalism. One day.
Today's topic is problematic characters – ones that are honestly pretty awful people but you can't help but like. Hoo boy do I have a few. My brain says 'No they're terrible!' but my heart says 'ba-bump'.
If you'd like to participate in T5W, you can do so here.
---
5. The Dragon from Uprooted by Naomi Novik
This character is such a weird character and if I met him in real life I feel like I'd make a point to avoid him. There are so many things wrong with this guy. He steals away a young girl from towns every so often, he makes them work, he's a jackass to the main character, he's arrogant. So many issues, so many things that would make real-life be go 'nope'.
But in the book he was one of my favorite characters. sigh.
4. Naraku from Inuyasha by Rumiko Takahashi
This character is probematic in the sense that he was in love with a woman fifty years ago but since she was a priestess and turned him down, he allowed demons to infiltrate his body and transform him into some evil creature to subtly sabotage what romance she does manage to have and then continue his vengence 50 years later when the dead priestess is brought back to life.
OBSESSED MUCH?!
I love Naraku. He's such a butt. And his theme music is always 'dung dung dung duuuuung'. because he's dung. 😀
3. Levi from Attack on Titan by Hajime Isayama
Levi is one of the lead characters in the surveys corps. He's an ass. He's obsessive-compulsive when it comes to making his team clean, he's ruthless when it comes to getting what he wants. He's willing to proceed with plans that could potentially risk more lives than necessary. He'll punch whoever in the face without hesitation.
But at the same time, he had a strong sense of right and wrong and everything he does that is wrong has an underlying end goal of something that is right. So I guess… not? so? awful? Maybe?
2. The Darkling from Shadow and Bone by Leigh Bardugo
I feel like anyone who reads YA likely will at least consider this character if he's not on their list already.
The Darkling is one of those characters that while he's awful, vindictive, manipulative, and all-around slimy, I stilllll shipped him with the main character. Still wanted it to happen. Buh.
But if met in real life, I have a feeling that this character would just rub me the wrong way. Would not be a fan.
1. Hakkai from Saiyuki by Kazuya Minekura
Hakkai is by far my favorite person on this list. He's a youkai made, one of the few that retained his sanity when the minus when spread throughout the land, driving the rest of the youkai crazy.
The best part about his problems are that looking at him, you have no idea that they're there. He's not a jerk like the others on this list. He's not inconsiderate. He's not ruthless. On the contrary, he's the most well-mannered of the bunch of main characters, the most likely to make friends with those they're staying with, or make accommodations for others.
But his back story, man. Yikes. This guy is messed up.
But at the same time, even with his back story, you read it and find yourself feeling sorry for the guy amidst your disgust. Like your view of him changes forever but you still want him to end up happy.
Buh. I need to reread this series again. <33