Hello! A tag today. I was tagged by Ann! Thanks friend! 😀
Math:

A Book that left your Head Spinning in Circles
The Gene: An Intimate History by Siddhartha Mukherjee. And I mean spinning in a good way. This book was amazing! I graduated last year with a degree in computer science, during which I took a concentration in Bioinformatics. As a result, I ended up with a lot of biology and chemistry under my belt. This book I listened to while I was in a molecular bio class and it was truly fascinating seeing the stuff I was studying being more broadly examined, its history explored and it potential future implications pondered on. This book was great, and it was probably my favorite nonfiction of the year. 😀
English: 

A Book You think has Beautiful Written Expression
I just mentioned this recently in a previous tag, but The Traitor Baru Cormorant has beautiful writing. It's a bleak, gripping book full of political intrigue and intricate plot, and its phrasing on top of that makes it a joy to read. I think about this book a lot. It's so wonderful.
Physics: your Favorite Scientifically Minded Character from a Book or Film
That would be Walter Bishop from the tv show Fringe. He's adorable and at the same time kinda scary. Fringe, by the way, is one of my all-time favorite tv shows. If you haven't watched it, you should. It's five seasons long and it's consistently good throughout. No 'bad seasons'. Loooove this show.
Chemistry:

your favorite literary couple
Mild spoilers for The Grisha Trilogy: I'm going with Alina and the Darkling, even though they're not exactly cannon. They should have been, okay?! D: </3
Biology:

your favorite book/series/film character
Dude I can't pick just one. What even is this question.
French: your favorite foreign book/film/program
Easy peasy! Oldboy, which is a Korean thriller movie. Oh my gosh guys, if you haven't seen Oldboy, do it. And don't watch the American adaption either. Watch the original Korean. It's just… it'll explode your brain. This movie will mess you up.
Art:

have you ever judged a book by its cover, even if you weren't meant to?
Oh definitely. Everyone has I think. Though I've fallen into a weird thing where if I find a fantasy novel and it has a really bad 90s cover, I want it even more. That's how I got into Robin Hobb, hahaha. I loooove her books but the covers from the 90s for them are so cheesy.
History:

the last historical book you've read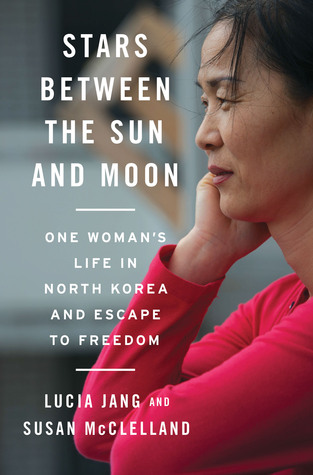 Oh gosh, it's been a while. Uh…
The last historical book I read that wasn't a historical sci-fi or fantasy was Stars Between the Sun and Moon: One Woman's Life in North Korea and Escape to Freedom by Lucia Jang, and even then, it's a memoir, not historical fiction. But if this doesn't count I might not be able to find one, haha. I read this back in February of 2016 and it still sticks with me. This is a powerful memoir and with all the stuff going on with North Korea right now, I'd say it's pretty relevant to pick up.
Geography: a literary destination you would really like to visit
Hogsmeade, obviously. I would say Hogwarts but at 27 years old, they wouldn't let me be a student. 😦 So this is the next best thing.

Drama: a book that has a lot of over-dramatic hype
The Wise Man's Fear by Patrick Rothfuss (I can't seem to stop bringing this up so much. I think it's because I was just so so disappointed in it, haha). This book was a complete wash for me. I liked the first one decently, but was a bit weary of the main character. I knew he was bordering Mary Sue, but in book two man, the author just put him on a catapult and flung him deep, deep into the land of Mary Sue. Yikes. It's just such a disappointment. I love the plot and writing otherwise. But the main character just drives me crazy.
.
---
And that's it! Happy reading!