Hello! This is one of my favorite posts to write every year – my favorite books! Any books that made this list were rated 5 stars by me and were also added to my 'favorites' list on goodreads (so think of them like 6 star books I guess). So, not all of my five-star books will be on this list. That doesn't mean I didn't love them, but it just means they weren't my absolute top favorites. This list will obviously change in size from year to year because of this, because a favorite is a favorite.
So sit back, relax, and witness what white-russian-fueled-emily comes up with 😀
---
This graphic novel is the one and only that made my favorites list this year. Other series I'm currently reading (Saga cough Saga) also got a 5 stars from me, but this is the one that made the favorites list.
This series has a bit of everything – adorableness, shock factor, sci-fi elements, beautiful art, mystery, thriller… I absolutely loved it. The art style especially had me smitten – each picture looks like a water color painting. It's gorgeous! There are three or four trade volumes out right now I think. Something like that. I need to get the rest of them!
It follows a young boy robot, who wakes up out of a sleep years after planet-sized artificial intelligence beings have attacked and ravagd intelligent life in the universe, then vanished without a trace. As a result, AI has been outlawed, and robots are actively hunted down and dismantled. Tim-21, a companion robot to a human boy, crosses the galaxy, trying to find his human companion family amidst this chaos, and slowly learns what occurred during the attack years ago and why he might be more than he was programmed to be.
AHH IT'S SUPER GOOD.
This was a surprising read for me. I picked this book up in January after reading A Court of Thorns and Roses (which… I ended up liking despite low expectations) and was blown away by how much better this book was than the first one. I mean sure, the first one was decent, but the love interest was definitely uh… problematic, which was my main issue. But this book man. It totally made up for it. I looooved this book.
And then I picked up the third book and was a bit underwhelmed. But this book! The second in the trilogy! This is definitely the strongest of the three.
This series follows a young woman after she shoots and kills a fae with a bow and arrow, and then is whisked away into fae land to pay retribution, Beauty and the Beast-style. Honestly I wasn't expecting much going into it but this book in particular really blew me away. I loved it!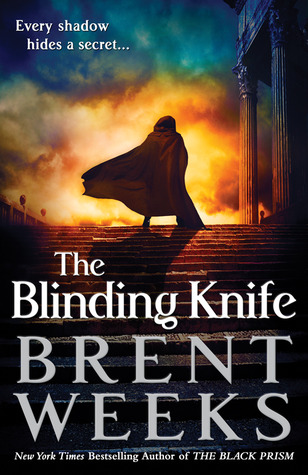 These are books one and two in the Lightbringer series, which I have been devouring all year and loving every second of it. I'm currently in the middle of the third book, and plan to read the fourth this coming year. And the fifth and final book is set to release in 2018 as well, so hopefully I can latch onto that one, too!
This series follows a cast of characters in a world revolving around color. The magic system involves the users 'drafting' colors into physical material. Those who are found to be able to perform this task are called drafters, and can usually cast one or two colors. Sometimes three. Occasionally and rarely, more than that. And then there's the Prism, the head of the Chromeria where the book takes place, who can draft them all.
And the more a user drafts, the quicker it brings them to death. Drafting slowly drives them insane.
The plot follows the Prism, who finds out he has a son from a woman he had seen when he was fighting the False Prism's War, a war where the prism and his brother both fought for the seat as Prism.
This book has all sorts of stuff: Humor, action, adventure, a good cast of characters, a great magic system, good world building, intrigue… all sorts of things. I loooove this series. I love it!
Also look at those covers. I just adore them.
This book. This book is probably my absolute top favorite book of the year. It's just… It's just so fantastic.
I wrote a full, spoiler-free review where I go more into my thoughts, if you'd like to read it.
This book just left me speechless. It follows a girl, Baru, as her home is destroyed around her by the looming Masquerade, a remote empire that slowly takes over and colonizes her country. And instead of getting red hot, Baru gets icy cold. She vows to blend in, to maneuver her way to the top, and to tear down the Mask from the inside.
This book is fantastic – you read it and you think you know what's going on. You think you know who's good and who's bad, what's happening, what people's intentions are… and then it's pulled out from underneath you and your jaw drops and just…
AUGH I LOVED THIS BOOK. <333
Book two is supposedly coming out in 2018, and I'ma jump on it.
---
And that's it! These were my favorite books this year, and I hope to gain as many if not more favorites next year! 😀
Happy reading!