Hello! I've decided to start a new (for me) bi-annual post on my blog – anticipated releases! A lot of people do these kinds of posts and I love getting ideas from them for books to add to my list. 😀 So I'm going to do two per year – Jan-June and July-Dec. Six month thingies.
Also, considering I haven't read these yet and all I can say about them is 'Oh I'm excited to read them!' I'm just going to list them and post their synopsis. If you'd like, you can imagine me adding it 'Oh, me wanty!' after the end of every one.
---
Anticipated release date: Feb 6
Goodreads synopsis: Only mutual communication can forge an alliance with the planet's sentient species and prove that mammals are more than tools.
Forced to land on a planet they aren't prepared for, human colonists rely on their limited resources to survive. The planet provides a lush but inexplicable landscape–trees offer edible, addictive fruit one day and poison the next, while the ruins of an alien race are found entwined in the roots of a strange plant. Conflicts between generations arise as they struggle to understand one another and grapple with an unknowable alien intellect.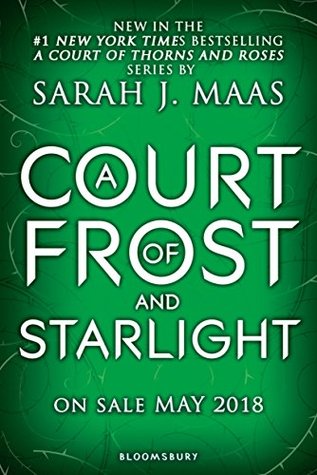 Anticipated release date: May 1
Goodreads synopsis: Feyre, Rhys, and their close-knit circle of friends are still busy rebuilding the Night Court and the vastly-changed world beyond. But Winter Solstice is finally near, and with it, a hard-earned reprieve. Yet even the festive atmosphere can't keep the shadows of the past from looming. As Feyre navigates her first Winter Solstice as High Lady, she finds that those dearest to her have more wounds than she anticipated—scars that will have far-reaching impact on the future of their Court.
Space Opera by Catherynne M Valente
Anticipated release date: April 3
Goodreads synopsis: A century ago, the Sentience Wars tore the galaxy apart and nearly ended the entire concept of intelligent space-faring life. In the aftermath, a curious tradition was invented—something to cheer up everyone who was left and bring the shattered worlds together in the spirit of peace, unity, and understanding.
Once every cycle, the civilizations gather for Galactivision—part gladiatorial contest, part beauty pageant, part concert extravaganza, and part continuation of the wars of the past. Instead of competing in orbital combat, the powerful species that survived face off in a competition of song, dance, or whatever can be physically performed in an intergalactic talent show. The stakes are high for this new game, and everyone is forced to compete.
This year, though, humankind has discovered the enormous universe. And while they expected to discover a grand drama of diplomacy, gunships, wormholes, and stoic councils of aliens, they have instead found glitter, lipstick, and electric guitars. Mankind will not get to fight for its destiny—they must sing.
A band of human musicians, dancers, and roadies have been chosen to represent Earth on the greatest stage in the galaxy. And the fate of their species lies in their ability to rock.
Anticipated release date: Feb 13
Goodreads synopsis: Eighteen-year-old Robert Weekes is a practitioner of empirical philosophy—an arcane, female-dominated branch of science used to summon the wind, shape clouds of smoke, heal the injured, and even fly. Though he dreams of fighting in the Great War as the first male in the elite US Sigilry Corps Rescue and Evacuation Service—a team of flying medics—Robert is resigned to mixing batches of philosophical chemicals and keeping the books for the family business in rural Montana, where his mother, a former soldier and vigilante, aids the locals.
When a deadly accident puts his philosophical abilities to the test, Robert rises to the occasion and wins a scholarship to study at Radcliffe College, an all-women's school. At Radcliffe, Robert hones his skills and strives to win the respect of his classmates, a host of formidable, unruly women.
Robert falls hard for Danielle Hardin, a disillusioned young war hero turned political radical. However, Danielle's activism and Robert's recklessness attract the attention of the same fanatical anti-philosophical group that Robert's mother fought years before. With their lives in mounting danger, Robert and Danielle band together with a team of unlikely heroes to fight for Robert's place among the next generation of empirical philosophers—and for philosophy's very survival against the men who would destroy it.
The Belles by Dhonielle Clayton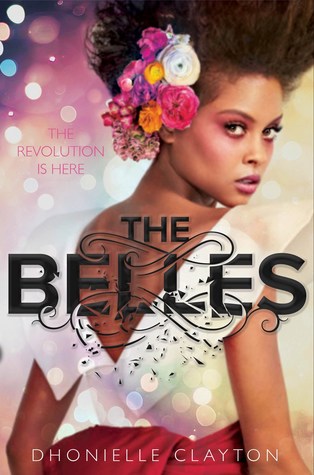 Anticipated release date: Feb 6
Goodreads synopsis: Camellia Beauregard is a Belle. In the opulent world of Orléans, Belles are revered, for they control Beauty, and Beauty is a commodity coveted above all else. In Orléans, the people are born gray, they are born damned, and only with the help of a Belle and her talents can they transform and be made beautiful.
But it's not enough for Camellia to be just a Belle. She wants to be the favorite—the Belle chosen by the Queen of Orléans to live in the royal palace, to tend to the royal family and their court, to be recognized as the most talented Belle in the land. But once Camellia and her Belle sisters arrive at court, it becomes clear that being the favorite is not everything she always dreamed it would be. Behind the gilded palace walls live dark secrets, and Camellia soon learns that the very essence of her existence is a lie—that her powers are far greater, and could be more dangerous, than she ever imagined. And when the queen asks Camellia to risk her own life and help the ailing princess by using Belle powers in unintended ways, Camellia now faces an impossible decision.
With the future of Orléans and its people at stake, Camellia must decide—save herself and her sisters and the way of the Belles—or resuscitate the princess, risk her own life, and change the ways of her world forever.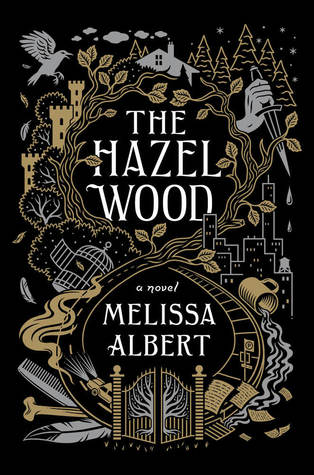 Anticipated release date: Jan 30
Goodreads synopsis: Seventeen-year-old Alice and her mother have spent most of Alice's life on the road, always a step ahead of the uncanny bad luck biting at their heels. But when Alice's grandmother, the reclusive author of a cult-classic book of pitch-dark fairy tales, dies alone on her estate, the Hazel Wood, Alice learns how bad her luck can really get: her mother is stolen away―by a figure who claims to come from the Hinterland, the cruel supernatural world where her grandmother's stories are set. Alice's only lead is the message her mother left behind: "Stay away from the Hazel Wood."
Alice has long steered clear of her grandmother's cultish fans. But now she has no choice but to ally with classmate Ellery Finch, a Hinterland superfan who may have his own reasons for wanting to help her. To retrieve her mother, Alice must venture first to the Hazel Wood, then into the world where her grandmother's tales began―and where she might find out how her own story went so wrong.
Furyborn by Claire Legrand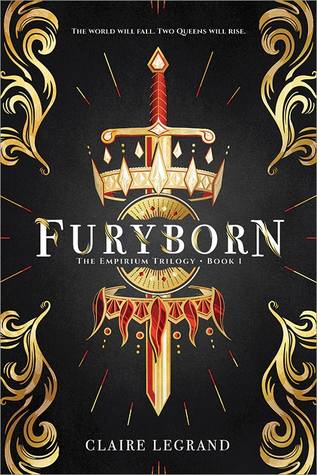 Anticipated release date: May 22
Goodreads synopsis: When assassins ambush her best friend, the crown prince, Rielle Dardenne risks everything to save him, exposing her ability to perform all seven kinds of elemental magic. The only people who should possess this extraordinary power are a pair of prophesied queens: a queen of light and salvation and a queen of blood and destruction. To prove she is the Sun Queen, Rielle must endure seven trials to test her magic. If she fails, she will be executed…unless the trials kill her first.
A thousand years later, the legend of Queen Rielle is a mere fairy tale to bounty hunter Eliana Ferracora. When the Undying Empire conquered her kingdom, she embraced violence to keep her family alive. Now, she believes herself untouchable–until her mother vanishes without a trace, along with countless other women in their city. To find her, Eliana joins a rebel captain on a dangerous mission and discovers that the evil at the heart of the empire is more terrible than she ever imagined.
As Rielle and Eliana fight in a cosmic war that spans millennia, their stories intersect, and the shocking connections between them ultimately determine the fate of their world–and of each other.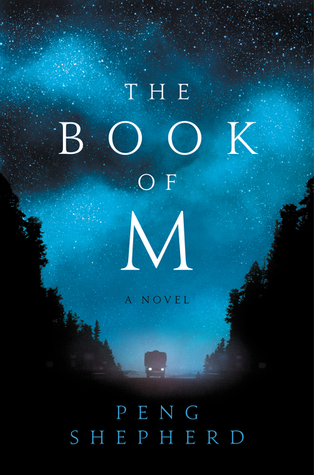 Anticipated release date: June 5
Goodreads synopsis: One afternoon at an outdoor market in India, a man's shadow disappears—an occurrence science cannot explain. He is only the first. The phenomenon spreads like a plague, and while those afflicted gain a strange new power, it comes at a horrible price: the loss of all their memories.
Ory and his wife Max have escaped the Forgetting so far by hiding in an abandoned hotel deep in the woods. Their new life feels almost normal, until one day Max's shadow disappears too.
Knowing that the more she forgets, the more dangerous she will become to Ory, Max runs away. But Ory refuses to give up the time they have left together. Desperate to find Max before her memory disappears completely, he follows her trail across a perilous, unrecognizable world, braving the threat of roaming bandits, the call to a new war being waged on the ruins of the capital, and the rise of a sinister cult that worships the shadowless.
As they journey, each searches for answers: for Ory, about love, about survival, about hope; and for Max, about a new force growing in the south that may hold the cure.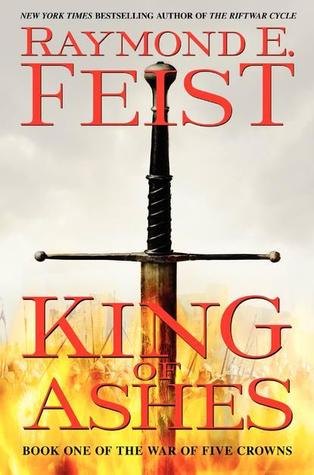 Anticipated release date: May 8
Goodreads synopsis: For centuries, the five greatest kingdoms of North and South Tembria, twin continents on the world of Garn, have coexisted in peace. But the balance of power is destroyed when four of the kingdoms violate an ancient covenant and betray the fifth: Ithrace, the Kingdom of Flames, ruled by Steveren Langene, known as "the Firemane" for his brilliant red hair. As war engulfs the world, Ithrace is destroyed and the Greater Realms of Tembria are thrust into a dangerous struggle for supremacy.
As a Free Lord, Baron Daylon Dumarch owes allegiance to no king. When an abandoned infant is found hidden in Daylon's pavilion, he realizes that the child must be the missing heir of the slain Steveren. The boy is valuable—and vulnerable. A cunning and patient man, Daylon decides to keep the baby's existence secret, and sends him to be raised on the Island of Coaltachin, home of the so-called Kingdom of Night, where the powerful and lethal Nocusara, the "Hidden Warriors," legendary assassins and spies, are trained.
Years later, another orphan of mysterious provenance, a young man named Declan, earns his Masters rank as a weapons smith. Blessed with intelligence and skill, he unlocks the secret to forging King's Steel, the apex of a weapon maker's trade known by very few. Yet this precious knowledge is also deadly, and Declan is forced to leave his home to safeguard his life. Landing in Lord Daylon's provinces, he hopes to start anew.
Soon, the two young men—an unknowing rightful heir to a throne and a brilliantly talented young swordsmith—will discover that their fates, and that of Garn, are entwined. The legendary, long-ago War of Betrayal has never truly ended . . . and they must discover the secret of who truly threatens their world.
---
And that's it! All of these books I'm super pumped for. Hoooopefully I'll be able to acquire them around their release (and actually read them soon after!)
If you're lookin' forward to any of these, lemme know! 😀