Happy Half-Way-Through-2018! (obligitory 'what no how did time happen it went so fast blah de blah'). One day the space-time continuum will knock it off and then we'll be fine.
This is a continuation of a post I made back in January, which covered releases from January through June. I figured it'd be easier with release dates and yada yada.
Like last time, I can't really say much about the books aside from 'I'm excited for them' so these will contain mostly release dates, synopses, and maybe a little bit of me foaming at the mouth.
---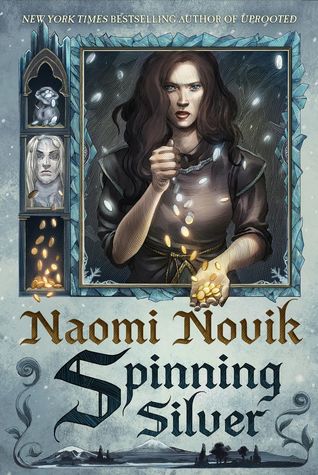 Anticipated release date: July 10th
Goodreads synopsis: Miryem is the daughter and granddaughter of moneylenders… but her father isn't a very good one. Free to lend and reluctant to collect, he has loaned out most of his wife's dowry and left the family on the edge of poverty–until Miryem steps in. Hardening her heart against her fellow villagers' pleas, she sets out to collect what is owed–and finds herself more than up to the task. When her grandfather loans her a pouch of silver pennies, she brings it back full of gold.
But having the reputation of being able to change silver to gold can be more trouble than it's worth–especially when her fate becomes tangled with the cold creatures that haunt the wood, and whose king has learned of her reputation and wants to exploit it for reasons Miryem cannot understand.
---
Everything I've ever read by Naomi Novik, I've loved. I'm currently rereading her Temeraire series and Uprooted was one of my faves last year or two years ago. Am v. excited.
Anticipated Release Date: October something-th
Goodreads synopsis: Rejoice, A Knife to the Heart tells the story of the Intervention, which begins when Samantha August, science fiction writer, disappears into a beam of light, apparently from a UFO, while walking along a busy street in Victoria, Canada. While footage of the incident – captured on smartphones – goes viral, Samantha wakes up in a small room, where she is greeted by the voice of Adam, who explains that they are in orbit and he is AI communicant of the Intervention Delegation, a triumvirate of alien civilisations seeking to ensure the continuing evolution of Earth as a viable biome. Thus begins an astonishing, provocative, beautifully written and startlingly visionary novel of First Contact.
---
So, Malazan is on my list of things to read, but it's intimidating. I figure starting with another of the author's books might uh… acclimatize me.
Anticipated Release Date: October 23rd
Goodreads synopsis: Dungeons and Dragons is the most iconic and pervasive gaming franchise in the world. It is a seminal RPG (role-playing game) and the inspiration for video games like World of Warcraft and Zelda, fantasy art, and countless other facets of "geek culture." This officially licensed illustrated history provides an unprecedented look at the visual evolution of the game, showing its continued influence on the worlds of pop culture and fantasy. It features more than 700 pieces of artwork–from each edition of the game's core books, supplements, and modules; decades of Dragon and Dungeon magazines; classic advertisements and merchandise; and never-before-seen sketches, large-format canvases, rare photographs, one-of-a-kind drafts, and more from the now-famous designers and artists associated with the game. The superstar author team gained unparalleled access to the archives of Wizards of the Coast and the personal collections of top collectors, as well as the designers and illustrators who created the distinctive characters, concepts, and visuals that have defined fantasy art and gameplay for generations. This is the most comprehensive collection of D&D imagery ever assembled, making this the ultimate collectible for the game's millions of fans around the world.
---
I AM SO PUMPED FOR THIS BOOK, MAN. UGH.
Anticipated Release Date: October 30th
As this is a sequel, here is the Goodreads synopsis to the first book in the series: Tomorrow, on the beach, Baru Cormorant will look up from the sand of her home and see red sails on the horizon.
The Empire of Masks is coming, armed with coin and ink, doctrine and compass, soap and lies. They'll conquer Baru's island, rewrite her culture, criminalize her customs, and dispose of one of her fathers. But Baru is patient. She'll swallow her hate, prove her talent, and join the Masquerade. She will learn the secrets of empire. She'll be exactly what they need. And she'll claw her way high enough up the rungs of power to set her people free.
In a final test of her loyalty, the Masquerade will send Baru to bring order to distant Aurdwynn, a snakepit of rebels, informants, and seditious dukes. Aurdwynn kills everyone who tries to rule it. To survive, Baru will need to untangle this land's intricate web of treachery – and conceal her attraction to the dangerously fascinating Duchess Tain Hu.
But Baru is a savant in games of power, as ruthless in her tactics as she is fixated on her goals. In the calculus of her schemes, all ledgers must be balanced, and the price of liberation paid in full.
---
This is my absolute number one anticipated book. I am dying for it.
I NEED IT.
---
And that's it! I decided to do a bit different than the last post – I posted the books I'm absolutely certain I will purchase. Many of the ones from the Jan-June list are still unread and unpurchased both. So these are the top of the top, man.
So! What are you looking forward to this year and why is it The Monster Baru Cormorant? Also, I mean, other books too. Happy reading!