Hello! Today I wanna mention books that I really enjoy that don't tend to come up, whether through tags or whatnot, because book blogs are an odd thing. It makes certain books very relevant and others very not. I seem to mention my same favorites over and over while never mentioning others at all. So, these are the ones I love that… don't get the spotlight too often.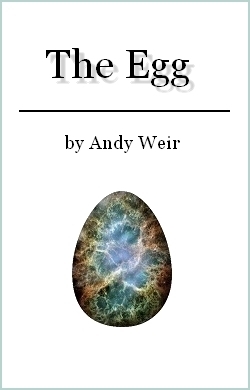 This is a short story, and I think it's a bit overshadowed by the success of The Martian. This came out before that one and I really, really enjoy it. I can't even give you synopsis though, because the joy of going into it blind is great, and considering how short it is, I feel like a synopsis would tell the whole story. Just read this one, it'll take you five minutes.
Trigun by Yasuhiro Nightow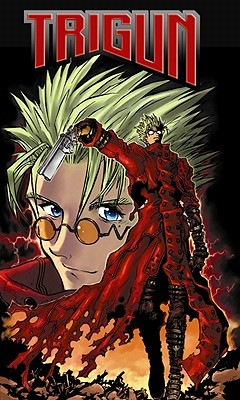 This is from back during my teenage years. And by no means is it underrated – it's considered a classic in the anime/manga community. I just rarely bring it up. But this series is so wonderful – it follows Vash the Stampede, a man with a six billion double-dollar price on his head, that is followed by disaster after disaster, some of it his own unfortunate doing and other of it circumstance.
Trigun is set on a desert world colonized long ago by humans, and is reminiscent of a western with sci-fi and comedy aspects tied in. Vash is a wonderful character and you find yourself liking him rather quickly. This is a great series, peeps. Pulls at the heartstrings.
I tend to mention Fisher's other series, the Relic Master quartet, much more often than Incarceron, but both of them are really good. I first read Incarceron back when I was in college for the first time, so 2008-12, sometime in there. I rented it from the college library and I think I read it in a day or two. I loved this book, I ate it up. It follows a young man who was born and lives in Incarceron, a prison that seems to stretch on endlessly. It has dashes of sci-fi and fantasy and steampunk at times, and the world is well crafted. I really like this one.
This is the story of a young man who becomes interested in a girl, only to discover a deep dark secret about her. He then has to navigate this secret without alarming her or the people around her. It's really good and very heartfelt. Going into it, I didn't think it would go so deep or handle such serious topics, but it does it well and I really like it. Trigger warnings for this one.
This is probably the one I want to talk about the most, but it's so rarely a good opportunity. This book was actually required reading for me when I was in college – it was for an Asian studies-related class, and when we were assigned the first chapter, I read the whole thing in one night.
This is a nonfiction, composed by Xinran, who in the 1980s hosted a radio program that women could call in anonymously and tell their stories. This is the collection of those stories – the women whose voices are represented here are real and their stories range from heartwarming to heartbreaking. This can at times be a tough read, but it can also make you laugh. This is a fantastic collection of memoirs, and out of this entire list, I recommend this one the most.
---
And that's it for the recommendations.
As I mentioned before, book blogs are an odd thing. It's a strange phenomena that divides books into hyper-mentioned and never-mentioned, and I haven't been able to pinpoint what it is about a book that will cause it to be super popular (in a positive or negative way) to talk about or not talked about at all.
I know young adult novels are very popular, but some of the ones I mentioned above are YA, so obviously it by itself is not sufficient.  Any ideas?
Happy reading!