Happy Hump Day! Today's topic is favorite friend groups in books! Should be neat. Today feels like Tuesday though, so I almost forgot to write this. Whoops.
If you'd like to participate in T5W, you can do so here!
The Mighty from The Lightbringer series
The Mighty are the group of Black Guards that Kip gathers to himself during his training, and together they… well, I can't really tell you what they do, because that's book three spoilers, man.
The way they interact so seamlessly together though is nice to read. The dynamic shows strong male-male friendships and strong male-female ones. I just kinda wish there were more more women present in the group to get the female-female friendship in there and then there'd be the trifecta. One day.
Sanzo's group from Saiyuki
I feel like I've spoken about Saiyuki a million times now. It's just so good, I can't get over it. The four main characters in this series take on a mission to cross the continent and free all the yokai from a wave of energy that has driven them mad. The four characters are a bit rag-tag and aren't exactly stellar moral characters, but their hearts are in the right place, and reading about them and their character development is lovely.
Out of all the ones I'm going to mention, I feel like this one is the most diverse. There are maybe fifteen or twenty people in the class, and with small exceptions and rivalries here and there, they all get along well and work together as a unit. In the world of My Hero Academia, about 80% of people are born with a quirk – some kind of special power. The main character ends up going to a school to train those with quirks to be super heroes. So this is a group of super heroes in training, and the dynamic is really neat. I absolutely love this series. As the story progresses, they slowly learn how to use their quirks together, how to find cohesively, how to defend each other, it's all wonderful (and really funny).
The main characters from Wotakoi
The reason I like the friend group in this series so much is that they're so… normal. It's like reading about a group of people who I feel could be my own friends. Our interests are similar, the humor is similar, the life stage they're all in is also similar. I just wanna go hang out with all of them, man.
The characters from Orange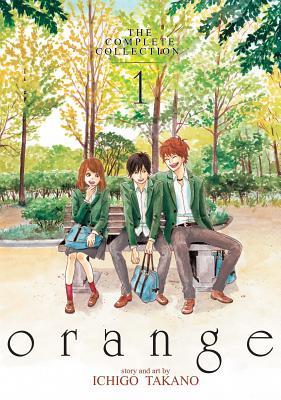 This one is my number one pick due to the lengths these characters go to for each other's well being. I don't wanna get into too much detail because of spoilers, but from the progression of the story, these characters show themselves to be strong-knit, selfless, and loyal. And this one does have the trifecta: male-male, male-female and female-female friendships are all involved, and the dynamics are represented in a positive way. Ugh I love this series so much.
---
And that's it! I didn't plan it to be mostly manga, but there you go. I feel like writing a friend group and showing the tone of the interactions is easier when you can draw facial expressions, so that might be it.
Happy reading!