I found out about this super neat readathon yesterday, and I'm jumping on board! It starts tomorrow, September 7th and runs through the 21st, so if you decide you'd like to participate as well, do it! Get on it!
For full detail, check out the Twitter account.
---
Basically, the premise of the readathon is that Earth has become a craphole (shocker) and you need to escape on one of four shuttles that will traverse the solar system, visiting planets to determine where to live. Each shuttle has a reading challenge, and then each planet has one as well. So, depending on which shuttle you choose, you'll be participating in the challenges in different order. My goal is to read books that are physically in my house – no buying, no borrowing (…ones that aren't already borrowed) from friends.
At this time, I'm not positive which shuttle I'll choose, so I've decided to come up with books for all the prompts, just in case. Will I get to all of them? Hah. HAH. But it'll be fun trying anyways.
Here are the prompts and the map, as seen on the twitter I've linked above: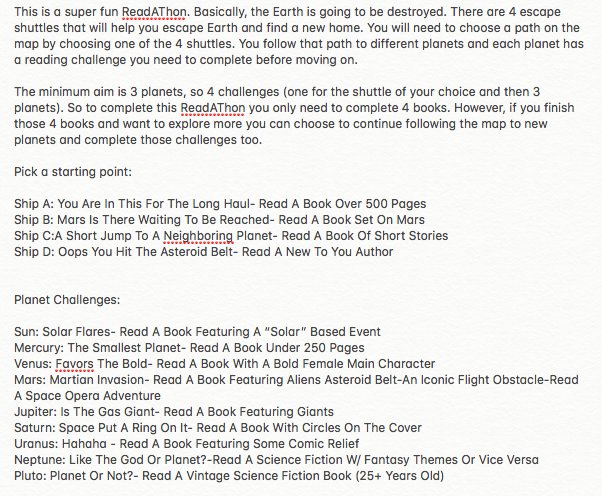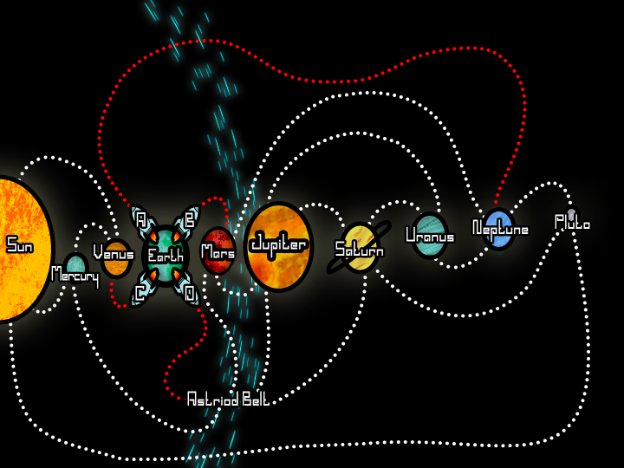 Potential Books
Shuttle A: Read a book over 500 pages
This one will either be The Blood Mirror by Brent Weeks or The Grace of Kings by Ken Liu, both of which I'm 'currently reading' but still have over 500 pages left to read, so I figure it'd be ok.
Shuttle B: Read a book set on Mars
I don't think I can do this path. The only book I have that's set on Mars is The Martian, and I've watched the movie too recently. I love this book, but I feel like the recent exposure would make it drag. So I'm going to eliminate this path right now, I think.
Shuttle C: Read a book of short stories
Off the top of my head, I have two possibilities. There's a PKD collection of short stories my husband owns, and I also have The Time Traveler's Almanac. It's super chunky though, so I'm leeaaaaning towards the first one.
Shuttle D: Read a new-to-you author
This one would be Senlin Ascends by Josiah Bancroft. Again, currently reading, but early enough in it still that it could count.
Sun: Contains a solar-based event

This one took me forever to come up with a book. Eventually, I landed on one my husband owns. Nightfall by Isaac Asimov and Robert Silverberg, which is about… well, I'm just going to post the goodreads synopsis, because it sounds absolutely amazing:
Imagine living on a planet with six suns that never experiences Darkness. Imagine never having seen the Stars. Then, one by one your suns start to set, gradually leading you into Darkness for the first time ever. Image the terror of such a Nightfall.

Scientists on the planet Kalgash discover that an eclipse – an event that occurs only every 2049 years – is imminent, and that a society unfamiliar with Darkness will be plunged into madness and chaos. They realize that their civilization will end, for the people of Kalgash have a proven fear of Darkness, but they are unable to predict the insanity and destruction that will accompany the awesome splendor of Nightfall.
Mercury: A book under 250 pages
I feel like picking a single book for this would be hard. It'll be one of the million and a half manga I own that I haven't read yet.
Venus: Contains a bold female main character
Mars: A book features aliens
This one if I get to it will be The Left Hand of Darkness by Ursula K Le Guin. As it takes place on a different planet about a race that has no gender… yeah, I'd say there are aliens.
Asteroid belt: A space opera adventure
This would have to be Caliban's War, book two in the Expanse series. Gosh I love this series, man. Buh
Jupiter: A book containing giants
I can't think of one for this planet, so hopefully I won't end up here or I'll be SOL.
Saturn: A book with circles on the cover
I feel like this is the easiest prompt… but I don't think I own a book that fits. If I find myself at this planet, I'll hunt through Chris's books and hopefully find one. Or maybe I have a manga that will work. Honestly I have no idea.
Uranus: A book featuring comic relief
I'll choose Howl's Moving Castle by Diana Wynne Jones. I know the fire character is a goofball from watching the film, so this book should do nicely.
Neptune: Sci-fi with fantasy themes or visa versa
Pluto: Vintage sci-fi
---
And that's it! I'm very much looking forward to this readathon – I think it's a super neat concept. If you decide to join, let me know! Happy reading!