Hello! For the past two weeks or so, I've been participating in the Tome Infinity and Beyond Readathon!
Due to unexpected family issues, I ended up not having as much time to read as I wanted. Family comes first. But, I did get to travel to a couple different planets!
For my original post announcing my participation, giving the details on the readathon, and my anticipated TBR, go here! Otherwise, here is the prompts and planets, along with the route I ended up taking: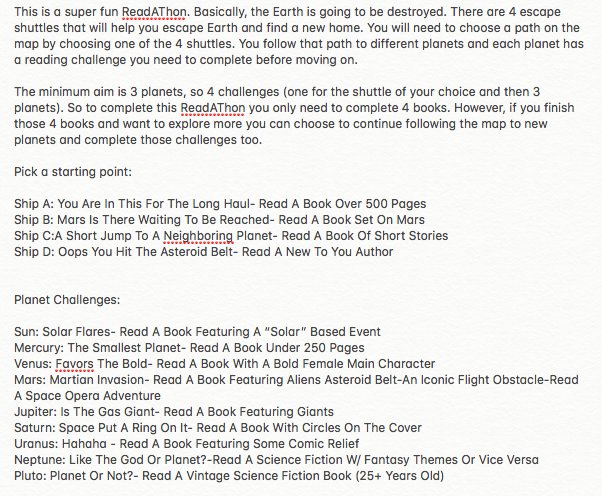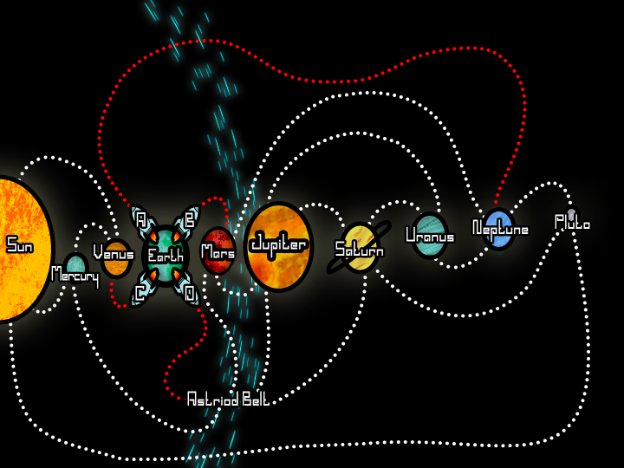 My Route:
Shuttle D: Read a new-to-you author
For this one, I chose Senlin Ascends by Josiah Bancroft. I ended up very much enjoying it and it'll definitely be getting a full review from me soon.
Asteroid Belt: Read a space opera adventure
I was going to read Caliban's War but decided for a shorter route. I ended up picking up Saga volume 8 by Brian K Vaughan and loved it.
Mercury: Read a book under 250 pages
This is where I ended up stalling. Originally, I took this route to buzz through so I could get to the sun and read the book I had picked out for that, but I never got there. Two main reasons for this: Family issue as I stated earlier, and when I picked up Gravitation volume 1 by Maku Murakami for Mercury, I kinda got the urge to binge read the whole series instead of moving on to the next planet. So between reading a 12 volume manga series (I finished up through volume 8) and having really no time to think let alone read, Mercury ended up being my final destination.
Overall, considering what kind of week I've had, I'd say I did pretty decent. Read one book, one graphic novel, and eight manga. Eventually I want to get to the book I had picked out for the sun: Nightfall by Isaac Asimov and Robert Silverberg. It just sounds so neat! One day man. For now, I've got two, soon to be three buddy reads going on, plus I wanna reread The Traitor Baru Cormorant before its sequel comes out on October 30th, so Nightfall is gonna take the back burner for a while.
---
If you participated in the readathon, how did you do? What planet do you live on now? Happy reading!