Hello, a tag today! This tag was created by Ordinary Reader!
---
1. THE CHOCOLATE CHIP COOKIE – The cookie that's comforting in any season. Name and old favorite.
Scar Night by Alan Campbell. It's been a while since I've mentioned this book, but it's been one of my favorites since I was a teenager. Ugh it's so good.
2. BISCOTTI – The cookie that is tough to bite into, but totally worth the effort. A book that was difficult for you to get into, but you're so glad you stuck through to the end.
The Black Prism by Brent Weeks! I think it took me about 200 pages to start really liking this one, and by the end I adored it. I've adored every other book in the series just as much since then, too.
3. SUGAR COOKIES – The cookie that comes in all shapes and sizes. Give a diverse recommendation.
The Girl of Fire and Thorns by Rae Carson. I really need to give these a reread. This book is a fantasy, based on a Latino culture. The main character is also overweight, and in addition to the overarching fantasy plot, the author delves into this character's mental relationship with food, which is really fascinating.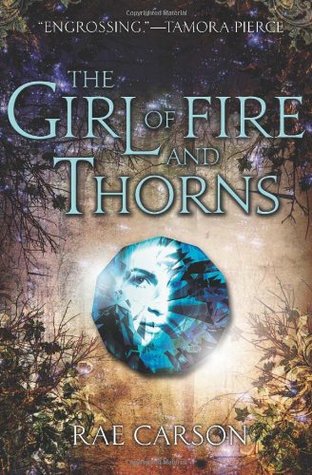 4. PEANUTBUTTER BLOSSOMS – The underdog cookie that eventually became a Christmas favorite. Name character that slowly but surely grew on you.
Malta from Robin Hobb's Liveship Traders trilogy definitely did. One of Hobb's greatest skills as an author is complex character development. Never in any other author's books have I gone back and forth from disliking to liking a character so much. Malta though, her development is fantastic. She starts off as this childish, immature and by the end of the trilogy, she's just… great. She's well rounded, her ego is managed. Augh it's wonderful.
5. SNICKERDOODLES – The cookie with the name that you can't say without smiling. Name book that made you smile or laugh.
Adulthood is a Myth by Sarah Anderson, because if she can ignore it, so can I.
6. FRUITCAKE COOKIES – The cake that should NEVER have been made into a cookie. A book that you could do without.
I don't think I have an answer for this one. While there are books I definitely dislike and even hate, I feel like saying that they shouldn't have been made is an insult to the author more so than the book. Y'know? There's a line.
7. THE GINGERBREAD HOUSE – It's more than just a cookie, it's a masterpiece. The book that has the best writing and/or world building.
My current favorite writing is in The Traitor Baru Cormorant. Some of the quotes in this one are just chillworthy, man.
8. COOKIES BAKED ESPECIALLY FOR SANTA – Share book you plan on reading this holiday season.
The Christmas Box by Richard Paul Evans. This is the one Christmas book that I own that is still unread (I'll have to buy a new one next year). I've read Evans' Christmas books before and have like them, so I'm hoping to like this one, too.
9. COOKIE SWAP – What's you're favorite holiday cookie? (And if you'd like, share the recipe or the link to the recipe in the description box of your video).
Molasses cookies, man. Nobody ever says these, and they're easy to mess up, but when they're done right, they're so. good. Augh.
10. A GLASS OF MILK TO WASH IT ALL DOWN – What's your favorite Holiday drink?
Gingerbread lattes, hands down. Also! Peppermint things, chestnut praline things, etc etc.
---
I tag Bookbinderway, Zezeewithbooks, Mybookworld, Dragonsandzombies, Booksinhereyes and you if you wanna do it :"D