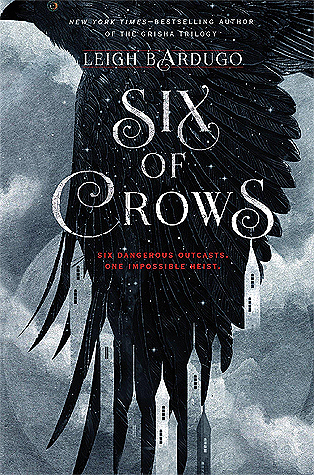 Six of Crows by Leigh Bardugo
Hardback
465 pages
YA Fantasy
Read Jan 5 – Jan 11
Spoiler-free blabber
Hype is a dangerous thing.
I had heard many, many good things about this book before I picked it up, and with King of Scars coming out at the end of this month, I figured I should get to it beforehand in case events within are mentioned in passing in the next series. I am a fan of the Grisha trilogy – all the books in there hover around 4 stars, give or take – and the majority of people seem to actually like this book more than that series. So going in, I was pretty pumped.
Unfortunately, I guess I was too pumped. I ended up liking the book, but that thing, that 'oomph' that everyone felt that made them absolutely adore it.. I didn't feel it. As stated, the book was good. I liked it. I didn't love it, though.
I liked the plot. I loved the world. I liked the pacing. I liked the characters… mostly. The biggest thing that killed this book for me though was the characters' ages. I knew going into the book that it was young adult and therefore I would be reading about seventeen year olds. But even going in with that mindset, I still couldn't suspend my disbelief enough to get passed that, well, a bunch of seventeen year olds were breaking into a military stronghold deemed impenetrable. The method they used to get in as well, seemed a bit farfetched to me. I just kept sitting there thinking 'Someone at some point in time must have tried that method. Like, how long has this place been around and nobody tried this?' But apparently, this group of people in particular, these teenagers, were way, way smarter than any military strategist or security personnel with decades of experience. Who knew.
I guess my point is that, after the build-up of the stakes and the danger and whatnot, the actual exhibition kinda… fell flat, which leads me into my other issue with the book. Whether it was the writing or the fact that I couldn't suspend my disbelief, I just couldn't feel the intensity of the situation. The stakes are basically life and death, in the long term. You'd think that would have me going 'oh no oh no oh no are they gonna make it ugh ugh', but it really didn't. The situation, which should have had me on the edge of my seat, lacked any sort of feeling of urgency. And I think this reason specifically is why I rated it lower than people tend to. I wasn't able to get myself to feel for the characters or the situation. There was no sense of impending doom, no anxiety build up about what would happen should they fail. It just.. wasn't there.
Also, I don't like Kaz. He reminds me too much of Kvothe from the Kingkiller Chronicles and I hate Kvothe. Kaz had the vibe of 'I'm good at this stuff just because', and it drove me bonkers. The second I realized the similarities, I actually said, "Oh nooooooo," out loud. Kaz has this reputation for doing the gritty stuff, for doing any job, for being nefarious and cruel and yada yada. You don't really get to see that, though. Sure it's alluded to, but it really felt like 'I'm telling you this stuff so I don't actually have to write it and do the character development'. He had development during the story, which was ok, but his background didn't really show through. I knew he was supposed to be this tough guy but like.. it didn't really seem like it.
But! Like I said, I did like this book. What lacked for me in immersion, intensity and Kaz was made up for by just being back in the Grisha universe again. As stated, I like the world this novel takes place in. The world building for the city, the island, and the other countries mentioned are pretty neat. The magic system is super interesting and its use in this book had a different dynamic than in the Grisha trilogy, so it was nice seeing it from another perspective. I feel like so much more could take place here, and going by the new series that's coming out soon, I'm gonna get my wish.
The side characters as well – basically everyone except Kaz, I really liked. I liked Nina in particular, because she had the same feelings towards Kaz as I do. Because of that, it makes me question him – maybe he was supposed to be written as an insufferable butt on purpose and will get called out on it in book two? Who knows. If that happens though, then you can bet your butt I'll be singing its praises. The other side characters too were rather entertaining. I really like the character dynamics between Nina and Matthias, though I think the reason for the strife between them is a bit farfetched. The reason the author used to get them not quite liking each other is, well, ridiculous. The reasoning given for Nina doing what she did was that she had no other choice. She totally had another choice. There were so many other choices. It's a minor issue though, I guess. I guess. The interactions between Jesper and Wylan too, I really enjoyed. I think those two characters are my favorite overall, and I hope to see them grow and develop in the next book.
And I think the best part about this book was the pacing. While I didn't really feel the intensity of the situation, the pace of the writing kept me reading at a steady rate. Nothing felt slow or unnecessary, nothing felt rushed. The pacing saved this book for me. I really appreciate it when an author can keep a steady sense of 'keep reading' in me throughout the book, whether or not it's during an action scene. It doesn't happen super often, so it was so nice that it did.
Overall, this book was good. It wasn't great, as I had been led to believe, but it was good. I liked it.
3.75/5 stars