Hello! Welcome to another 'anticipated releases' post. I post two per year – January through June and July through December. Guess what month it is.
I've already posted some anticipated books in a top 5 wednesday post that spanned the whole year, so I'm not going to repeat any, but keep in mind I also wanna read those.
Since I haven't actually read any of these yet, I'm just going to put the synopses and tentative release dates, because that's really all I got for ya. Pbtbt.
Enjoy.
---
Release date: February 5th
Goodreads synopsis: An intimate, moving book written with the immediacy and directness of one who still struggles with the effects of mental and chronic illness, The Collected Schizophrenias cuts right to the core. Schizophrenia is not a single unifying diagnosis, and Esmé Weijun Wang writes not just to her fellow members of the "collected schizophrenias" but to those who wish to understand it as well. Opening with the journey toward her diagnosis of schizoaffective disorder, Wang discusses the medical community's own disagreement about labels and procedures for diagnosing those with mental illness, and then follows an arc that examines the manifestations of schizophrenia in her life. In essays that range from using fashion to present as high-functioning to the depths of a rare form of psychosis, and from the failures of the higher education system and the dangers of institutionalization to the complexity of compounding factors such as PTSD and Lyme disease, Wang's analytical eye, honed as a former lab researcher at Stanford, allows her to balance research with personal narrative. An essay collection of undeniable power, The Collected Schizophrenias dispels misconceptions and provides insight into a condition long misunderstood.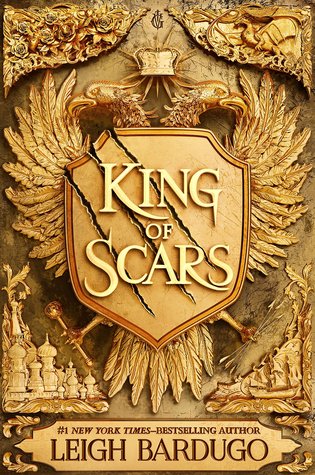 Release date: January 29th
Goodreads synopsis: Nikolai Lantsov has always had a gift for the impossible. No one knows what he endured in his country's bloody civil war—and he intends to keep it that way. Now, as enemies gather at his weakened borders, the young king must find a way to refill Ravka's coffers, forge new alliances, and stop a rising threat to the once-great Grisha Army.
Yet with every day a dark magic within him grows stronger, threatening to destroy all he has built. With the help of a young monk and a legendary Grisha Squaller, Nikolai will journey to the places in Ravka where the deepest magic survives to vanquish the terrible legacy inside him. He will risk everything to save his country and himself. But some secrets aren't meant to stay buried—and some wounds aren't meant to heal.
Release date: March 5th
Goodreads synopsis: When a nobleman's first duty is to produce a male heir, women are treated like possessions and bargaining chips. But as the aftereffects of a world-altering spell ripple out physically and culturally, women at last have a bargaining chip of their own. And two women in particular find themselves at the crossroads of change.
Alys is the widowed mother of two teenage children, and the disinherited daughter of a king. Her existence has been carefully proscribed, but now she discovers a fierce talent not only for politics but also for magic—once deemed solely the domain of men. Meanwhile, in a neighboring kingdom, young Ellin finds herself unexpectedly on the throne after the sudden death of her grandfather the king and everyone else who stood ahead of her in the line of succession. Conventional wisdom holds that she will marry quickly, then quietly surrender the throne to her new husband…. Only, Ellin has other ideas.
The tensions building in the two kingdoms grow abruptly worse when a caravan of exiled women and their escort of disgraced soldiers stumbles upon a new source of magic in what was once uninhabitable desert. This new and revolutionary magic—which only women can wield—threatens to tear down what is left of the patriarchy. And the men who currently hold power will do anything to fight back.
If, Then by Kate Hope Day
Release date: March 12th
Goodreads synopsis: In the quiet haven of Clearing, Oregon, four neighbors find their lives upended when they begin to see themselves in parallel realities. Ginny, a devoted surgeon whose work often takes precedence over her family, has a baffling vision of a beautiful co-worker in Ginny's own bed and begins to doubt the solidity of her marriage. Ginny's husband, Mark, a wildlife scientist, sees a vision that suggests impending devastation and grows increasingly paranoid, threatening the safety of his wife and son. Samara, a young woman desperately mourning the recent death of her mother and questioning why her father seems to be coping with such ease, witnesses an apparition of her mother healthy and vibrant and wonders about the secrets her parents may have kept from her. Cass, a brilliant scholar struggling with the demands of new motherhood, catches a glimpse of herself pregnant again, just as she's on the brink of returning to the project that could define her career.
At first the visions are relatively benign, but they grow increasingly disturbing—and, in some cases, frightening. When a natural disaster threatens Clearing, it becomes obvious that the visions were not what they first seemed and that the town will never be the same.
Startling, deeply imagined, and compulsively readable, Kate Hope Day's debut novel is about the choices we make that shape our lives and determine our destinies—the moments that alter us so profoundly that it feels as if we've entered another reality.
Release date: March 12th
Goodreads synopsis: Hassan has a secret–he can draw maps of places he's never seen and bend the shape of reality. When representatives of the newly formed Spanish monarchy arrive to negotiate the sultan's surrender, Fatima befriends one of the women, not realizing that she will see Hassan's gift as sorcery and a threat to Christian Spanish rule. With their freedoms at stake, what will Fatima risk to save Hassan and escape the palace walls?
As Fatima and Hassan traverse Spain with the help of a clever jinn to find safety, The Bird King asks us to consider what love is and the price of freedom at a time when the West and the Muslim world were not yet separate.
Release date: April 9th
Goodreads synopsis: She's an artificial consciousness, designed in a lab to help humans process trauma, which is particularly helpful when the sun begins to die 5 billion years before scientists agreed it was supposed to.
So, her beloved human race is screwed, and so is Emily. That is, until she finds a potential answer buried deep in the human genome. But before her solution can be tested, her lab is brutally attacked, and Emily is forced to go on the run with two human companions – college student Jason and small-town Sheriff, Mayra.
As the sun's death draws near, Emily and her friends must race against time to save humanity. But before long it becomes clear that it's not only the species at stake, but also that which makes us most human.
Release date: April 23rd
Goodreads synopsis: J is a student at a school deep in a forest far away from the rest of the world.
J is one of only twenty-six students, all of whom think of the school's enigmatic founder as their father. J's peers are the only family he has ever had. The students are being trained to be prodigies of art, science, and athletics, and their life at the school is all they know—and all they are allowed to know.
But J suspects that there is something out there, beyond the pines, that the founder does not want him to see, and he's beginning to ask questions. What is the real purpose of this place? Why can the students never leave? And what secrets is their father hiding from them?
Meanwhile, on the other side of the forest, in a school very much like J's, a girl named K is asking the same questions. J has never seen a girl, and K has never seen a boy. As K and J work to investigate the secrets of their two strange schools, they come to discover something even more mysterious: each other.
---
And that's it! There are others on my radar as well, but these are the topsies. Happy reading!