Hello! Time for some purging and gushing!
Rules:
Sort your Goodreads TBR shelf by date added, ascending

Find 5-10 (or more, if you feel ambitious!) titles to purge from your TBR (the "lows")

ALTERNATIVE OPTION: Find 5+ titles that are at the BOTTOM of your TBR—books you want to read someday, just not right now!

Post those 5 books in the list, with a brief explanation

Next, sort your Goodreads TBR shelf by date added, descending

List the last 5 (or more!) books you added to your TBR, with a synopsis or your brief summary of why you added it (the "highs")
The Lows
The Other Brain by R. Douglas Fields – This is being removed purely because it's ten years old and neuroscience has come so far in that time. Should I be struck by the overwhelming urge to read a neuro book, I'll grab a recent one. No offense, author man. I just didn't get to it in time.
Kluge by Gary F. Markus – Same reasoning as above. I'd rather read something recent.
The Ocean at the End of the Lane by Neil Gaiman – I currently own a Gaiman book. Two, actually. I haven't read either. I figure if I ever pick those up and like them, then maybe I'll hunt out his other stuff. Until then, though, in the name of de-cluttering, it's gonna go.
The River of No Return by Bee Ridgway – The synopsis dun appeal to me anymore, unfortunately
The Thinking Woman's Guide to Real Magic by Emily Croy Barker – Same with this one. It rings too close to Wildest Dreams, and it's putting me off, haha.
In Search of the Multiverse by John Gribbon – This one is another victim of time.
On Intelligence by Jeff Hawkins and Sandra Blakeslee – Same here. Too much time has passed.
Thunderer by Felix Gilman – Lost interest in the synopsis. I think this has been on my tbr list for almost ten years now. Never got to it.
The Highs
I'm going to skip over any books already highlighted in my anticipated releases post.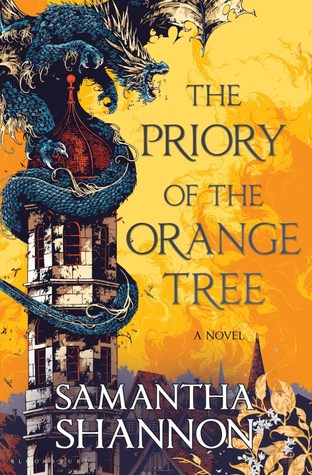 Goodreads synopsis: A world divided.
A queendom without an heir.
An ancient enemy awakens.
The House of Berethnet has ruled Inys for a thousand years. Still unwed, Queen Sabran the Ninth must conceive a daughter to protect her realm from destruction—but assassins are getting closer to her door.
Ead Duryan is an outsider at court. Though she has risen to the position of lady-in-waiting, she is loyal to a hidden society of mages. Ead keeps a watchful eye on Sabran, secretly protecting her with forbidden magic.
Across the dark sea, Tané has trained all her life to be a dragonrider, but is forced to make a choice that could see her life unravel.
Meanwhile, the divided East and West refuse to parley, and forces of chaos are rising from their sleep.
Goodreads synopsis: Tracker is known far and wide for his skills as a hunter: "He has a nose," people say. Engaged to track down a mysterious boy who disappeared three years earlier, Tracker breaks his own rule of always working alone when he finds himself part of a group that comes together to search for the boy. The band is a hodgepodge, full of unusual characters with secrets of their own, including a shape-shifting man-animal known as Leopard.
As Tracker follows the boy's scent–from one ancient city to another; into dense forests and across deep rivers–he and the band are set upon by creatures intent on destroying them. As he struggles to survive, Tracker starts to wonder: Who, really, is this boy? Why has he been missing for so long? Why do so many people want to keep Tracker from finding him? And perhaps the most important questions of all: Who is telling the truth, and who is lying?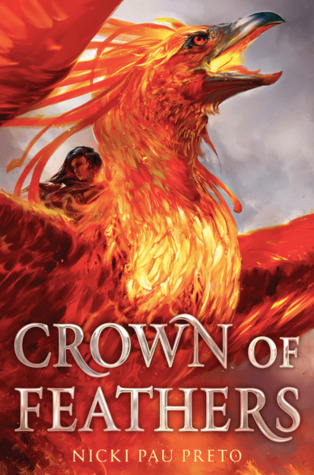 Goodreads synopsis: I had a sister, once…
In a world ruled by fierce warrior queens, a grand empire was built upon the backs of Phoenix Riders—legendary heroes who soared through the sky on wings of fire—until a war between two sisters ripped it all apart.
I promised her the throne would not come between us.
Sixteen years later, Veronyka is a war orphan who dreams of becoming a Phoenix Rider from the stories of old. After a shocking betrayal from her controlling sister, Veronyka strikes out alone to find the Riders—even if that means disguising herself as a boy to join their ranks.
But it is a fact of life that one must kill or be killed. Rule or be ruled.
Just as Veronyka finally feels like she belongs, her sister turns up and reveals a tangled web of lies between them that will change everything. And meanwhile, the new empire has learned of the Riders' return and intends to destroy them once and for all.
Sometimes the title of queen is given. Sometimes it must be taken.
Goodreads synopsis: Armed with only his wits and his cunning, one man recklessly defies the French revolutionaries and rescues scores of innocent men, women, and children from the deadly guillotine. His friends and foes know him only as the Scarlet Pimpernel. But the ruthless French agent Chauvelin is sworn to discover his identity and to hunt him down.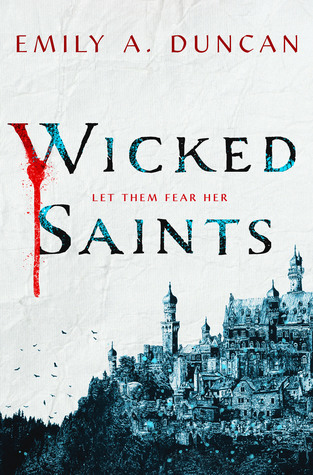 Goodreads synopsis: A girl who can speak to gods must save her people without destroying herself.
A prince in danger must decide who to trust.
A boy with a monstrous secret waits in the wings.
Together, they must assassinate the king and stop the war.
In a centuries-long war where beauty and brutality meet, their three paths entwine in a shadowy world of spilled blood and mysterious saints, where a forbidden romance threatens to tip the scales between dark and light. Wicked Saints is the thrilling start to Emily A. Duncan's devastatingly Gothic Something Dark and Holy trilogy.
---
And that's it! Happy reading!