Writing '19' at the end of the title was weird.
Today I wanna wrap up the books I read, all of which were part of the Tome Infinity and Beyond Readathon, which took place from January 1st – 31st, so I figured why not do it all at once. I read eight things this month, three novels and four manga and one graphic novel.
Books
So for Round 2 of Tome Infinity, I had settled on Mercury and began to build my colony. Each book read had to fulfill the prompts in the different tiers, starting with Tier 1 and then moving upwards. I almost completed tier two (there were five total). Each book you read could count for up to two prompts. Many of the books I read could have easily filled four or five, but that wasn't the nature of the readathon, so with what I had and what it was allowed to fill, I've basically gotten the necessities down. The colonists just can't go anywhere yet because travel isn't a thing. I'll highlight the titles with the corresponding colors on the boxes so you can tell what filled what.
Fulfilled Tier 1's Water and Shelter
Man oh man, I already want to reread Robin Hobb's books, and I haven't even finished them yet. While not all of them have been five stars, each one, including this one, has enriched the world in which they take place. I've said this many times before now, but reading a Robin Hobb book is like going home. They give me a feeling of nostalgia, but I can't fathom why. I love them.
This book is no different. I buddy read it with Zezee @Zezeewithbooks and together we rather enjoyed it. This book continues the trek of the last book, and it allows for character development and world building, Robin Hobb's specialities. I really enjoyed this, and at the time of writing, I'm a bit over half way through the fourth one as well, and it's only gotten better. I'm not going to go into plot because spoilers, but I will say if you've been thinking of picking of Robin Hobb's books, do it. Do iiiiiit.
4.25/5 stars
Fulfilled Tier 1's Sleep and Food
This manga I really enjoyed. It's a slice of life manga, following a young man as he goes to agricultural school and learns the ins and outs of farming and dairy science and yada yada.
It was light, refreshing, funny, and had a bit of grit to it as well. I wrote a full spoiler-free blabber on it, should you like to hear me jib jab on about it.
4.25/5 stars
Didn't fulfill any Tier 1 prompts
These two are the only reads this month that didn't fulfill any prompts. They could have counted for later ones, but you have to do the tiers in order, so I couldn't do anything about it.
They were both good reads, though. The only downside to these was that I was hoping for a long series, like the original Fruits Basket was. But the end of volume 2 hinted that the next volume would be the last. Baw I wanted more emotional investment. If anyone can confirm or deny this, please let me know.
4/5 and 4.25/5 stars respectively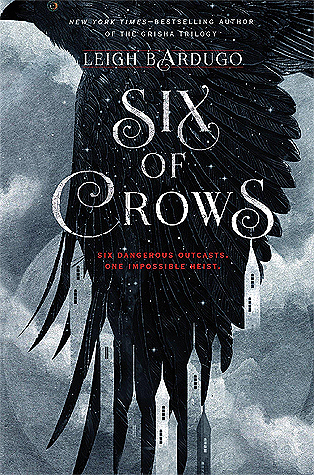 Fulfilled Tier 1's Air and Fire, completing the tier.
As mentioned in my full spoiler-free blabber of this book, it suffered from over-hype. So many people came out of this screaming about it like it was the second coming, so I… was a bit disappointed. It was still a solidly good book, but it just wasn't great, mostly because of the characters I think.
That seems to be peoples' favorites though. Who knows. Maybe I just don't like heist books, which is another thing that people seem to love. Whatever the combination of things, I didn't love this book. (I liked it, though)
3.75/5 stars
Fulfilled Tier 2's Education and Procreation
I've been told by a few different people now to pick this up. I finally did when my husband mentioned wanting to watch the anime. We don't have any streaming services that have this available, so we'd have to buy it on dvd or blu-ray or something. So, I decided to pick up the first volume of the manga first, to see if it's something I'm even interested in watching. I figured I'd rather chance twelve bucks instead of thirty. I liked it though, and we'll likely buy the anime now. (And I wanna buy more of the manga, too).
3.5/5 stars
Fulfilled Tier 2's Medicine and Trading
I wrote a blabber on this one too, and I must say that I liked it more than the first book in the duology. The characters were better written, and the plot was more realistic. Honestly I have nothing else to say about it that I didn't already write, so check out the blabber, pbtbt.
4/5 stars
Fence vol 2 by C. S. Pacat
Fulfilled Tier 2's Oral Communication
I feel like vol 1 could have fulfilled Travel but I didn't read that one this month, pbtbt. They pretty much all stayed in basically the same building this entire volume so I couldn't even stretch it.
I like this series so far, but it hasn't hooked me like Pacat's Captive Prince series did. I'm giving it more time, though, since well, it is C. S. Pacat. I'm still hoping she'll do something that'll throw me for a loop and make me fall in love with the series.
Fingers crossed.
3.75/5 stars
.
And that's it for the books and the readathon! I rather like the structure of this. I know they're thinking about doing a round three and are currently gathering ideas, so I will be participating in that as soon as it's officially announced. 😀
---
Other Things
My husband and I started saving for a house this month. Fingers crossed, we'll buy one by the end of 2020, early 2021!
---
Reading Goals
Read 50 books –

8/50



Finish the 10 in 2019 list –

1/10

Keep book purchases around 4-5 books per month

J – 5 | F | M | A | M | J | J | A | S | O | N | D

Go on a 2 to 3 month buying ban – planned for April-June

Reduce physical TBR to 250 books –

currently at 282



Finish the r/Fantasy Book Bingo Challenge by Mar 31, 2019
Post monthly book hauls

J | F | M | A | M | J | J | A | S | O | N | D

Maintain a S-W-S posting schedule

J | F | M | A | M | J | J | A | S | O | N | D

Keep track of statistics

J | F | M | A | M | J | J | A | S | O | N | D
---
And that's it! I think I've started 2019 pretty strong as far as reading goes. I hope you all had a good reading month!