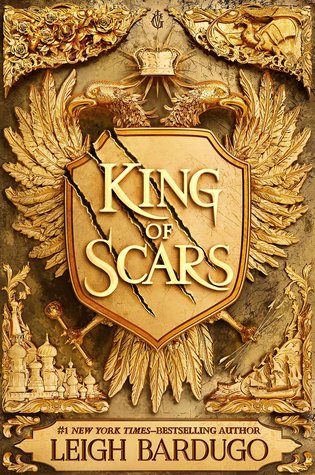 King of Scars by Leigh Bardugo
Hardback
546 pages
YA Fantasy
Nikolai duology, book 1
Read Jan 29 – Feb 18
Spoiler-free blabber
Pacing.
My kingdom for some consistent pacing. Parts of this book, I really liked. Parts of it I wasn't a huge fan of, but overall, the pacing was the major factor that kept me from rating this book more highly.
This book follows Nikolai, and takes place after the both the Grisha trilogy and the Six of Crows duology. It delves into the political unease culminating between Ravka and its neighbors, the imposing threat of parem, and the growing movement of those who worship the legacy and memory of the Starless Saint. Guess who.
We'll start with the negatives and end with the positives. Overall I did like this book, I just didn't love it.
So, the negatives:
As mentioned, pacing. The pacing of this book was all over the place. The beginning of the book starts out decent, the middle drags, and the end goes very very quickly. There were multiple story lines going on in this – one following Zoya and Nikolai, one following Nina, and various smaller others that meandered in and out of the two of them.
My major issue with the pacing was due to how these two major timelines interwove, or didn't, rather. I've read a few reviews on this book at this point, and one of the major points that people tend to make and that I agree with is that some of the perspectives seemed pointless at times. It jars the reader, jumping from the "main" plot line to the side ones, because the paces of them are so different, particularly towards the end of the book.
Speaking of the end (and as mentioned, no spoilers) a lot of things happen very quickly in the last hundred pages or so of the book. Things that I wanted to know more about, that should have been delved into, were skimmed over. Particularly what Zoya is up to during that time wasn't given the attention it needed and deserved. Because of this, future chapters in the next book could have her feeling a bit unevenly developed. It'll be like 'suddenly she's this way, because remember those 10 pages they talked about it in the last book?'. I hope very much that Zoya gets more focus in the next book – some internal strife, some monologuing, something that will give more attention to the development she went through so very quickly.
In addition, while Zoya developed fairly well throughout the book (and then… very fast, which makes me nervous) the other characters kinda fell flat. The series is called the Nikolai duology, but he didn't feel quite as uh… vivid, as he did in the Grisha trilogy. I'm hoping it was because the author wanted to focus on Zoya, but this first book didn't really feel like his book, if that makes sense. Nina as well seemed a bit less vibrant. But at the same time, that could be due to grief and I'm just being unsympathetic.
Speaking of, the positives:
(Spoilers for Crooked Kingdom) Nina's grief. I think it was handled very well at the beginning of the book. It actually had me tearing up a bit, which… isn't something I usually do when reading books, honestly. But I think it was the situation, the way Nina spoke about Matthias, the way she finally let him go, Nina's sorrow felt very real to me, and very possible. It wasn't overly dramatic or played out. It was a girl mourning the death of her love, and I felt it.
The characters, though they felt a bit flat, were generally still decent. While some of Nina's bits were boring (aka moved at a glacial pace) I did enjoy seeing her. She was probably one of my favorites from the Six of Crows duology. That series I liked a tad less than the norm. It was a solid 3.5-4 star thing for me, which is a bit lower than you see on Goodreads. This King of Scars book I think is juuuuust above Six of Crows and juuuuust below Crooked Kingdom for me as far as rating goes.
Anyway, Nina's plot line, while I still cannot fathom why it was drawn out so much, has me curious what will happen. It, more than Nikolai's in my opinion, hints at a looming threat that I'm sure will come to fruition in the second book.
Nikolai, while uh… dampened, was still fun to read from. I particularly enjoyed his banter with Zoya, and enjoyed getting a bit of his inner monologue during the trials he was going through. Zoya as well, I really grew to like. Aside from the weird punch-in-the-face of stuff she went through at the end of the book, I really liked how we got her backstory. I think she is my favorite character.
The plot of this book I liked, but as mentioned, it felt stilted. It bumbled around for four hundred pages, but then really got on track at the end. Did it feel super rushed? Yes. But was it a good plot development? …I think so, yes. So I like the direction it's going, I just hope the feeling I felt at the end of the book will stick throughout the second one, whenever it comes out. Speaking of, the ending. The very ending. Unfortunately I predicted what would happen two hundred pages before it did. It kinda took the wind out of it for me.
Despite that though, I'm still kinda pumped for it. I like the 'what happened', I'm just not sure if I'm totally on board with the 'why and how'. hm hm.
So many things about this book gave me so many positive and negative feelings. That might be good though. It gives the second book so much more chance to shine. I'm excited for book two and definitely think it has the potential to be a five star book for me.
Just needs pacing.
3.75/5 stars