Hi it's 2am and my brain has woken me up because it demanded water because I drank a lot of alcohol and then went to bed so here we are. Time to purge some books.
Rules:
Sort your Goodreads TBR shelf by date added, ascending

Find 5-10 (or more, if you feel ambitious!) titles to purge from your TBR (the "lows")

ALTERNATIVE OPTION: Find 5+ titles that are at the BOTTOM of your TBR—books you want to read someday, just not right now!

Post those 5 books in the list, with a brief explanation

Next, sort your Goodreads TBR shelf by date added, descending

List the last 5 (or more!) books you added to your TBR, with a synopsis or your brief summary of why you added it (the "highs")
The Lows
The Alchemy of Stone by Ekaterina Sedia – I went through a spurt of 'I love steampunk' when I was 22 or 23 or something, and then I never actually read any of the books… and now my interest has waned a bit unfortunately.
The Luminaries by Eleanor Catton – This book has been on my to read list for years. Since 2014 maybe? I've almost purchased it probably ten times and always end up putting it back. I think that says something, so off it goes.
The Cardinal's Blades by Pierre Pevel – So, I reread the synopsis of this book on goodreads and honestly it's a bit overwhelming, and my 2am brain cannot take it, therefore it goes. Will I feel this way in the morning? Who knows!
Ghosts of Heaven by Marcus Sedgwick – Another one of those 'almost bought ten times' books
The Lovely Bones by Alice Sebold – This book I physically own, so it'll be donated or something. This one is going because it's been in the 'maybe' pile the last three times I've gotten rid of books… and it survived each time, but I have never had the urge to pick it up. I'll just watch the movie.
The Half Made World by Felix Gilman – Another victim of my steampunk phase. I don't not like steampunk I guess, but I don't know. I'm picky now? haha
In Real Life by Cory Doctorow – I have no good reason for this one, other than I've lost interest.
Forbidden by Kimberley Griffiths Little – Same here. Just… not feelin it.
---
The Highs
Goodreads synopsis: Mi-ja and Young-sook, two girls living on the Korean island of Jeju, are best friends that come from very different backgrounds. When they are old enough, they begin working in the sea with their village's all-female diving collective, led by Young-sook's mother. As the girls take up their positions as baby divers, they know they are beginning a life of excitement and responsibility but also danger.
Despite their love for each other, Mi-ja and Young-sook's differences are impossible to ignore. The Island of Sea Women is an epoch set over many decades, beginning during a period of Japanese colonialism in the 1930s and 1940s, followed by World War II, the Korean War and its aftermath, through the era of cell phones and wet suits for the women divers. Throughout this time, the residents of Jeju find themselves caught between warring empires. Mi-ja is the daughter of a Japanese collaborator, and she will forever be marked by this association. Young-sook was born into a long line of haenyeo and will inherit her mother's position leading the divers in their village. Little do the two friends know that after surviving hundreds of dives and developing the closest of bonds, forces outside their control will push their friendship to the breaking point.
This beautiful, thoughtful novel illuminates a world turned upside down, one where the women are in charge, engaging in dangerous physical work, and the men take care of the children. A classic Lisa See story—one of women's friendships and the larger forces that shape them—The Island of Sea Women introduces readers to the fierce and unforgettable female divers of Jeju Island and the dramatic history that shaped their lives.
Goodreads synopsis: An aging New Yorker, a writer named Nick, feels life ebbing out of him. The world has gone to hell and Nick is so sick of it all that he can't even have a glass of champagne. Then one night he meets a tantalizing young woman who agrees to come back to his apartment. Their encounter is the most strangely extraordinary of his life. Propelled by uncontrollable, primordial desires, he enters a new and unimagined dimension of the forbidden and is filled with a sexual and spiritual ecstasy that is as intense as it is unholy.
Suddenly Nick's senses are alive. He feels strong, unconquerable, beyond all inhibition and earthly morality. He indulges in life's pleasures, pure and perverse, sublime and dangerous, from the delicate flavors of the perfect tomato to the fleshy beauty of a woman's thigh. But Nick's desire to sustain his rapture leads him to a madness and a darkness far greater and dreadful than have ever ridden the demon mares of night.
Writing in a lineage that includes Dante, William S. Burroughs, Charles Bukowski, Hubert Selby, Jr., and Hunter S. Thompson, Nick Tosches may be America's last real literary outlaw-a fearless, uncensorable seeker of our deepest secret truths and desires, from the basest to the most beautiful. Me and the Devil is outrageous, disturbing, and brilliant, a raw and blazing novel truly unlike any other. Like the man said: Read him at your peril.
Unfettered by a bunch of people
Goodreads synopsis: You define life or it defines you.
In Shawn Speakman's case, it was both.
Lacking health insurance and diagnosed with Hogdkin's lymphoma in 2011, Shawn quickly accrued a massive medical debt that he did not have the ability to pay. That's when New York Times best-selling author Terry Brooks offered to donate a short story Shawn could sell toward alleviating those bills—and suggested Shawn ask the same of his other friends.
Unfettered is the result, an anthology built to relieve that debt, featuring short stories by some of the best fantasy writers in the genre.
Goodreads synopsis: A young priestess has formed her first adventuring party, but almost immediately they find themselves in distress. It's the Goblin Slayer who comes to their rescue–a man who's dedicated his life to the extermination of all goblins, by any means necessary. And when rumors of his feats begin to circulate, there's no telling who might come calling next…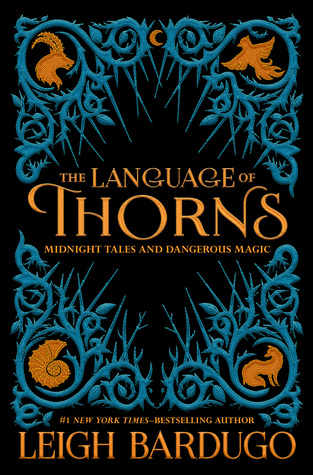 Goodreads synopsis: Travel to a world of dark bargains struck by moonlight, of haunted towns and hungry woods, of talking beasts and gingerbread golems, where a young mermaid's voice can summon deadly storms and where a river might do a lovestruck boy's bidding but only for a terrible price.
Inspired by myth, fairy tale, and folklore, #1 New York Times–bestselling author Leigh Bardugo has crafted a deliciously atmospheric collection of short stories filled with betrayals, revenge, sacrifice, and love.
Perfect for new readers and dedicated fans, these tales will transport you to lands both familiar and strange—to a fully realized world of dangerous magic that millions have visited through the novels of the Grishaverse.
This collection of six stories includes three brand-new tales, all of them lavishly illustrated with art that changes with each turn of the page, culminating in six stunning full-spread illustrations as rich in detail as the stories themselves.
---
And that's it! Now it's 3am and I should probably go back to sleep, ahaha. Nighty night