Hello! February was a total of three hours long, which is a huge change from January which was 300 years. I read nine things this month!
---
Books
Silver Spoon volumes 2-4 by Hiromu Arakawa
I've continued this manga from last month, and I'm enjoying it just as much. Characters have developed, the plot, while still a bit meandering, has started to form an overarching story line, the animals are cute… it's just an overall enjoyable read.
For those unfamiliar, this manga series is by the same author as Fullmetal Alchemist, and follows a city-based school student as he enters an agricultural high school. It goes through the grit needed to raise farm animals, has a fair bit of humor, and is very educational for people not familiar with a farm like myself. While it's nothing like Fullmetal, it's still reminiscent in the art and in the humor. I rather like it.
4/5, 4/5, 4.5/5 stars
What would a wrap up be without a Robin Hobb novel. I buddy ready this book with Zezee @ZezeeWithBooks and we both rather enjoyed it. This is the concluding book in a four books series set in Hobb's overarching Realm of the Elderlings world. I think this series was really well thought out and really establishes dragons as their own entities in the world. While they were present in varying degrees before, this quartet allows them to really come into their own, and I enjoyed it.
4/5 stars
This book solidified Novik as one of my favorite authors. Well, she already was, but man, this is book eight in a series, and I rated it five stars. Eight books in, and she's still amazing me. This book is my first five star rating of the year and has earned its spot as one of my all-time favorite books. I adored this, man.
This series is set during the Napoleonic Era, and follows a timeline where not only do dragons exist, but they play an integral part of warfare and battle tactics in the Napoleonic Wars. This series is well written, well researched and well paced. I. Love. It.
5/5 stars
I picked this manga series up at the recommendation of Sionna @BooksInHerEyes, and I'm happy I did. This series is a dungeon crawler, but the people crawling it are obsessed with catching, cooking and eating the various monsters they find, whether it be the innards of living armor or roasting a mushroom monster. This manga is funny, light, and contains a nice amount of character. The characters in this series, while still a bit flat, are coming into their own, especially after volume two. I particularly like the elf woman in the group. I think she has the most development by far, and I'm excited to see where this series goes from here.
4/5, 3.5/5 stars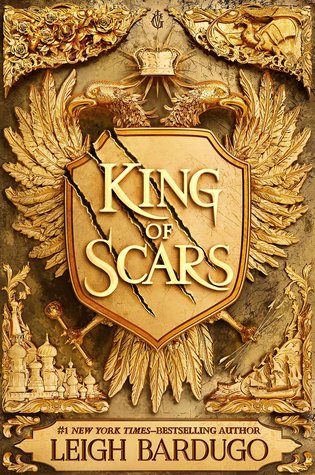 I bought this baby on release day, and while it turned out that I liked it a bit less than I had hoped, I still found this book to be solidly good. It takes place after both of Bardugo's previous series set in the Grishaverse, and follows Nikolai and the characters around him as the politics and intrigue of the world become more imminent and threatening.
I wrote a full spoiler-free blabber on this one, but long story short: the major problem with this book was pacing. Otherwise it was pretty keen, jelly bean.
3.75/5 stars
This was my first reread of 2019, and I very much enjoyed it. I really like the writing, the plot and the characterization in this book. My issue with it this time is the same as it was last time: Kelsea to me seems too well socialized for being isolated her entire life. She didn't get to experience being an awkward teenager around other awkward teenagers, how in the wolrd is she so sure of herself?! It seems a bit unbelievable to me, but not so much so to take away my enjoyment of the book. The plot is really cool, the magic is neat, the side characters are great. I'm in the middle of the second book now and am absolutely adoring it.
4/5 stars
.
---
Other Things
I've been havin a bunch of fun health issues. Apparently there's a virus in my head that's making my inner ear funny. It'll clear up soon but man was I dizzy there for a bit.
My cat died on the 11th… This is the second one within a year. Roma, I miss you always.
---
Reading Goals
Read 50 books – 17/50

Finish the 10 in 2019 list – 2/10
Keep book purchases around 4-5 books per month

J – 5 | F – 6 | M | A | M | J | J | A | S | O | N | D

Go on a 2 to 3 month buying ban – planned for April-June

Reduce physical TBR to 250 books – currently at 283

Finish the r/Fantasy Book Bingo Challenge by Mar 31, 2019
Post monthly book hauls

J | F | M | A | M | J | J | A | S | O | N | D

Maintain a S-W-S posting schedule

J | F | M | A | M | J | J | A | S | O | N | D

Keep track of statistics

J | F | M | A | M | J | J | A | S | O | N | D
---
And that's it! I really never want to relive this February again. Aside from some good books that got me through it, this month was kind of shit, to be honest. I hope all of your Februarys were good!