Hello! It's been a couple weeks since I've posted really much of anything. Something something slumpy something. Onward.
Books
This month was nowhere near as booky as last month. Again, something something slumpy something. I attempted the Asian Readathon, but it kinda fell apart and I didn't finish it. Everything I did read counted towards it though at least. Three things:
Attack on Titan vol 18 by Hajime Isayama – I feel like this series is getting better and better. I really should focus on it more – I'm about 8 volumes behind now!
4.5 stars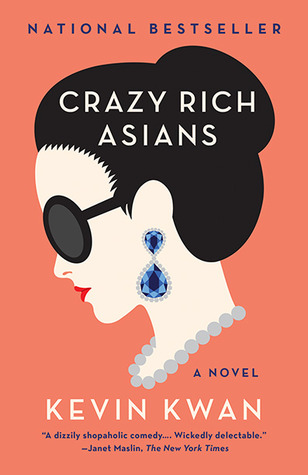 Crazy Rich Asians by Kevin Kwan – I'm going to go against the grain here and say that while I did like this book, I think I actually liked the movie more. I think the setting and everything translated better, and the plot changes the movie made made it feel more, well, cohesive. But like I said, I did like this book, and I'll continue them at some point.
3.5 stars
A Thousand Beginnings and Endings by Ellen Oh and Elsie Chapman – This is a short story collection of a bunch of different Asian authors writing stories based on different Asian myths from around the continent. I read this as part of the Asian Readathon – it was the group book that all the participants read. Luckily, I found it on audiobook on Scribd.
While the premise sounded really neat, I think this really fell flat. I will say though that I'm biased already – I tend to dislike short story collections and usually rate them 3 stars max. So going in, I knew that the most I would like this would be, well, 3 stars. It's nothing against the creators or their stories – it just happens almost constantly. Short stories for me are usually just meh.
Some of the stories, as predicted, got a 3 from me. One got a 4. The rest got 2s, and one even got a 1. So… this book ended up with an average of 2.6, I think? Weird rating, but that's what taking an average of 15 ratings does.
2.6 stars
And that's it – that's all I read. I have a few other books in progress, but those'll show up in my Currently Reading, assuming I don't finish them all tonight. I think the last book – the short story collection, is what made me slumpy. I notice I tend to get so when I force myself through a book. Had it not been for the readathon, it would have been a DNF for me. Hopefully June will be a better reading month. After two month-long readathons and being corralled in to what I need to read, a month of no readathons and really just reading what I feel like in the moment should help.
---
Other Things
This past month, I went to Connecticut to visit a friend, and we went to the historical Mystic Seaport! It was really neat
I am currently stuck on this song. It's way outside my usual genre, but I'm really digging it. Give it a listen!
---
Reading Goals
Read 50 books – 42/50

Finish the 10 in 2019 list – 4/10
Keep book purchases around 4-5 books per month

J – 5 | F – 6 | M – 7 | A – 0 | M – 0 | J | J | A | S | O | N | D

Go on a 2 to 3 month buying ban – In progress

Reduce physical TBR to 250 books – currently at 270

Finish the r/Fantasy Book Bingo Challenge by Mar 31, 2019 – Complete!
Post monthly book hauls

J | F | M | A (on ban) | M(on ban) | J | J | A | S | O | N | D

Maintain a S-W-S posting schedule

J | F | M | A | M | J | J | A | S | O | N | D

Keep track of statistics

J | F | M | A | M | J | J | A | S | O | N | D
---
And that's it! Happy reading!