Hi! Part two of the magical readathon is here! It starts August 1st and runs the whole month! If you missed out on part 1, check out the original announcement video by the host! Also if you're curious about this one, check out the announcement video for it as well!
---
Back in April, I had chosen Alchemist as my wizarding career. I succeeded in getting the O.W.L.s needed for it! So I'm going to continue on with that path and try to get my N.E.W.T.s for it as well:
So for an O in five subjects and an E in one, that means I need to read 17 books. Holy. Poop.
I'm going to say now that I'm going to be out on town August 1-6th as a combined birthday-wedding anniversary trip. So that week honestly my reading will be minimal. I tell myself every time I go somewhere that I'll read so much during down time and I just… don't. So I'm acknowledging that now and planning on reading a lot of manga and graphic novels to hopefully still achieve my reading goal.
Ancient Runes
A: Read a book recommended by a friend
Saga vol 9 by Brian K Vaughan – I've had this volume for a few months now and haven't picked it up. One of my buddies has told me to a few times now, so it counts, woo!
E: Book written in past tense
Howl's Moving Castle by Diana Wynne Jones – I've had this for ages, and it's on my 10 in 2019 list, so perfect!
O: Book that has been on your TBR for ages
Bitch Planet vol 1 by Kelly Sue DeConnick – I can't tell you when I bought this one. At least a year ago!
Arithmancy
A: Book that ends on an even page number
Chew vol 3 by John Layman – at 128 pages, this fits
Nod by Adrian Barnes – I feel like this was originally meant to be a series, but unfortunately the author passed away before more was published. So it's a stand alone as far as I know.
O: Books that's longer than 350 pages
You by Caroline Kepnes – If I'm gonna read a larger book, it should probably be a thriller or a YA fantasy so I blow through it. This is the former!
Herbology
I'm not gonna pick a specific book for this, because I listen to 2-3 audiobooks per month as it is. Therefore I'll just use whatever I happen to pick up.
E: Book between 350-390 pages
Me Before You by Jojo Moyes – My edition is around 370 pages and I'm hoping I can buzz through it
O: Book with a flower on the cover
So unbeknownst to you, I just spend the past 20 minutes looking at all my book covers and not a single one has a flower on it. But, luckily my friend lent me some manga, and one of those has a flower. The Girl From the Other Side vol 1 by Nagabe!
Potions
Read your friend's favorite book
Dorohedoro vol 1 by Q. Hayashida – This is from the same friend that lent me the above manga. She's been after me to read it for ages, so here we are.
Book with cover in Hogwart's house color
Chew vol 4 by John Layman – It's not quite the right shade of blue, but it's still blue.
Book that starts with a prologue
The Wrath and the Dawn by Renee Ahdieh – This is a YA fantasy with a mystery-thriller-esque plot, I think? So hopefully I can get through it quickly.
Transfiguration
Read a book the LGBT+ representation
City of Ashes by Cassandra Clare – I'm fairly sure there's a gay character in here, at least one, maybe more? I'm not positive. If it turns out I'm wrong, I'll read another.
Delicious in Dungeon vol 3 by Ryoko Kui – "vol 3"
Read a book over 500 pages
Man, this prompt is mean. I'm going with Empire of Storms by Sarah J Maas because I have a history of being able to fly through her books. Hoping this one will be the same way.
Astronomy
The Slow Regard of Silent Things by Patrick Rothfuss – This is literally the only book I could find with a moon. And I am fairly interested in it! I've borrowed this from a friend.
E: Night in title/series name
The Curious Incident of the Dog in the Night Time by Mark Haddon – This comes highly recommended to me by my husband, so I'm rather pumped for it.
---
And that's it! Minus the audiobook which I have yet to pick, here is the complete stack of what I'm gonna be reading next month: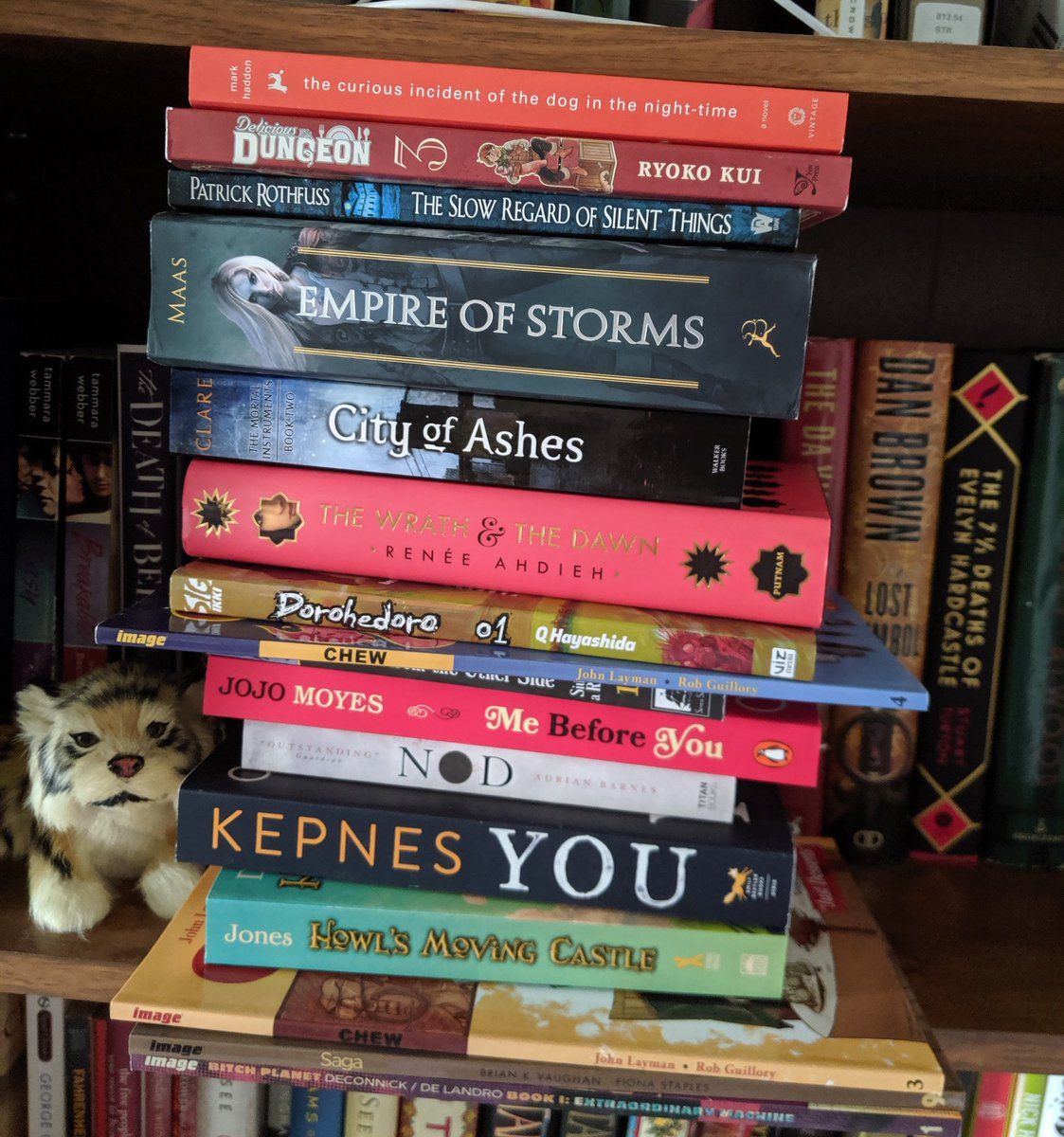 Lemme know if you feel like you'll fall into an early grave from all this reading like I will. Happy reading!