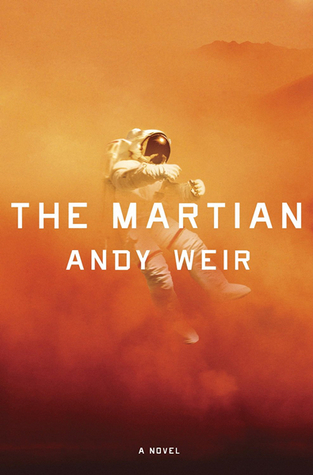 The Martian by Andy Weir
Let me start off by saying that when I was typing the author's name, my brain decided originally to type 'Weird' instead of 'Weir'. I think it was a Freudian slip, because I feel the author of this novel is just that – weird, in the best way possible. You have to be weird to come up with a book like this one. Like most people, I completely adored this book. I listened to it as an audio book while on road trips and it certainly made time fly.
I think if I would have read it as a physical book I still would have really liked it but the audio book just made it oh so much better. The narrator was perfect. He put into his words the wry humor that permeated the book. He made recognizable voices for each character and for a guy with a deeper voice, he managed to voice all the women characters rather well, too.
But enough about the narrator, on to the book itself: The Martian is set on Mars. It follows Mark Watney, who through a set of circumstances becomes stranded on the orange planet. He has to survive until a rescue plan becomes available.
Now there are two things that particularly stuck out to me in this book, which made me love it.
First, it was sciencey. And I'm talking really sciencey. When Watney had to create a breathable atmosphere for himself, the author went into the chemistry of it. When Watney had to figure out how to grow food, the physics and chemistry of that was explained too. If you know anything about basic chemistry, you'll feel really smart reading this book because you'll recognize the principles. If you don't know anything about chemistry, you'll enjoy it all the same because all the hard science is presented in a way that is entertaining, easy to understand, and funny. Which brings me to the second thing I loved about this book:
The humor. This book. is. hilarious. I was laughing out loud so many times throughout this book I couldn't even count it. Mark Watney is a wonderful character. He takes the situation of being stranded on Mars and makes it hysterical. He's so dry, so sarcastic, so quick-witted. He's a lot of fun to read. You shouldn't be laughing when someone keeps putting themselves in life-or-death situations, but… you do. You can't help it. No oxygen? Hahahahaaa. Miscalculated a super crucial measurement that will keep the water in your eyes from boiling away? Stop it, I can't breathe!
This book is wonderful. Go read it. Want sci-fi? Comedy? Reaaaaaad iiiiiiit. Unfortunately this is gonna be a short review, because I don't have anything critical to say on this book. I loved every aspect of it. It's definitely made it onto my all-time favorites list. I'm gonna shove it down all your throats for a long time to come. :"D
Rating: 5/5 stars