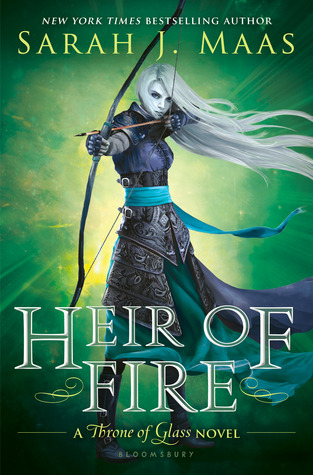 Heir of Fire by Sarah J Maas
Genre: YA Fantasy
Pages: 562
Read January 9, 2016 – January 21, 2016
I know I'm not the first one to talk about this book. Far from it. But I still think it warranted yet another review. The Throne of Glass series is one that I was very hesitant to pick up, and if you follow my blog, you know this already. It's one of those series that's been hyped into oblivion to the point where if you read it and don't find it to be the second coming, you'll likely be very disappointed.
Well, it's not the second coming. This book is far from perfect, but that didn't stop me from enjoying it nonetheless. I think my biggest issue with this book (well, series as a whole) is the main character. I have trouble connecting with her. I can't put my finger on why exactly. Everyone always refers to her as this badass character who should be revered as this awesome strong female lead. While I can't deny she has potential as a strong main character, the term 'badass' doesn't quite fit I don't think. Sure, she's skilled, but she's also nineteen and can be rather egotistical. (Nothing against nineteen year olds, promise)
I think that's why I enjoyed this book so much. This one in particular, along with the prequel novellas. In this book, Celaena is shown that no, she can't be the most powerful thing out there without having to put a ton of work into it. She isn't automatically better than her enemies in this book. In first two books, she had an upper hand over basically everyone due to this assassin background she had, everyone was constantly wowed by it, but not in this one. She's no longer automatically the strongest or the fastest. She wants to be so, obviously, but she realizes she has to work for it. I feel like she went through a decent bit of character development in this one and I enjoyed seeing it.
Another thing I really enjoyed about this one was all the new characters, perspectives and world building that went on. Manon is introduced, who is a fascinating character (though I'm having trouble connecting with her too I'm afraid, regardless of the fact that I like her storyline). I like how small details from the novellas are tying into this book. I'm very happy I read them ahead of time. A big scheme is slowly unfolding and it had me reading this book like a storm. I will be definitely borrowing the next one soon, and I'm looking forward to actually being caught up with this thing and not having to worry about coming across spoilers.
So overall, I think this is a strong addition to the story. To me, it made it so much more than a YA fantasy romance-thing. It feels like it has depth now, and I really dig it.
Rating: 4.5/5 stars