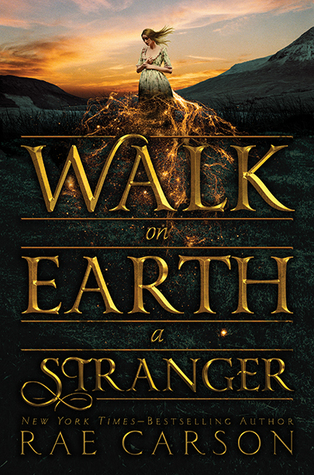 Walk on Earth a Stranger by Rae Carson
Read Oct 21 – Oct 26, 2015
Genre: YA Historical Fiction/Magical Realism
431 pages
Walk on Earth a Stranger is a young adult historical fiction set during the California Gold Rush of the 1800s. It follows the main character Leah, who through a set of circumstances finds herself traversing the barely-settled United States, running from a  murderous uncle who has 'plans' for her. The group of travelers she finds herself with are all after the same thing – gold. Leah though has an advantage – she can sense the gold in the ground, in someone's pockets, or hidden away in a wagon. She can feel it like we feel a tickle on our skin or a cough building in the back of our throats.
This book is by the author who wrote the Girl of Fire and Thorns trilogy, which I really liked. And this book is no different. It's a strong opening for what I'm hoping will be an even better trilogy than her first. The main character grew on me immediately. She reminds me of the main character from Carson's first trilogy, but there are differences that set them apart for sure. I feel that Carson just writes really good, strong female characters. Well developed and well rounded.
Another thing I liked about this book is the relations between then the different women in the cast and the subtle 'well I'm not gonna listen to traditional gender roles'-ness about it all. I really like it. I mean, they fit the roles for the time period but at the same time you can see them striving for more. It was a refreshing read. The women, even when obviously interested in the same person, were kind and caring towards each other. No 'cattiness' or whatever you want to call it that's so stereotypical. I'm noticing that in Carson's books in general – a lot of positive female friendships. I love it. :"D Another point – I know people are sticking the label 'romance' in there, and there can be hints of a love triangle at times, but like I mentioned earlier, all the drama that usually comes with one was absent in this book. And the romance I feel is gonna turn into one of those oh-so-delicious slow-burning ones that by the end of book two or three I'll be screaming 'JUST KISS ALREADY'. I can see it there, it's definitely there, but I feel like Carson's gonna toy with our emotions for a bit before doing anything with it. So don't mind me, I'll be over here agonizing.
And finally, the historical setting and surroundings, from what I can tell seems accurate. I am by no means a historian, but the setting felt authentic, the situations the characters found themselves in felt real. I was totally engrossed by this book. I like historical fiction but don't pick it up too much. I'm glad I did so with this one. Overall, I thoroughly enjoyed this book. I read it as a library copy, but now I want my own. Gimme. And book two, hurry up and get here please.
Rating: 5/5 stars