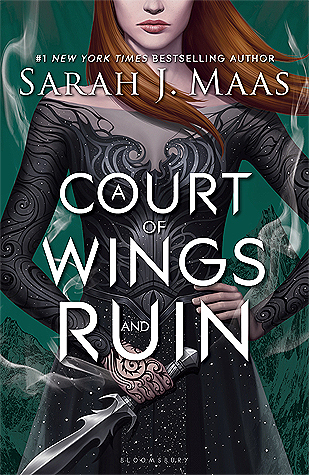 A Court of Wings and Ruin by Sarah J Maas
705 pages
Hardback
Read May 2 – May 13, 2017
A Court of Thorns and Roses, book 3
Spoiler-free blabber (for this book – possible spoilers for the first two books)
---
Reading this book allowed me to see what I like about Sarah J Maas's books and what I don't. I buzzed through the first two books in this series back in January and had been chewing at the bit for this one for a few months. I pre-ordered it, even – something I tend not to do unless the book is super special or signed or somethin'. But after coming off the buzz of A Court of Mist and Fury, I was super-eager for this one. I had rated that book five stars, but now looking back, there were issues in it that I had been blind to originally. I'm not changing the rating on that though – I loved it at the time and I still love it, but this latest book has pointed out some flaws in the series as a whole. Unfortunately these flaws were more apparent to me this time around than during the second book.
I'll start with what I like about this book and this series as a whole:
Sarah J Maas's writing is compelling – I also have issues with it but I'll get to that later – but really, she can write a good, juicy, fast-paced story. I devour her books. They're so much fun to read, so easy to fly through. The world she sets up takes a bit of time to develop, but I kinda fell in love with it. I wanna go see Velaris, people.
Her characters are good as well – the side characters at least. The main characters are alright – I don't dislike them, I just find them a tad irksome. But the side characters I really like. Meaning, I'm very much looking forward to the continuation of these series bases on these characters. Maas is also really good at getting the reader (ie: me) to change opinions on characters from chapter to chapter. Some chapters, I hated Tamlin, others I felt sorry for him, others I liked him. Same with Feyre – my feelings towards her character are all over the place. But I really like that – that my mind isn't set on 'this character is this way and this is what I think' like a stone. The variability of my perception just goes to show the characters themselves have more than one personality trait – that they're actually developing throughout the series (woo!).
The plot I think, is neat too. It hopped from Beauty and the Beast in book one to Hades and Persephone in book two to… what? Was there a fairy tale entwined in book three? I have no idea, but pulling all the plot points together was really neat. Across these three books, so much happened, so much more than one over-arching plot, and I really dug it.
So as much as I liked the plot, the characters and the compelling writing of this book, I also had a laundry list of little 'ehhh' things that popped into my periphery while reading it:
First and foremost is Maas's writing. Like I said above, she's really good at keeping a fast pace and moving the story along but at the same time, her writing is rather uh… convenient, I guess is the best word to describe it. And maybe this is a strange complaint, but everything seemed to have its place in this book. All the characters kinda paired off, characters that had been alluded to throughout the series showed up at just the right time due to happenstance… It was just strange. The use of the blatant plot device, people: It's in this book.
Second is Maas's writing. By this I mean the inconsistency in communication. Okay, I get that Rhys and Feyre communicate via thought using the mating bond. That, sure, that's fine. Buuuuut, there were so many times that Maas would write Feyre having full sentence communication with other characters by conveying meaning through their eyes. Like, seriously – she'd be all 'Amrens eyes said 'maybe we can try this thing that is a really complex idea together with two of us instead of four of us like I had planned. Totally telling you this by staring at you by the way". It was weird. If at some point it had been pointed out that in this world that eyeballs could convey full messages to each other, then I'd be fine with it. But apparently everyone's vision marbles are shouting things at each other throughout this whole book. Unsaid communication that nobody ever misinterpreted ever was a very common thing in this book, and it was weird. And eyeballs did so many things too – they burned, they glinted, they screamed, they did all sorts of stuff that eyeballs shouldn't do, at least things that wouldn't be able to be picked up by another living being via just looking at somebody. I want to have a deep and meaningful conversation on battle strategy via looking at someone. That would be neat, and I'm jealous I can't do that while these people somehow can. 😛
The final, and honestly most goofy thing is Maas's writing. By this, I mean sex scenes. The vocabulary used in these sex scenes had me in hysterics. So, I guess this could be a positive trait about these? I guess? I mean, if you're looking to read about a couple boning and want to laugh hysterically while you're doing it, then it's definitely a good thing. If you're after an actual love scene though that's not funny and all but instead steamy or whatever adjective you wanna assign to it, you're gonna be out of luck.
Because of the amount of boning in this book (which… isn't as much as I was expecting, honestly. So go you, Maas), I've take the liberty of creating a list of things not to do while writing a sex scene:
Don't use the word 'sheathing' when referring to intercourse. A vagina is not a sheath. A penis isn't a sword.
Don't use the word 'sheathing' more than once within the same paragraph.
Don't say that breasts 'tighten' in anticipation. If you experience this, you should see a doctor. Nipples perk out? Sure. But if your whole boob just yells 'ATTENTION', then that's a medical issue.
Please please come up with more than one way of letting a reader know a character is turned on. If I have to read about curling toes one more time, man…
At no point should your character ever ever 'feel like a moonbeam'. What does that even mean.
So, if you're in the middle of writing a novel that calls for a nice love scene, just follow these five easy steps to keep your reader from laughing and then getting their SO to dramatically read the passage out-loud as if it was a performance piece. I mention this because I totally did it and it was so so very entertaining.
So while Maas's sex scenes aren't the best, they're still amusing to read. Whether or not she intended them that way, I have no idea, but the fact that I was still enjoying myself while reading them means they didn't really take away from my overall rating of the book. They just made me attribute this book to being super silly at times.
---
Overall, I enjoyed this book. I didn't love it I don't think, but it was a nice, fun, (sometimes probably unintentionally funny) read. I like the series as a whole and I think this book was a nice, fitting ending to the trilogy. Endings are make-or-break for me, and this one handled loose strings rather cleanly (sometimes… too cleanly, but then again, it's a weird complaint). I liked it. I'm very much looking forward to the companion books for this trilogy and will likely gobble them up when they come out (even if the word 'sheathing' is present in there, yeesh).
Rating: 4/5 stars