Hello~ June is over and was a good reading month for me, but not so good of a posting month. I've mentioned in the past that I've started working fulltime, and with a total of two and a half hours commuting a day on top of it, my energy is zapped. I get a lot of time to listen to audiobooks in the car though, which is basically what my entire wrap up consists of.
I'm starting to adjust to the constant tiredness now, so hopefully my posting will pick back up this coming month. Anyways, it's nice to see you all. Sorry I haven't kept up with your posts!
---
Overview of Blog Activity for the Month:
One wrap-up posted
One haul posted
One challenge posted
One greeting posted
Total posts for June: 4

---
Reading Overview for the Month:
Books:

Assassin's Apprentice by Robin Hobb, read for the Hobb-along-read-along (which I have since fallen way behind in). This book was a pleasant surprise. I plan on writing a full review on the thing, so I won't go into too much detail here, but I thoroughly enjoyed this book, much more than I had expected – 5 stars
A Feast For Crows by George RR Martin. This book was good as well, and definitely one that is going to get its own review. I think this book knocked me out of the star-struck-blind-love I had for this series. I still love it, but I'm definitely seeing its flaws now – 4 stars
The Time Machine by H.G. Wells. I enjoyed this book. I originally tried to read it, but ended up switching over to the audiobook. Maybe it was just the format of the book, maybe it was that really sluggish conversation the Time Traveller is having at the beginning… who knows. I liked it though – 3.5 stars
Flowers for Algernon by Daniel Keyes. I had very mixed feelings about this one. I like it overall but it definitely grinds my gears. This one will also be getting a review. My goodness. This book was both a joy and a chore to read –3 stars
Favorite book of the month: Assassin's Apprentice
Least favorite book of the month: Flowers for Algernon
Articles:
A universal basic income only makes sense if Americans change how they think about work
Elon Musk thinks we all live in a video game. So what if we do?
How to win at the women's memoir game
What's going on in your cat's head?
What we understand about cats, and what they understand about us
Why average people decide to become terrorists
Why gravitational wave astronomy has physicists so damn excited
Father's Day: Five things you didn't know you didn't know about the holiday
Favorite article of the month: Why gravitational wave astronomy has physicists so damn excited
---
Since I just posted a mid-year update yesterday, I'm not going to go into my progress on yearly goals except to link the post and state that I've reached five books read and can now buy one. :"D Guess who's going to the bookstore, man.
---
July Currently Reading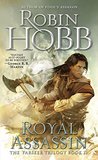 Life, The Universe and Everything by Douglas Adams
Caliban's War by James S.A. Corey
Royal Assassin by Robin Hobb
The Forever War by Joe Haldeman
One day I'll finish Life, The Universe and Everything. ONE DAY, DAMMIT.